Fively Monthly Digest on Artificial Intelligent and SaaS: Spring 2023
Fively Monthly Digest: Spring 2023
Long time no see, folks! We're back today with our traditional news digest "Fively Monthly"! But this time it's going to be different, as we have collected various news from our company, SaaS and AI industry trends for 3 months at once! Are you thrilled? Here we go!
We Published 5 New Success Stories With Our Recent Projects
On our website, we continue to share info about the projects in which our engineers took part. Recently, we published 5 more case studies, and all of them represent game-changing projects for promising startups in various business niches.
The first one is a green data visualization project for Veritree company. Here our specialists cover the development of a top-market web app for a nature restoration company that helped to plant > 12 424 600 trees worldwide. Thanks to the Veritree app, more than 18.000 tonnes of CO2 have already been sequestered, and more than 2560 people were employed. 🔽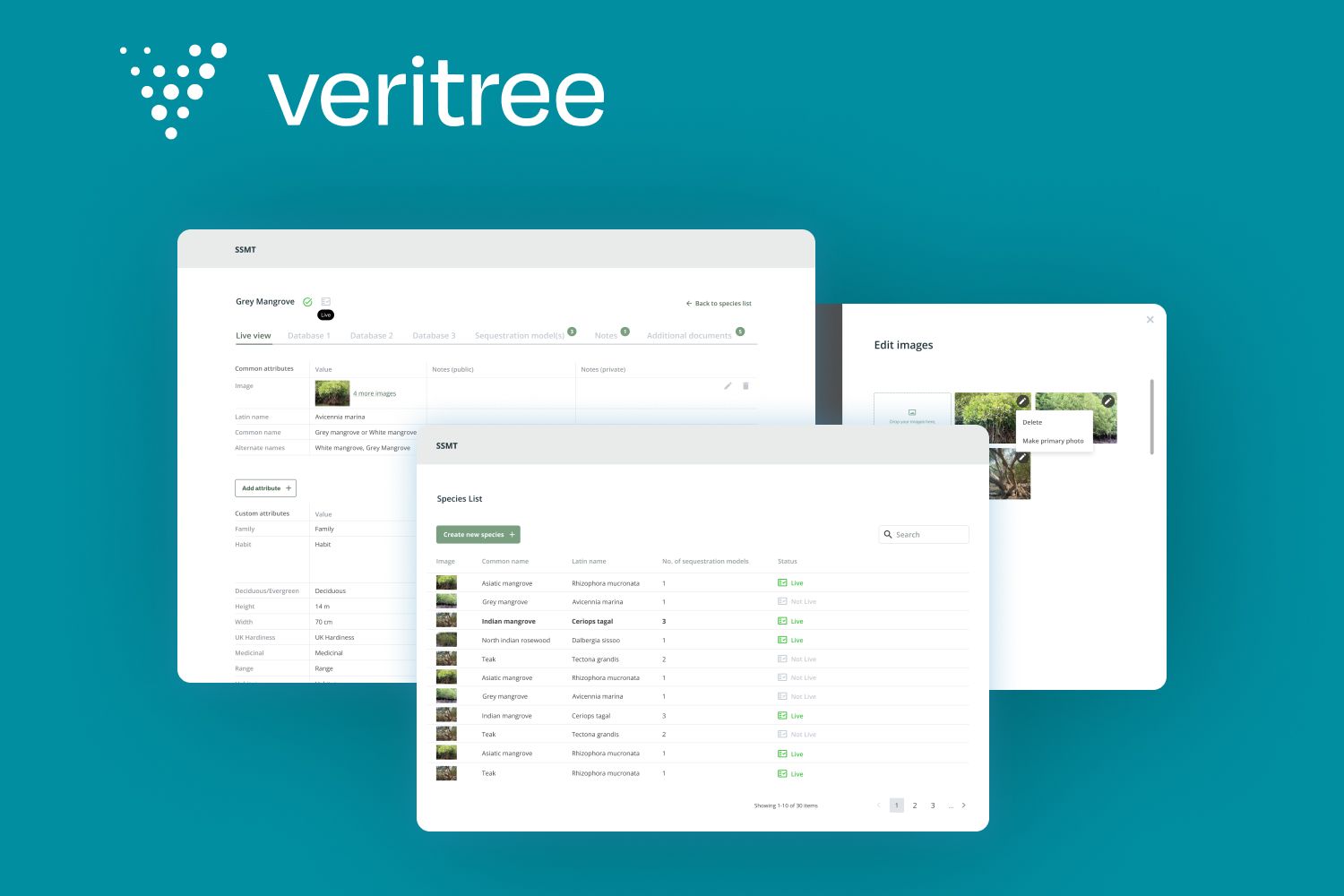 The second is a cutting-edge patient management system development project, where we created a patient management system that totally reinvented the healthcare experience in Germany. An engaging, contemporary, and user-friendly e-platform has been visited by more than 100.000 patients in 2022 and received 5 stars out of 5 possible at Google and Jameda review services. 🔽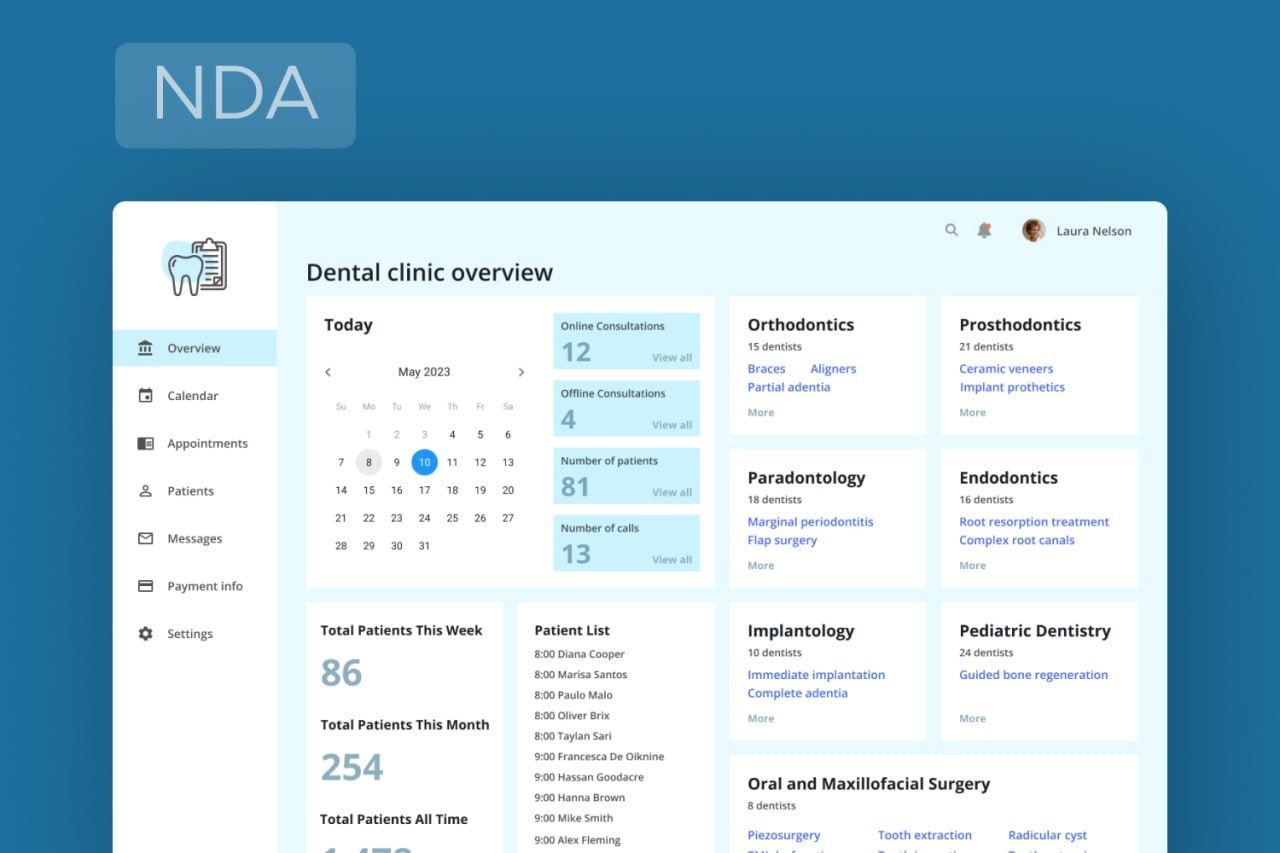 The third case study brought significant innovations in personal financial management apps. We created a groundbreaking personal financial management app for Comfi company. This saas intelligence platform is poised to redefine how individuals and small businesses manage their finances online. 🔽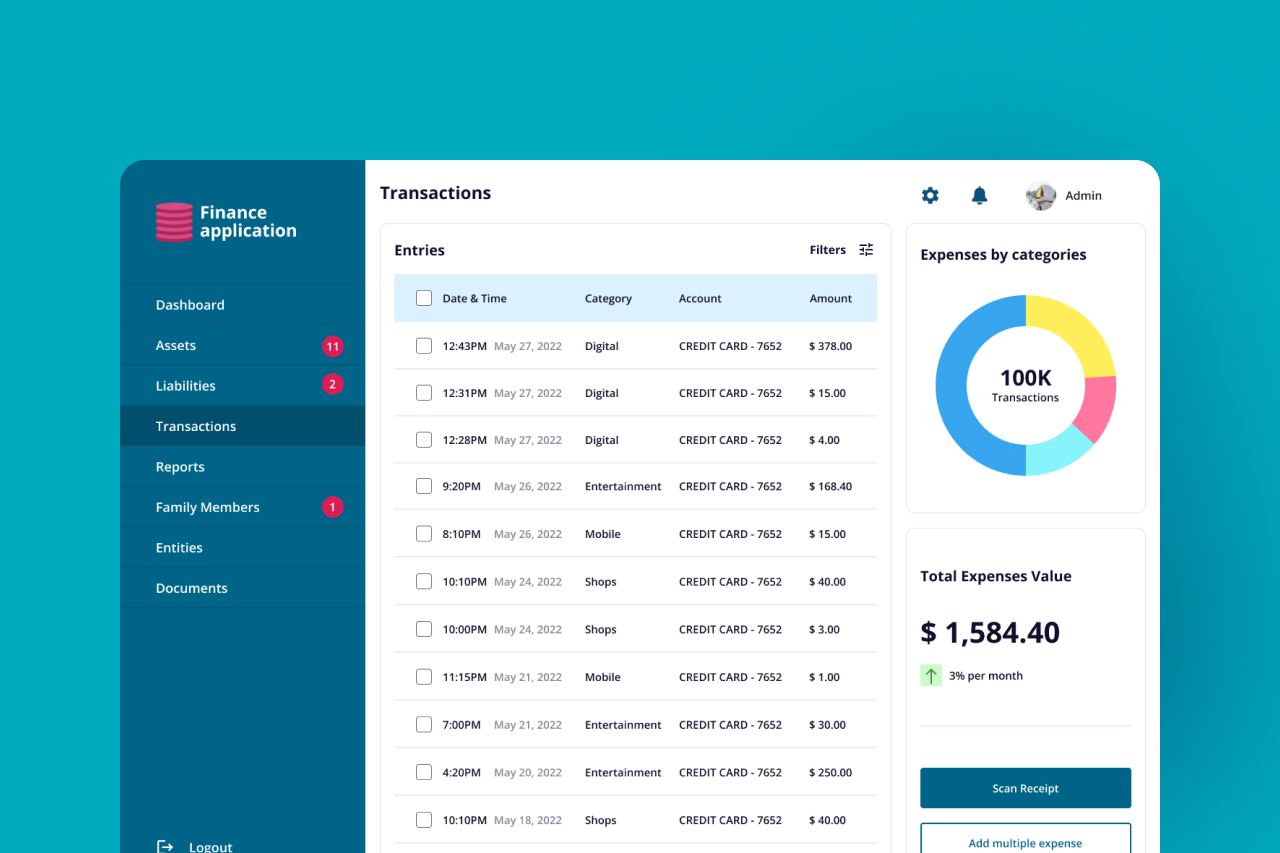 One more of our fresh case studies is a cryptocurrency all-in-one management platform that innovated the financial asset management systems market. All-in-one functionality, multiple e-currency management tools, and a strong community sharing valuable insights have already turned the platform into one of the market's most popular decentralized crypto app providers. 🔽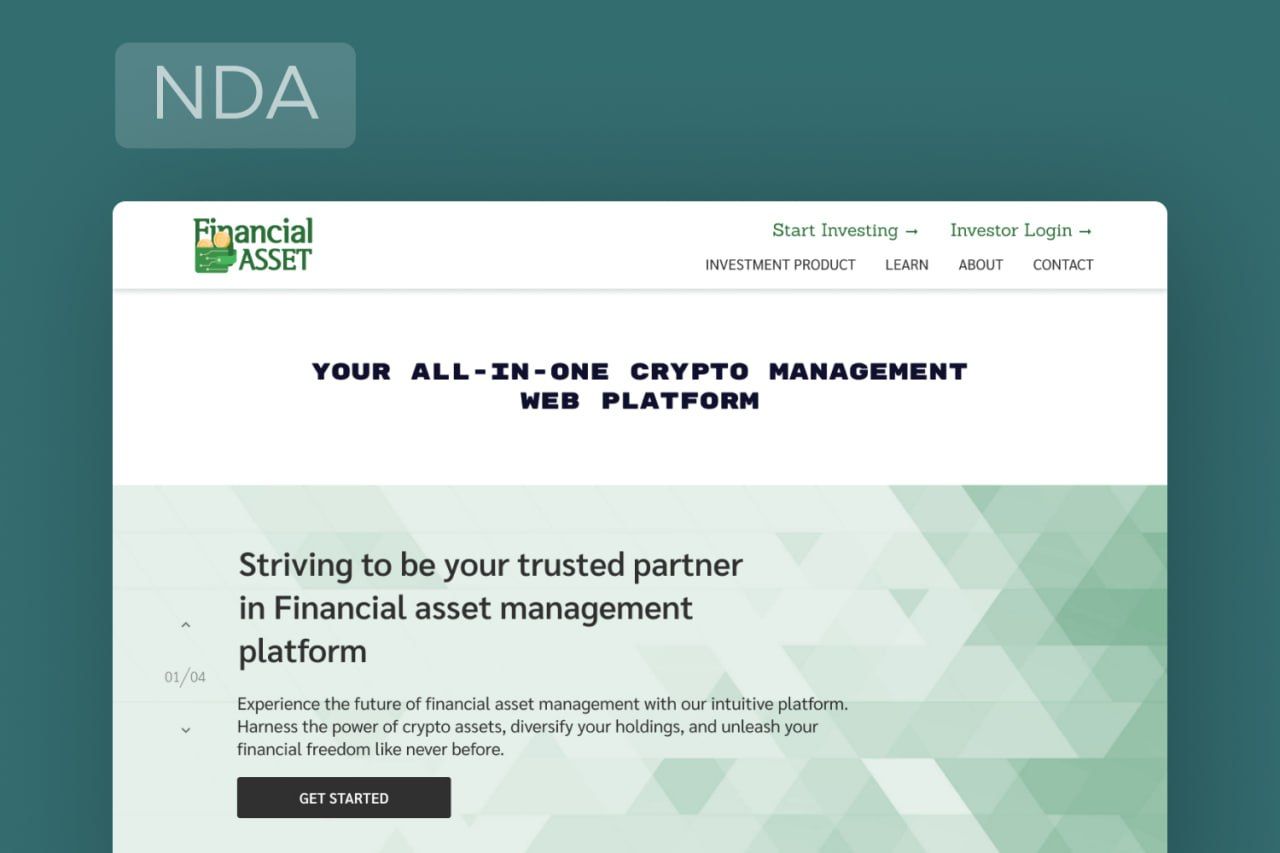 And the last case study is a profit recovery platform for eCommerce companies enabling e-stores with 3 times faster and easier revenue cash back than the competition. This reliable, fast, and user-friendly profit recovery system has already gained thousands of eCommerce participants of all sizes and niches, and it continues to gain popularity across all e-business segments. 🔽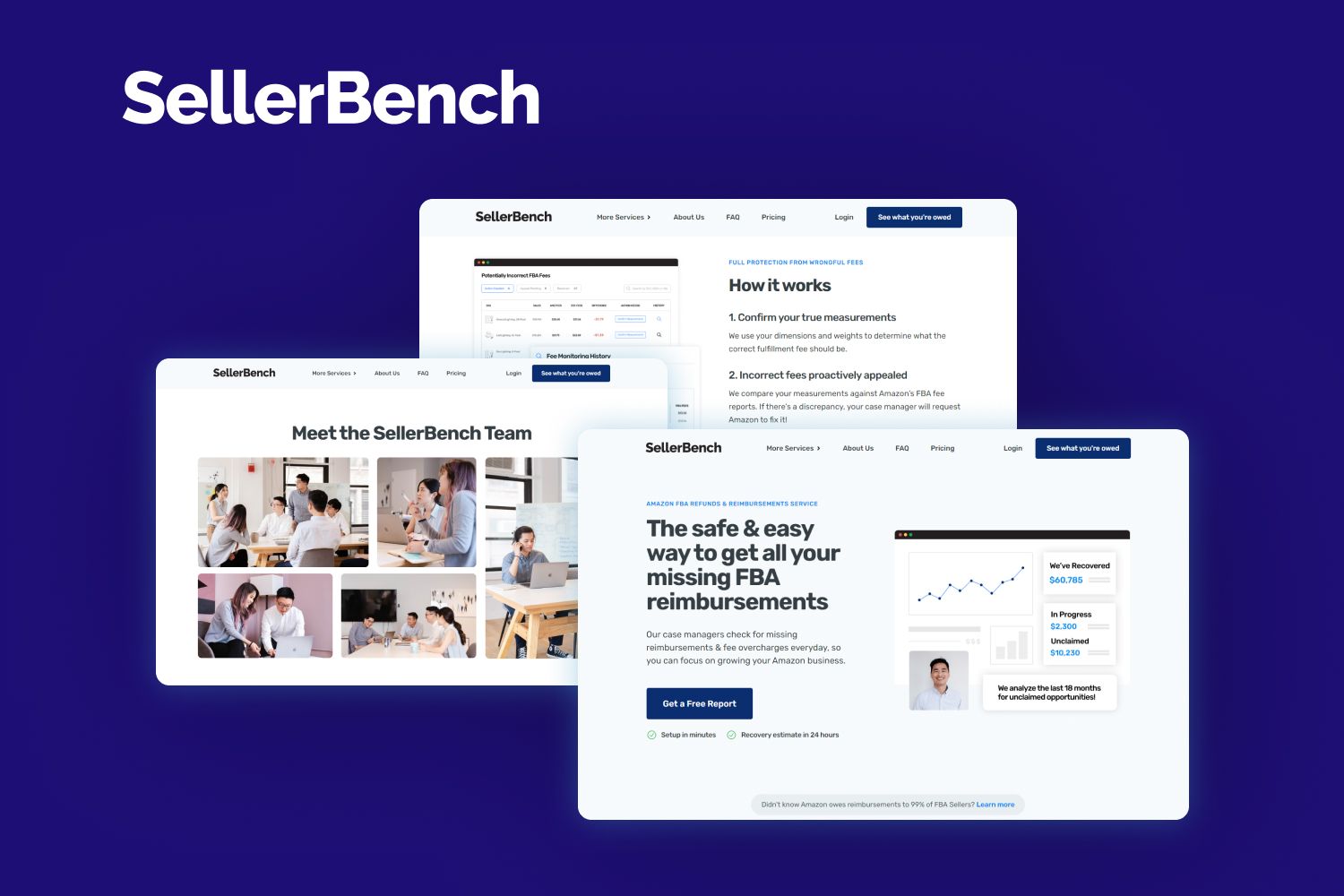 Feel free to check these case studies up and learn more about how custom software development helps companies of any niche and industry grow. Click on a preview to read a full success story!
We Released 6 More Website Pages Showing Our Expertise
Throughout this spring we continued to work hard on redesigning our website, 5ly.co. We finished 5 more web pages representing our technical capabilities and business niche expertise:
🌌 Insurance Software Development
🌟 Artificial Intelligence Development Services
🛰️ Machine Learning Development
Feel free to check them out to know more about our custom services and expertise in various industries, and stay tuned to see the new updates coming soon!
We Share Rare Exteptise on Creating Medical Apps, Fintech Solutions, and Artificial Intelligence
In our blog, we continue to share the deep technical expertise and valuable professional business insights from our CEO, Alexey Kalachik, and Vsevolod Ulyanovich, a leading marketing specialist.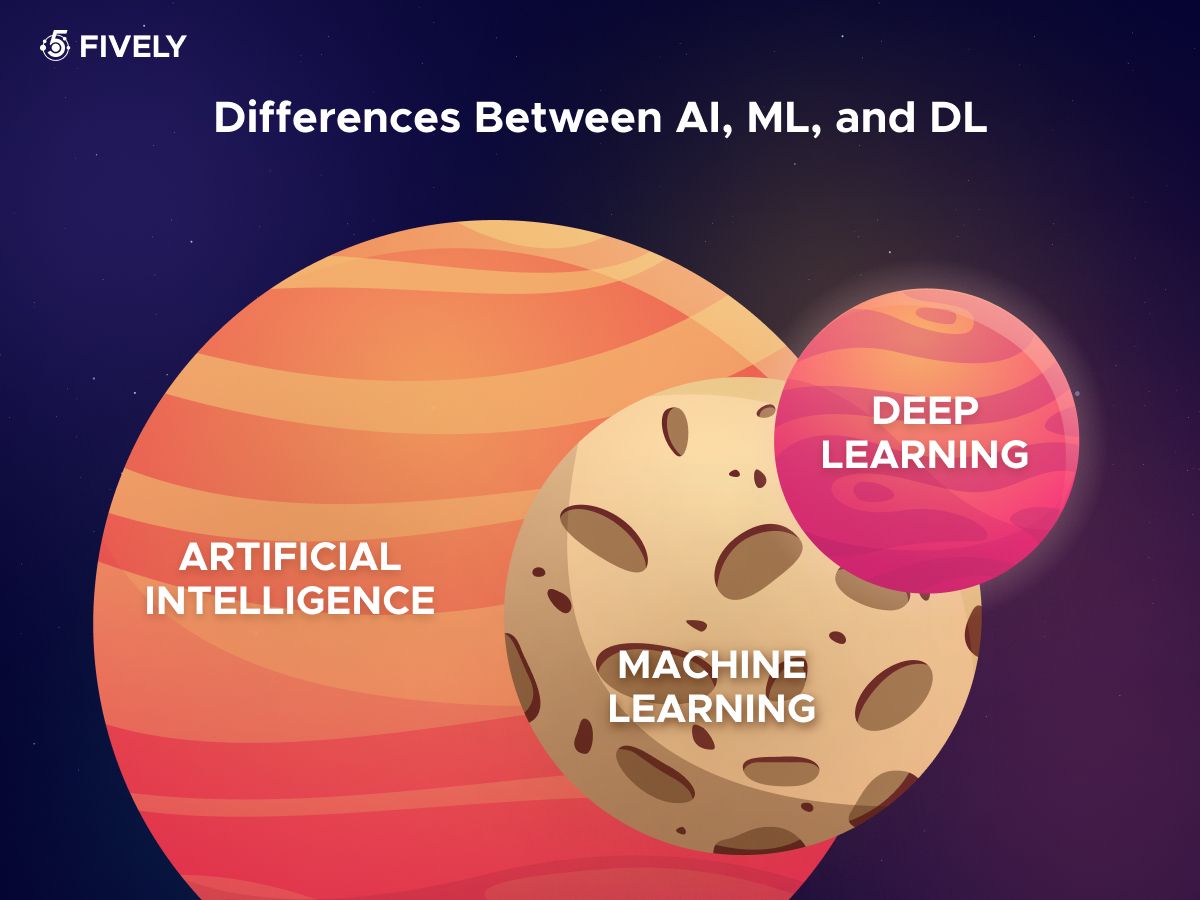 Recently, they shared valuable advice on SaaS application development services for different business niches, paying special attention to SaaS for small business, browser extension development, current SaaS and AI industry trends, as well as the importance of the proper MVP development in Fintech applications. Feel free to check these insightful articles by clicking on the links below!
🛰️ Develop Cloud-Based Application
🌌 Benefits of Artificial Intelligence in Business
🚀 How to Reduce Software Development Costs
Our Blog Is Open for Guest Posts Now!
In May, we started accepting guest articles on any tech-related topics to our blog. We decided to make our blog a single source of truth for tech specialists, business leaders, and investors, so it could accumulate all the latest news, trends, and events from the IT world.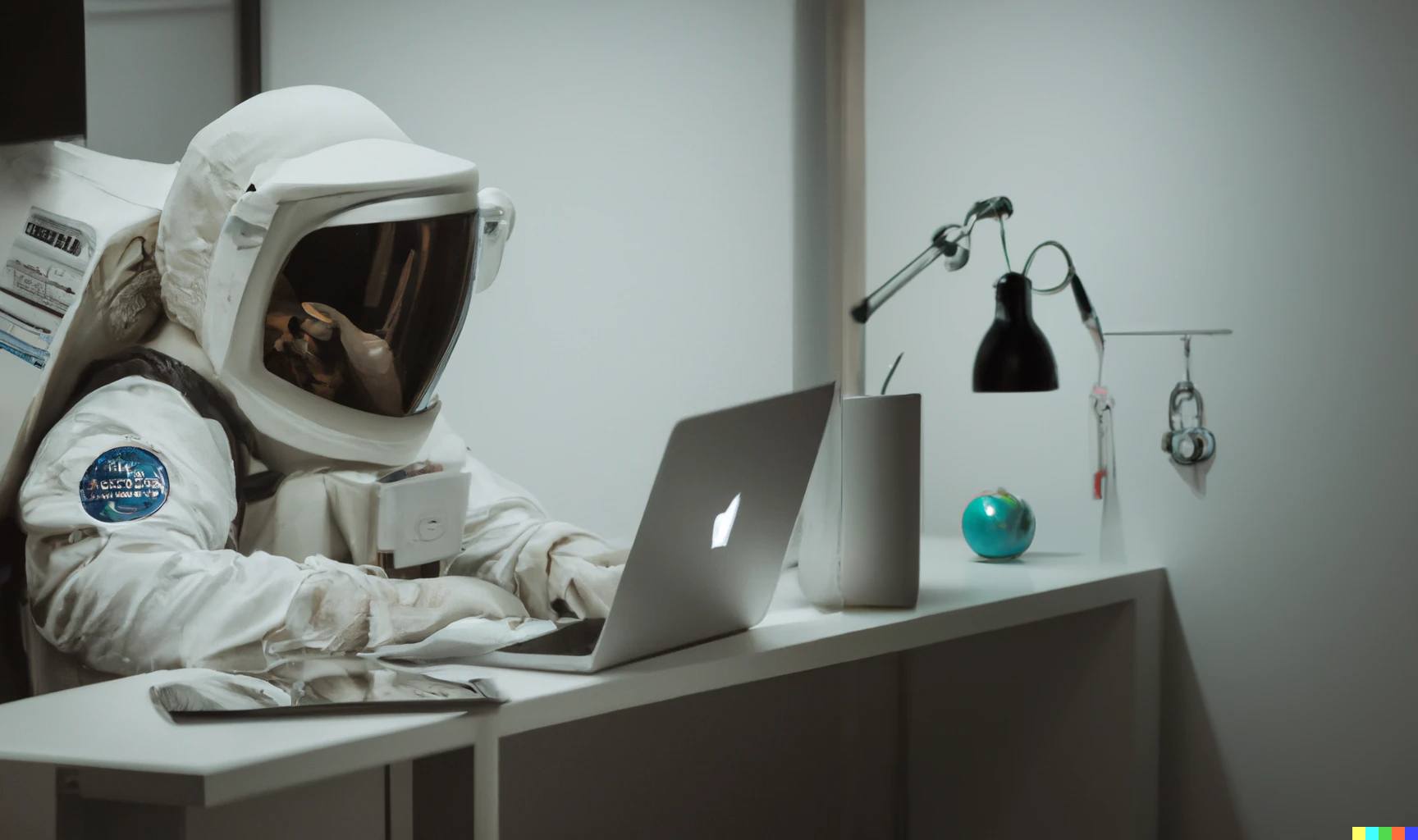 That's why we made it accessible not only for our in-house experts but also for freelance writers - it will allow us to diversify our content and help readers find new authors for themselves.
Dear content creators, tech leaders, engineers, project managers, and any other IT specialists! Feel free to send your articles to our blog, and we'll certainly publish them after being reviewed!
Our eCommerce Group on LinkedIn Is Almost 400 Subscribers now!
As you know, Fively has wide expertise in numerous domains, and one of the most outstanding among them is eCommerce. In our eCommerce group on LinkedIn, we're continuously sharing our insights, development secrets, customer research, and other valuable information that can help e-store owners to boost their sales and improve KPIs.
For example, lately, we've been sharing growth strategy advice for startups, peculiarities of m-commerce and super-app solutions, signs that your website needs a redesign, benefits of micro-SaaS apps for e-business, fresh software development trends, and many others! Don't hesitate to join our growing eCommerce experts community to stay up to date with all the news!
Microsoft reveals a new era of PCs: an AI-powered Windows 11 is here
Let's proceed now to the tech industry news: Microsoft reveals a new era of PCs! They presented an AI-powered Windows 11 with "Windows Copilot", Bing search, in-built ChatGPT, a new terminal with GitHub and Dev Drive, as well as their own WinRAR for unpacking any archives. All these innovations based on Machine Learning and SaaS sound fantastic, so we asked our leading DevOps specialist Ilya Mikulski to comment on this cutting-edge technology breakthrough: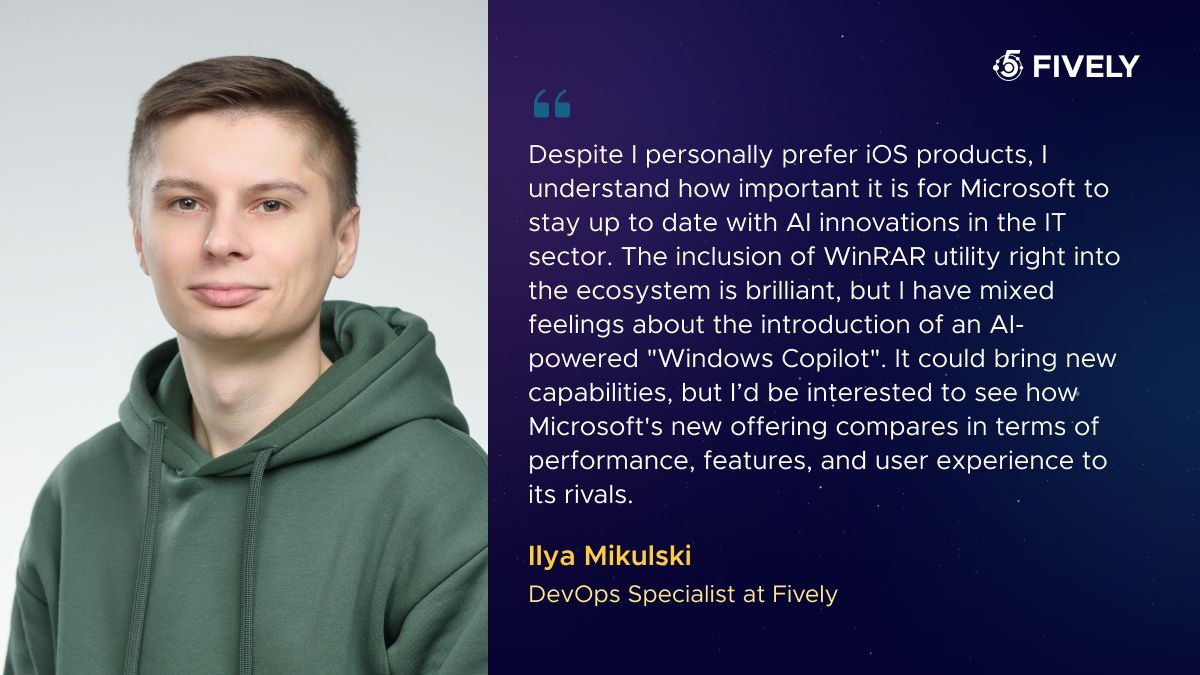 Microsoft Begins Making Bing Chat AI Search Available to Everyone
Microsoft launched its ChatGPT-powered version of Bing search and made it available to everybody for free. As far as Google has been the dominant player in the search engine market for a long time, healthy competition is essential for driving innovation and improving user experiences. Therefore, the introduction of such searches based on AI/ML technology to a wider audience could potentially lead to new features, enhanced search capabilities, and improved user interfaces.
We asked Ekaterina Chernigina, our QA engineer, to share what she thinks about the new search engine: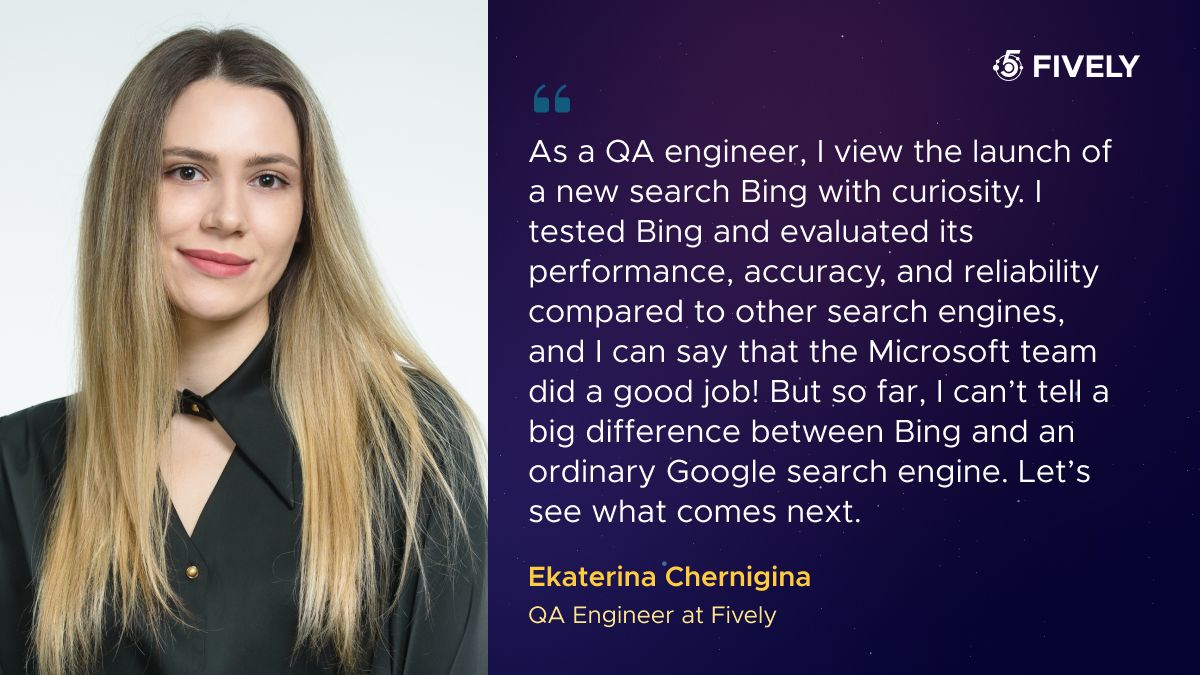 Google Integrates Generative AI Features To Gmail And Docs In Google Workspace
Google has revealed that it will incorporate generative AI into its Workspace cloud applications, which include Gmail, Docs, Slides, Sheets, Meet, and Chat. This will enable users to take advantage of generative AI's power to create, connect, and collaborate in ways that have never been possible.
These new features will include drafting documents and email content, generating response mails, sorting emails by priority, automatically correcting document content, adding images, audio files, and videos to Slides presentations, analyzing raw data in Sheets, and creating formulas or contextualized categories.
These chatbots innovations in the workspace and social media will definitely give birth to new advertising and marketing trends and redefine the image of work itself. We asked Usevalad Ulyanovich, our marketing manager, to share his thoughts on these AI chatbots market trends: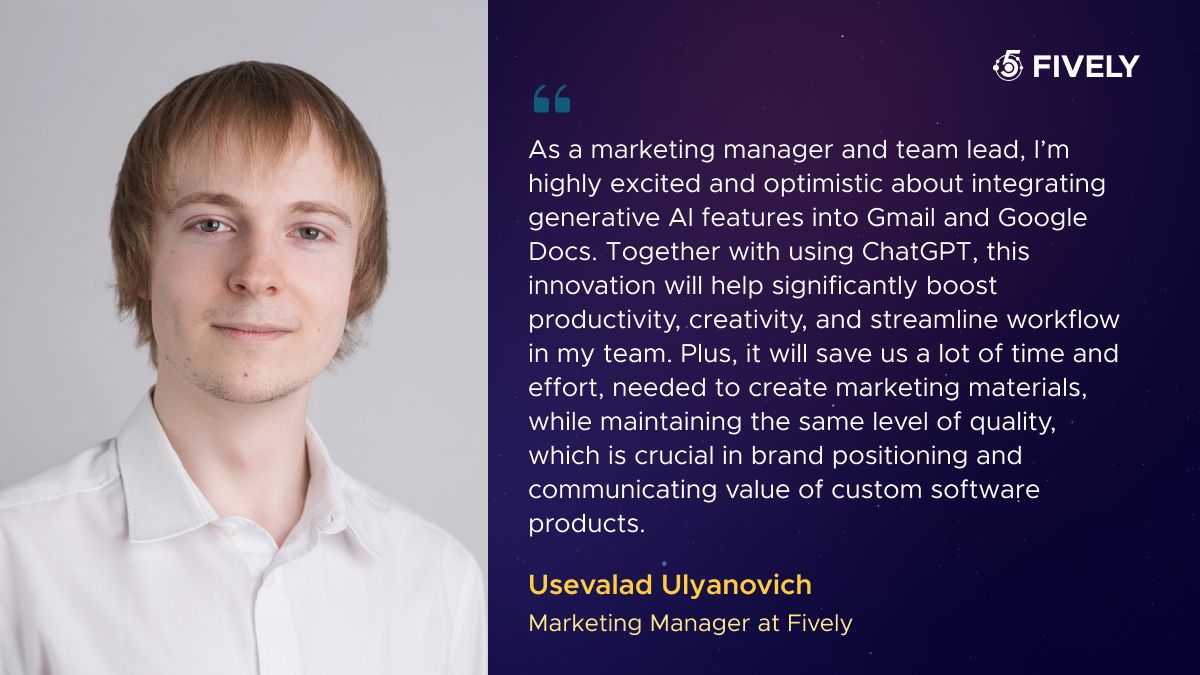 Intelligent Assistants Race: How Siri and Alexa Lost it to ChatGPT
Proceeding with IoT news: AI chatbots are quickly becoming the new virtual assistants, thanks to their ability to improvise answers to questions typed into a chat box. While Siri, Alexa, and Google smart assistant devices were once the leaders in the AI race, they have since fallen behind due to clunky design and miscalculations. In contrast, ChatGPT smart assistant from OpenAI can handle complex tasks like coding software, drafting business proposals, and writing fiction.
Globalvillagespace predicts that soon, thanks to AI integration and the current chatbots trends, the technologies of chatbots and smart assistants will converge, and those who use Apple, Amazon, and Google products will be able to ask their voice assistants to help them with their jobs, not just tasks like checking the weather.
Here's what Andrew Oreshko, the leading AI & ML specialist at Fively says about this coming innovation in virtual assistant development services: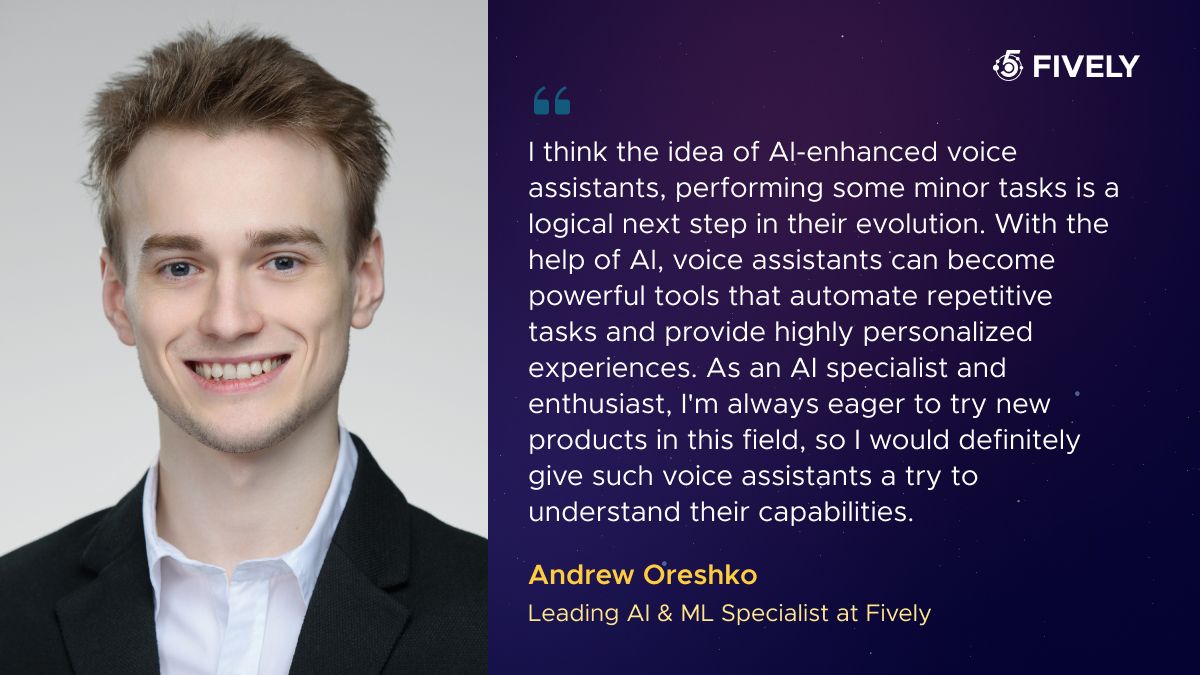 Asana: New AI Capabilities
A well-known work management platform Asana has announced a new set of AI-based product capabilities aimed to accelerate decision-making and improve productivity.
The new capabilities are coming with the company's new AI offering, Asana Intelligence. It is promised to accelerate decision making by monitoring team capacity and changing business priorities, identify unseen issues and roadblocks that could stop teams progressing toward company objectives, and boost productivity by creating automated plans based on goals, suggesting and implementing workflow improvements to achieve results faster.
We asked one of our top communication specialists, Project Manager Kirill Buksov to comment on this technological breakthrough, and he was highly impressed by it. He said that AI technologies are the future of the IT industry, and underlined that Fively team always offer to embed AI tools into their custom solutions: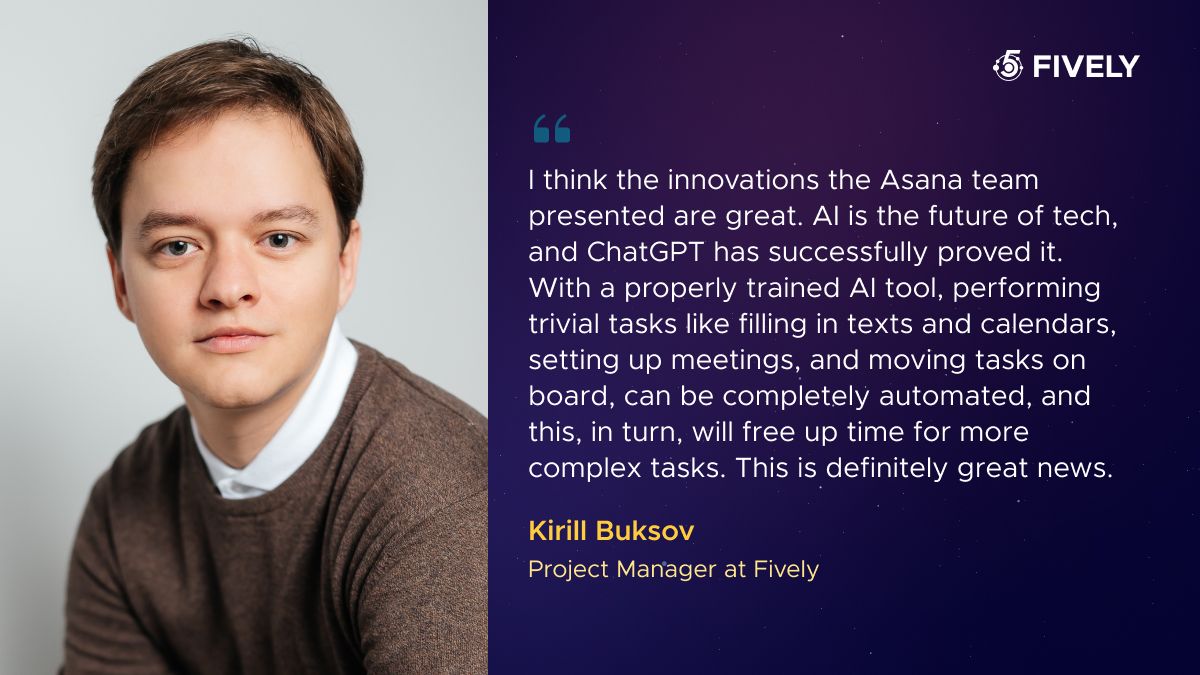 Apple: an Ultimate AR-based App
A piece of interesting IoT tech news and AR trends: Apple announced that it has developed a groundbreaking AR headset that has all chances of becoming a super trendy gadget the next year! While Google halted sales of its AR specs, the Glass Enterprise Edition in March this year because of low sales, Apple didn't waste time and decided to change the current AR/VR industry trends and prove their AR Glasses have a chance to become popular. They plan to make it a handy device for doing any everyday activities like sports, yoga, reading books, playing games, and many more!
We decided to ask Artem Kurilovich, our senior full-stack specialist and AR technologies lover, to comment on VR/AR trends and this promising news, and he agreed that Apple has more chances to win in this AR race than the competitors. The reasons are simple: Apple's handy ecosystem of devices and well-thought-out marketing strategy.
That's what he said: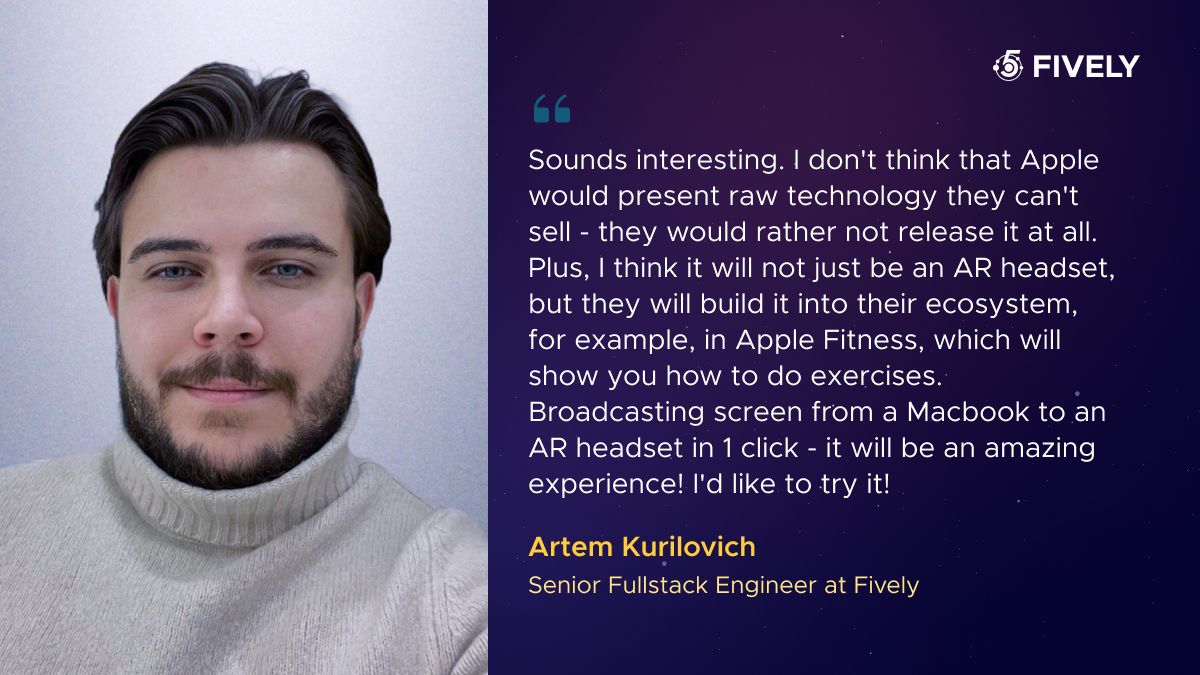 Tech Layoffs of 2023: Did We Hit the Bottom or No?
And, probably, the most important and thrilling question: what is the current situation with layoffs in the IT sector? The big wave of tech layoffs continues: Techcrunch reports that May still saw around 21,000 tech employees all around the world losing their jobs. This time, the workforce reductions have been driven by the biggest names in tech like Google, Amazon, Microsoft, Yahoo, Meta, and Zoom, with the overall number of people laid off this year already exceeding the total number of tech layoffs in 2022.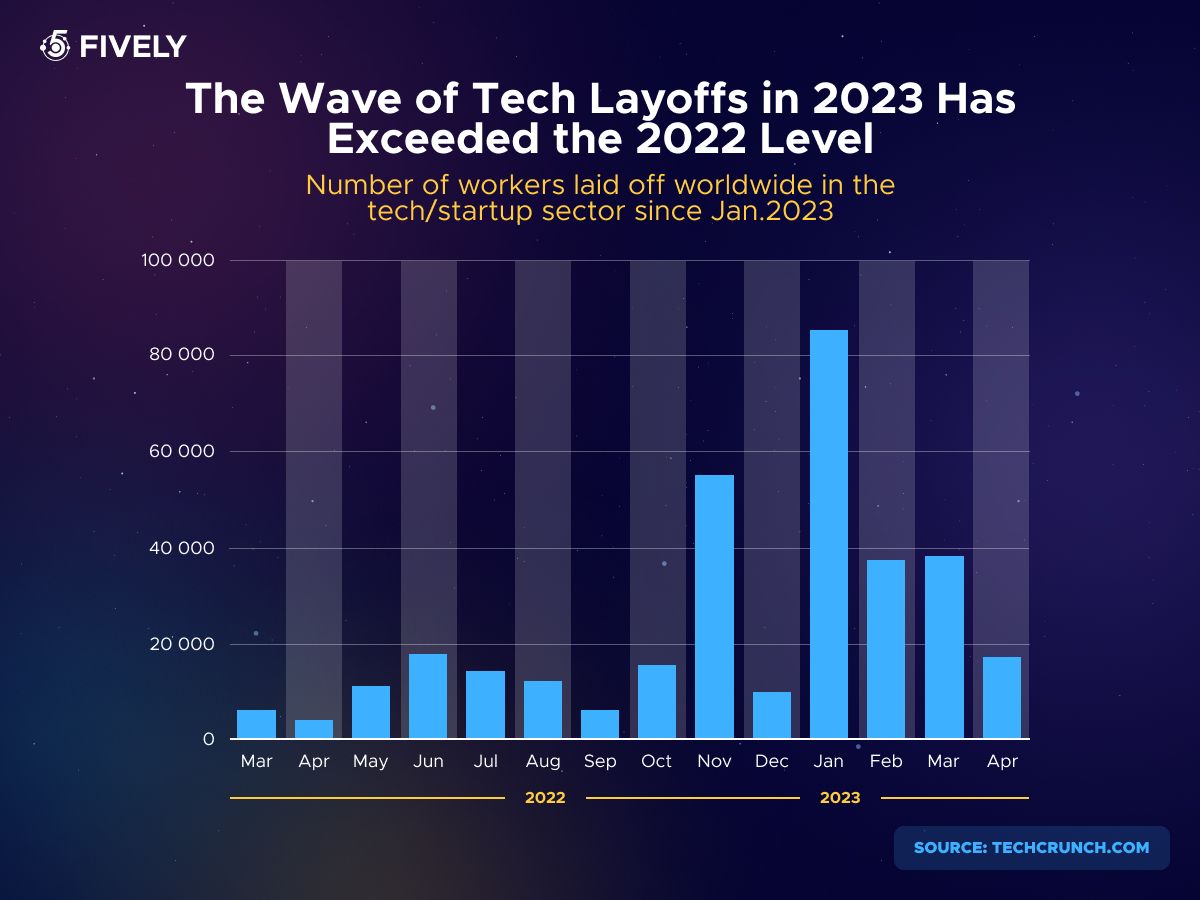 The reasoning behind these workforce reductions follows a common script: citing the macroeconomic environment and a need to find discipline on a tumultuous path to profitability. But when there can be a sign of revitalization in the IT field? We asked our CEO and co-founder, Alexey Kalachik, to comment on the current situation: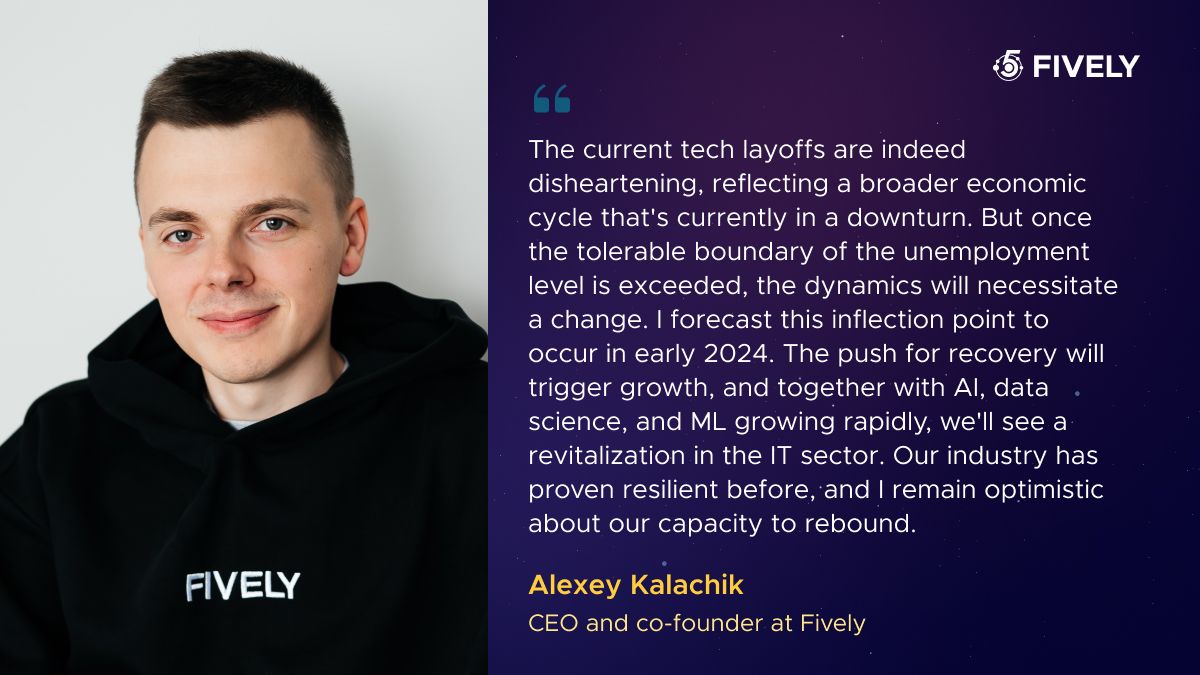 We Held an Eco-Week and a Joyful Teambuilding at Nature to Promote Sustainable Living
Despite the overall crisis in the IT sector, people at Fively always find the time for good deeds. As you know, people at Fively always pay attention to socially important projects and events. And this time we decided to help nature by holding an eco-week! During the whole week, we tried our best to live more eco-friendly, cut on plastic, plant greenery, help animals, and learn new eco-habits!
Instead of calling a taxi or driving our own car, we went on foot, rode bikes and e-scooters, took public transport, and traveled long distances on trains! We also went shopping only with our own bags, bought food from local farmers, and planted lots of greenery at home and in our gardens. Plus, we improved our skills in garbage sorting, and properly disposing of used batteries, and shifted to eco-friendly cleaning products!