The Ultimate Ecommerce Development Guide for 2023
The only article you need to start your very eCommerce business in 2023.
Whereas Amazon, Alibaba, and other giants keep finding themselves at the cutting edge of eCommerce, a lot of start-ups and small business owners are trudging through their desolate existence, unable to find a way out. Being righteously indignant, we've worked out this eCommerce development guide that aims to enlighten you on the current trends in the industry and its major pitfalls so that you can get your business off the ground.
Even though from a layman's point of view, eCommerce website development is the easiest thing to capitalize on, online stores are no fun and games, at least not without good guidance. So, let's set off on this journey together.
Things to Consider in the eCommerce Development Process
Let's cut to the chase and take a look at the most important 4 aspects to think about when creating an eCommerce website.
Your Business Model
Basically, you need to decide to whom you want to sell your products or services. According to an end-user, there are four main types of business models for eCommerce.
B2B (Business-to-Business)
It's a classical business model that boils down to this: a company makes transactions with other companies that can resell the products bought to a consumer or use them to produce their own goods.
This type of business is only profitable when all its peculiarities are considered, so don't hesitate to read our article on B2B marketplace development to explore how to build a B2B eCommerce website step by step and the possible issues you can encounter.
B2C (Business-to-Consumer)
Business owners can go for B2C eCommerce development if they want to sell various brands directly to an end-user. Let's remember Netflix, Walmart, and even Medium: they work exactly within the B2C business model, connecting a number of companies with individual clients.
C2C (Consumer-to-Consumer)
This business model is usually realized through a marketplace that serves as a medium for consumers to connect with each other. If you're wondering how a marketplace owner gains profits, they charge fees for either listing an ad, each transaction, or even both. For instance, eBay, which works primarily in C2C, capitalizes not only on transaction fees but also on providing marketing services. There are, in fact, more ways to make eCommerce marketplace development of any type pay off, including charging fees per lead and for premium features.
D2C (Directly-to-Consumer)
Many business owners don't want to waste extra money on paying a middleman that connects a consumer and a seller. Today, more and more people rely on themselves alone and choose to communicate directly with a client. Even though the intimacy of one-on-one interaction is almost impossible to achieve, lots of online shops, especially the D2C ones, are striving to replicate the experience by augmenting their websites with AI technologies that make clients feel attended by a real and careful online assistant.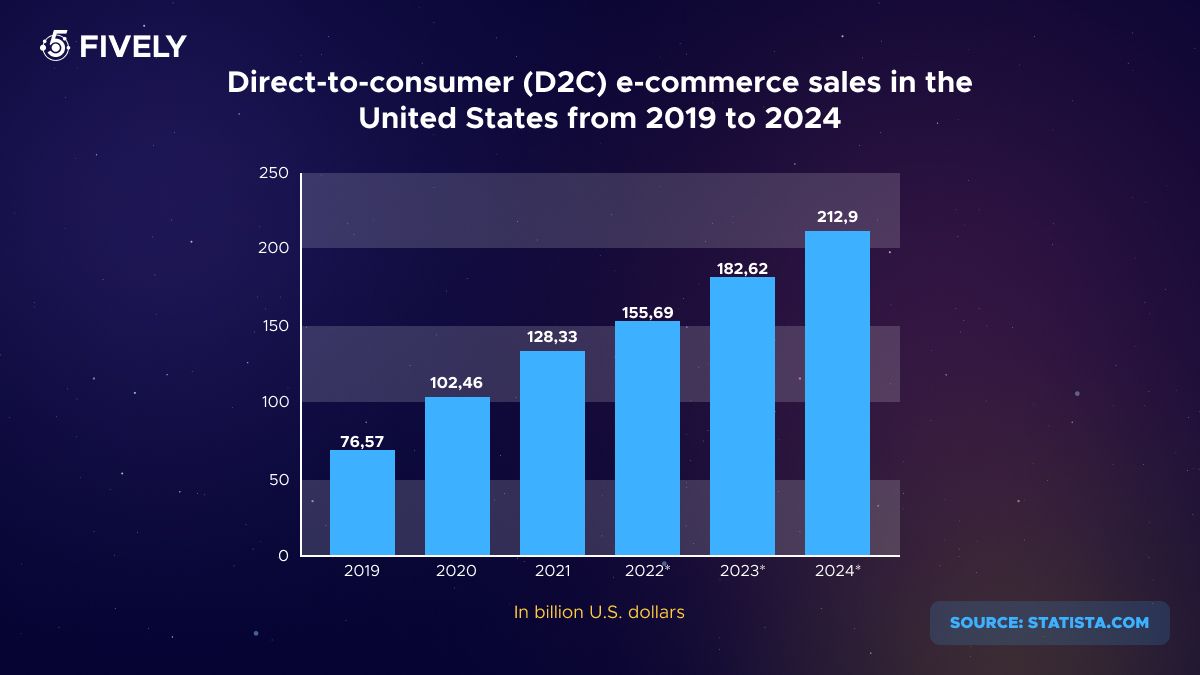 It's often confused with the B2C model, as both of them work with a client directly, but the difference is that D2C sells one brand only and handles shipping, distribution, and all the business operations themselves without involving a third party. Examples of D2C are the Nike or Loreal online shops.
On the one hand, it gives much more leeway; on the other hand, the increased accountability for literally every step in a supply chain can be taxing. Besides, choosing this business model can entail bigger investments in marketing as there is no big brother (marketplace) to peddle your goods.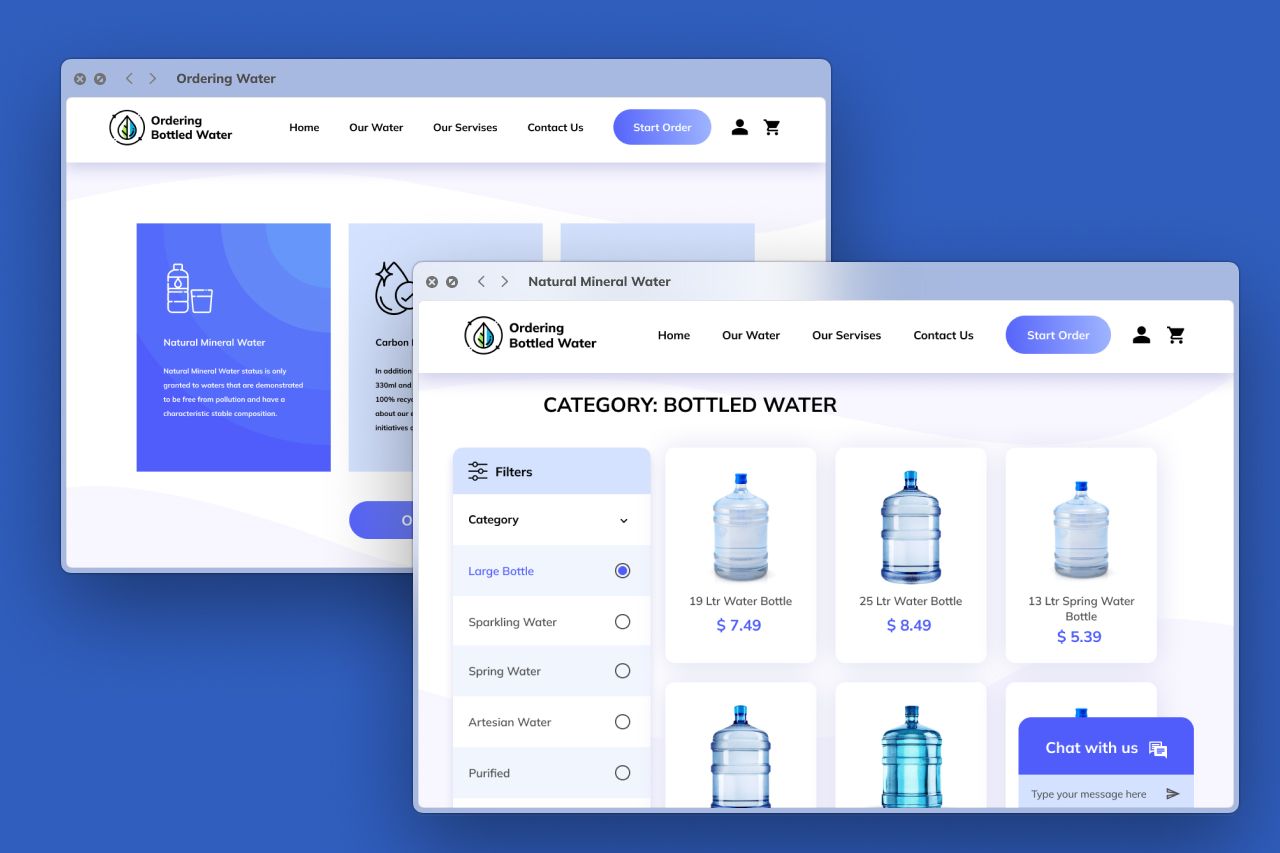 Actually, it doesn't mean that you can opt for only one eCommerce business model and be confined to it for the rest of your online shop's existence. In reality, B2B and B2C businesses often merge if owners have the financial and mental resources to operate them and work out different strategies to serve both types of audiences.
You can even create a custom eCommerce web portal that offers users items based on their needs and preferences once they log in. Another option for selling B2B and B2C is to create two separate eCommerce websites.
2. Decide on Your Value Delivery Method
The concept of "value delivery" represents how your products or services can be beneficial to your clients. You can choose among the following methods to provide your customer with the highest-value product in terms of price and quality.
White Label
It means buying a product that was manufactured by another company and reselling it under your own label. Manufacturers sell their products not only to you but to other companies as well. Water bottles, mugs, and lip balms are the most popular products to white label with any logo.
Private Label
This one is similar to white labeling, but in this case, a manufacturer produces a unique product specifically for your company. Both methods can help you substantially reduce manufacturing costs and rechannel the money for branding and technology fine-tuning. If you're selling services, you can increase your brand's awareness by creating your own merch.
Wholesaling
The method of wholesale used to be implemented in B2B as only businesses tended to buy products in large amounts. But today, parsimonious individuals also purchase goods in large volumes at a discount, so the method can work perfectly in B2C.
Dropshipping
You may know dropshipping from AliExpress. Such marketplaces serve as a link between customers and manufacturers. Serving only as a middleman, you don't need to have your own inventory or even care about shipping, as each seller manages it on their own.
Subscription Service
Finally, you can deliver customers your products and services on a subscription basis, and it's not only about newspapers. Modern business owners go for online store development without the intention of selling the conventional way. Apparel shops send the latest clothes to their premium customers right after their release and only several months after they make the items available to the public. In return for the premium status, customers make payments on time.
3. Choose an eCommerce Platform
Whether you want to bring your brick-and-mortar store into the online realm or you're pondering over the right platform for creating an eCommerce website, consider these 6 factors:
Cost;
Ease of scalability;
Customization;
Security;
Number of features;
Web hosting.
Today, there are several types of platforms for the development of an online store. You can, for example, select one of the SaaS ones, where you essentially pay a subscription fee for using software, tools, and even maintenance. These platforms are believed to be less customizable, but that's no longer true.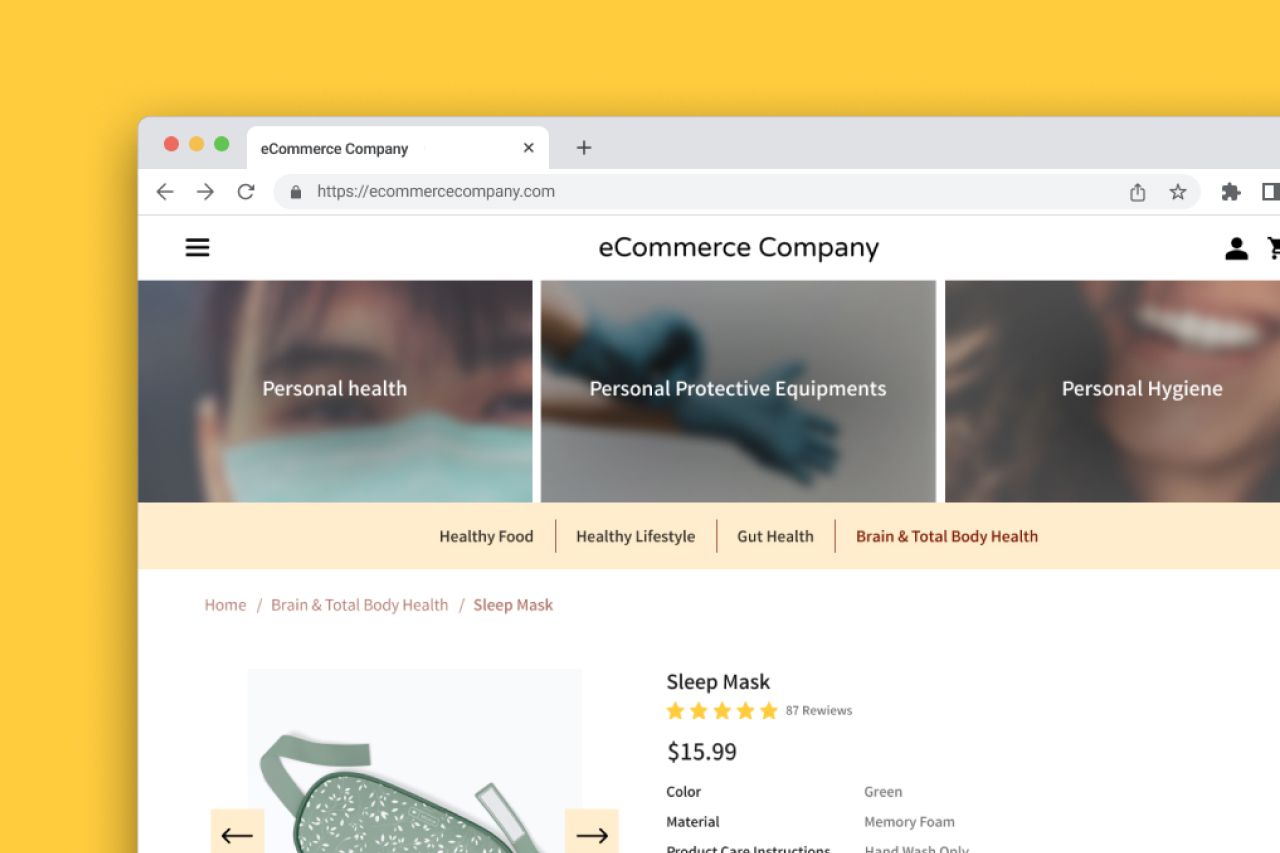 Even SaaS products allow you to fill a website with lots of unique features, and for this reason, business owners go for Shopify development. With the right approach and a team of experienced engineers, it's possible to build a Shopify-based online store that works on different devices and browsers. Pay special attention to this aspect as 46% of customers use phones for buying and researching the product. It'd be a shame to have your online store glitch on mobile phones and lose so many clients.
Another thing you should know is that headless platforms keep growing in popularity. Adobe Commerce and Shopify Plus are ranked among the top headless platforms, but small businesses can leverage more affordable ones that are also useful in terms of functionality but less known.
Basically, they allow you to integrate your online store with third parties (CRM, ERP, CMS, etc.) and APIs for workflow automation and delivering a personalized experience. The headless architecture makes it possible to silo a storefront from the backend, thereby making things much faster and more flexible. Marketing specialists, for example, can easily modify website content without addressing backend engineers when the front and backend are separated.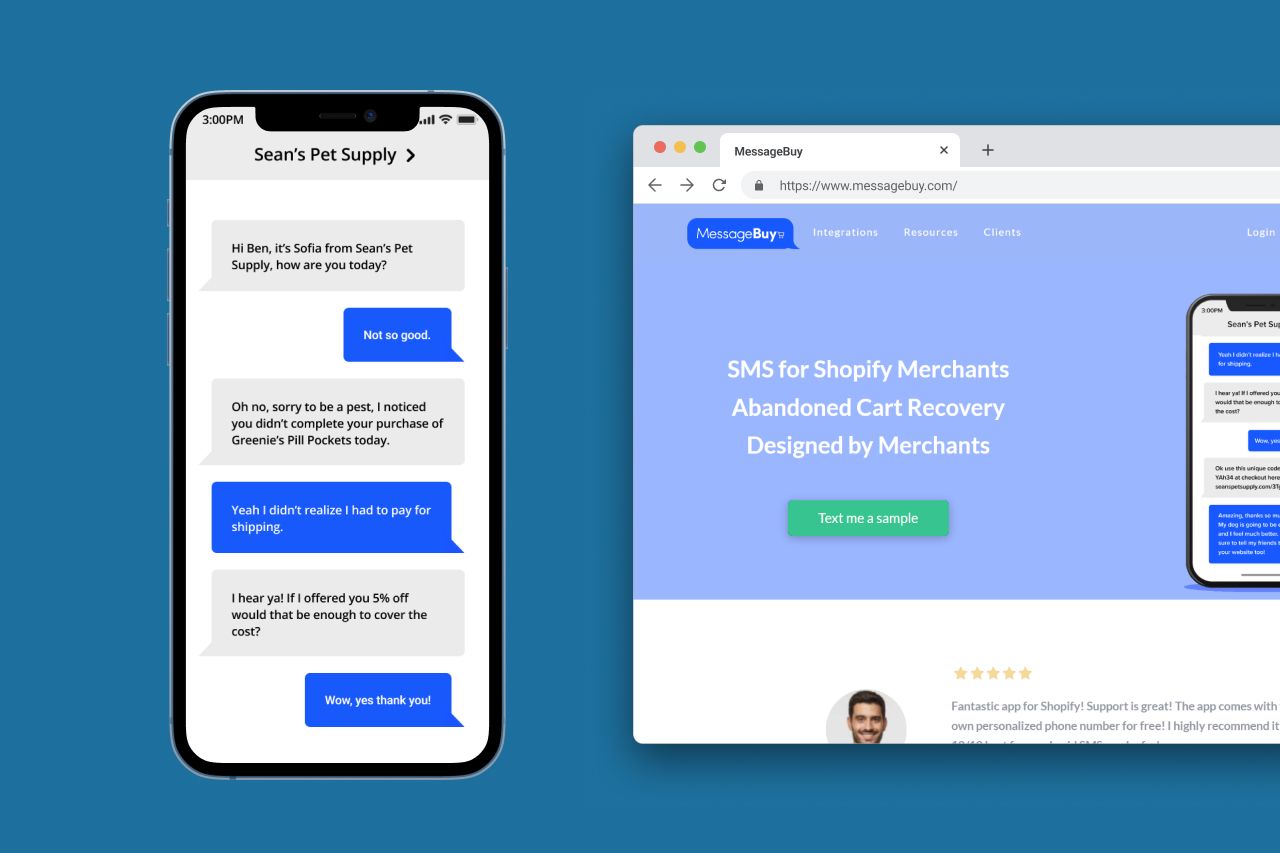 Actually, it's not necessary to use a platform to start an eCommerce business. Most of the time, it's easier to go for custom software development than to waste time choosing the platform that meets all your business needs and end up with nothing.
We don't aim to present you with a magical panacea within this website development guide, as there is, obviously, no uniform solution for every type of business. We want to show you all the options available so that, with a comprehensive picture, you can come up with your own solution for an online store.
4. Do Audience Research
What is eCommerce development based on? Knowing your customers. Clients define our success, and understanding their needs is what will make your business thrive. The industry revolves around the audience, and every step in the eCommerce development process should be taken with regard to it.
Audience research can facilitate the process of eCommerce development, as you'll know exactly what your website should feature to cater to your clients. For instance, if you're migrating your physical shop, your first aim is to lure your physical shop regulars. Understanding this, you'll search for a platform or a software agency that will make offline store integration possible.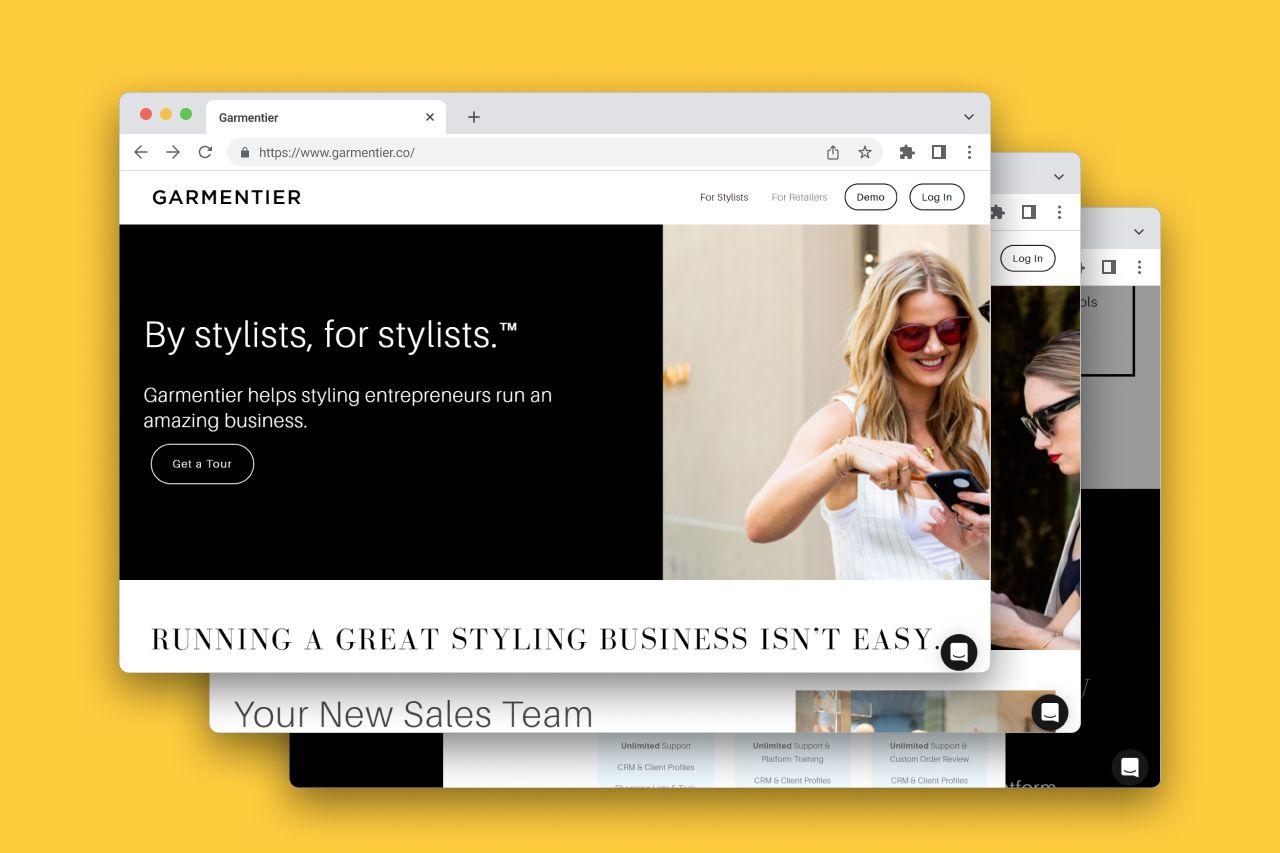 Sublime marketing strategies are built on thorough research of your clients and industry. Did you know that one study shows that 93% of millennials are now involved in making budgeting decisions within B2B? So, if your primary transactions are held within a B2B model, this statistic can boost your sales considerably if implemented correctly. Marketing strategies that work for Gen Z and their older counterparts will be repulsive to millennials.
Thus, we shall continue this eCommerce website development guide with some sound advice for a modern, top-tier eCommerce shop.
Requirements for an eCommerce Website, or Why So Many eCommerce Businesses Fail
In a market inundated with so many shops, custom eCommerce software development is the best solution. But the mere fact that your shop was built from scratch won't make clients magically flood it. What will is understanding where aspiring eCommerce businesses made a faux pas and, based on it, devising the exact opposite business plan. So, what exactly prevented them from thriving on the market?
Poor Content
Be wary of stupid and boring product descriptions, bad-quality photos, and plagiarized irrelevant articles on your online shop. Many eCommerce business owners deem website content of secondary importance, and this is a huge mistake. Online shopping lovers are already used to sophisticated content, and noticing even a single grammar mistake can turn them away.
In the pursuit of high SEO rankings, many online shop owners add a blog section but imbue it with such poor content that it only serves as evidence of the owner's indifference to clients.
Dazzle your audience with the best personalized content that not only brings you money but also resonates with them and educates customers on topics pertinent to your main product.
Our advice: work out a content plan and think about custom CMS development. With a CMS integrated with your online shop, you'll be able to edit, add, and analyze content.
Vague Pricing
Do you know why 48% of users abandoned their shopping carts in the last few years? According to the statistics, the main reason is extra costs that turned out to be too high at the very last minute. Imagine how flabbergasted you'd be when, being ready to entrust a website with your credit card number, the shipping costs happened to be twice the price of a product itself. Wasting a customer's time is tantamount to your farewell to money and reputation.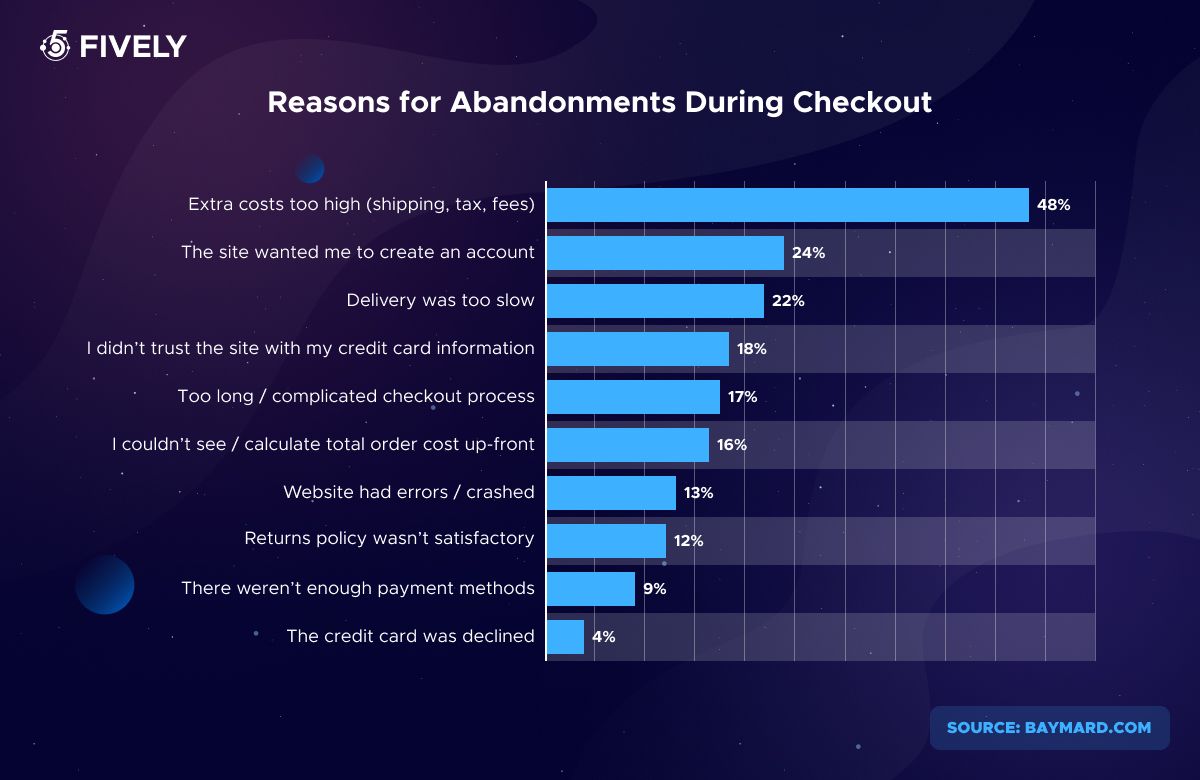 Our advice: don't ruin your customer's expectations by showing the full amount only at the last step of checkout. Keep the prices clear: customers will undoubtedly appreciate it.
Complex Checkout Process
During the eCommerce website development, make sure to keep the checkout process as simple as possible. You've probably done everything just right if your client came to the point of really buying an item. The second reason for cart abandonment during checkout is the requirement to register before placing an order. Better than anyone, we know that you need to add a client to your CRM to provide them with the best possible experience, but hey, their preferences should come first.
Our advice: try to simplify the checkout process to up to four steps and find other ways to glean the necessary marketing information.
Lackluster Design
Humans naturally tend to gravitate toward the beautiful. The stage of eCommerce website design development is often overlooked because business owners wrongly assume that the quality of a product is the only thing that matters, leaving the UX and UI of their online shops mediocre at best and even off-putting at worst.
Of course, if you only need a website to dispose of products on a one-off basis, don't bother. If you're planning to build long-lasting relationships with a customer and expect them to come back, spare no effort to select the palette for every type of button and design clear website navigation.
Our advice: remember that eCom store development includes design. The bad one will become the reason for your failure, regardless of how marvelous your product is.
Lack of Reviews
The last but not the least important requirement for an online shop in this eCommerce web development guide is adding a special section for reviews. Those who doggedly try to create only a positive perception of their online venture by saturating it with laudatory testimonials often achieve the opposite and lose credibility.
Our advice: it's necessary not only to include a special platform for customers to exchange positive opinions about your online shop and give high ratings to the quality of your products, but also to provide space for them to criticize it and point out the areas that need improvement. Getting real feedback will become a powerful tool for fueling your success.
How to Build an Ecommerce Website: The Main Steps
Being forewarned is being forearmed. Having examined the eCommerce application development process from every angle and learned where other online commerce companies failed, let's sum up everything and describe how to build an eCommerce website step-by-step:
Define your budget.
Determine your business model, target audience, and unique product you can introduce to the market.
Choose the right platform or eCommerce framework, if you've decided to build a shop from scratch.
Think through the UI and UX of your online shop. Work out the design that accurately represents your company.
Make sure that your online shop can be integrated with analytic and marketing tools, CMS, and CRM systems.
Build a Minimal Viable Product (MVP)—a prototype of your future online shop— in order to understand how to augment and improve it.
Test, launch, promote, and maintain your online shop.
Where Do I Start eCommerce Development?
Initially, you need to decide whether you'd like to go for custom eCommerce development or leverage one of the eCommerce builders available online.
In a decision driven mainly by thrift, it's common for business owners to use cheap online solutions to complain ad nauseam about life's unfairness in the aftermath. Some, instead of wallowing in self-pity, transform their standardized websites into something extraordinary by addressing a custom software development company, understanding in hindsight that this is how they should've begun the journey.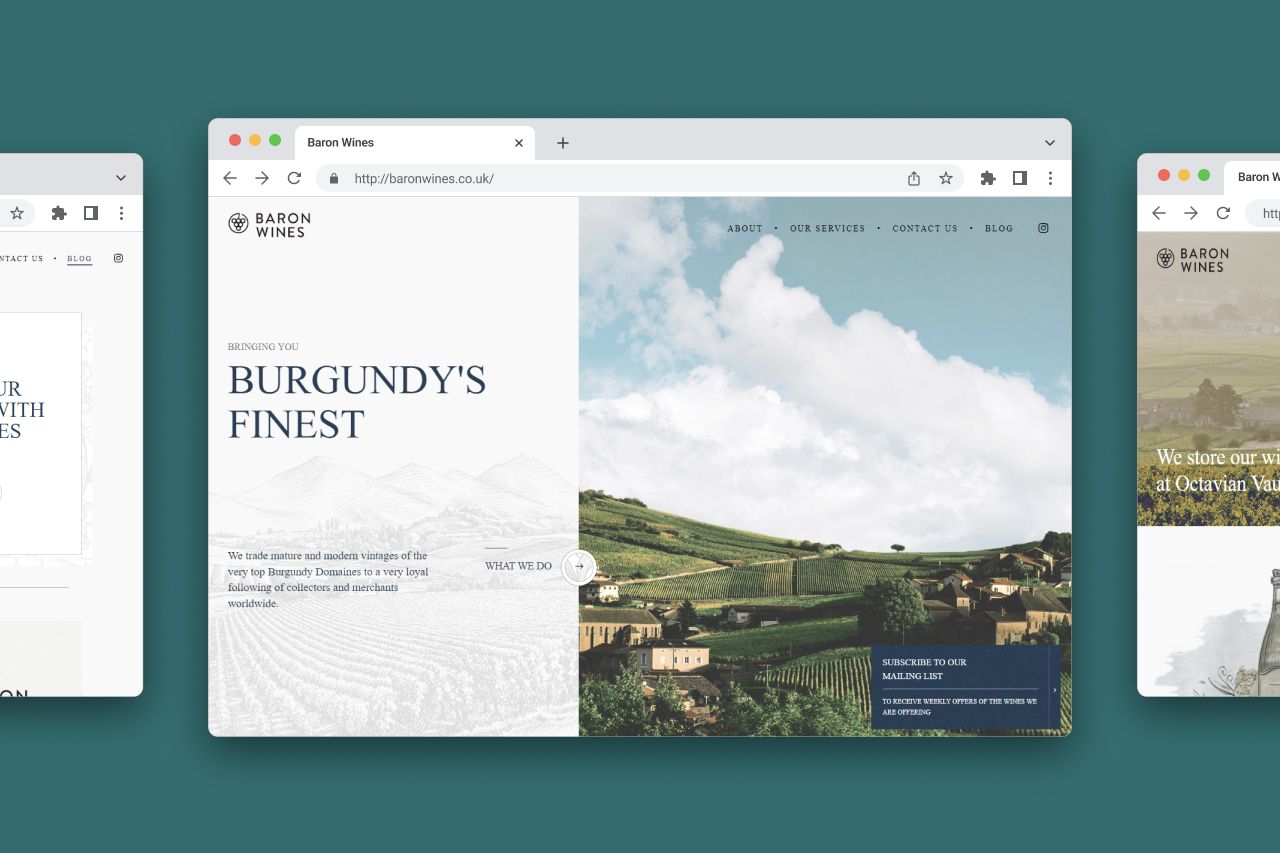 Fively is ready to set off and walk you through every stage of eCommerce website development, knowing exactly how a cutting-edge online shop should function and what features it should have for maximum profit and customer satisfaction. Do you want to create an eCommerce website from scratch? Or customize a Shopify- or Magento-based shop? Or maybe you're working on a project that involves building an eCommerce web portal?
The idea is on you, everything else is on us. Want to hear sound advice or get to know if your vision of an online shop is viable? Then why not text us right now?!
Need Help With A Project?
Drop us a line, let's arrange a discussion