How Much Does a CRM System Cost?
Discover how much does a CRM system will cost you, with all the transparent and hidden fees, and what is the best strategy for its successful implementation. + Checklist!
Every small company when it reaches a certain level of development, faces the problem of tasks management, customer info structuring, and better resources allocation. CEO and managers of departments logically start thinking of a custom, CRM development, or adoption of a ready-made one.
But here come two problems: which to choose, and how much does it cost if a company wants to develop or adopt one?
In this article we'll spotlight such terms as cost per user, the transparent and the hidden CRM system cost, as well as compare prices of some popular CRMs to help you answer these questions.
A Step-by-step Guide to eCommerce CRMs
Are you a business owner looking to streamline your operations, boost customer satisfaction, and drive growth in the competitive world of eCommerce?

Look no further! We're thrilled to present our comprehensive step-by-step guide to eCommerce CRMs specifically tailored to meet your needs.
In today's digital landscape, customer relationship management (CRM) is paramount for success. A well-developed CRM system empowers you to understand your customers better, build lasting relationships, and deliver personalized experiences that drive loyalty and repeat business. Our guide will equip you with the knowledge and tools to develop a robust CRM tailored to your eCommerce business.
Here's what you can expect from our guide:
🔹 Benefits of Fively's CRM Requirements Template
🔹 Step 1. Choosing Feature Requirements
🔹 Step 2. Selecting Functional Requirements
🔹 Step 3. Deciding on Business Requirements
🔹 Step 4. Choosing Non-functional Requirements
... and much more!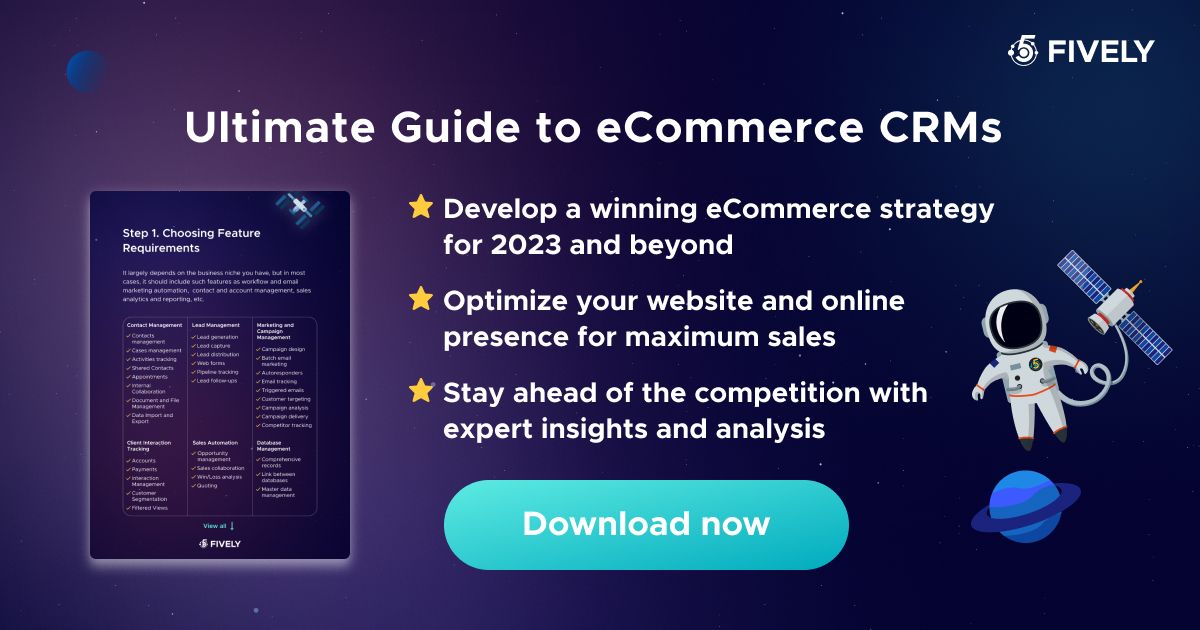 With our step-by-step guide to eCommerce CRMs, you'll gain the knowledge and confidence to take your eCommerce business to new heights. Streamline your operations, enhance customer relationships, and boost your bottom line.
Don't miss this opportunity to unlock the true potential of your business. Get your hands on our guide today and embark on a transformative journey towards CRM excellence!
Cost of Implementing a CRM System: General Overview
The final cost of a CRM implementation is quite rarely understood when the project begins, which very often causes project failure. CRMs are generally priced per user and per month or year.
In other words, you have to multiply the base cost of your CRM by the number of employees who will be using it to calculate your total monthly CRM investment. The average cost of a CRM system can vary wildly, from some cheap variants that cost as much as $12 per user per month, ending with complex enterprise solutions like Microsoft Dynamics for $130 per user per month, and this is without hidden implementation fees.
In general, CRM implementation costs fall into 1 of 2 categories: transparent and hidden. In both of the categories, you pay these costs either with your money or with your employees' time. Let's consider what it means step by step in the next paragraph.
Transparent Cost of Implementing a CRM System
Most of the CRM vendors are eager to tell you about the main implementation costs, as they are the easiest to spot and include in your budget. You should also remember that these steps are going to take up a certain amount of your time. Here they are:
Subscription costs
Service level costs
Cost per user (per month or per year)
Implementation fees
In a CRM implementation process, the first transparent fee is your subscription cost, which is the price you pay for access to the system. It can be of two types:
Cloud CRM: A cloud CRM is an online system, that gives you a lot of flexibility in payment options, scalability, and customization, and provides remote access for all of your devices. Cloud CRMs take less upfront investment and offer more options for subscription, that's why they are becoming more popular than on-premise CRMs nowadays.
On-premise CRM: An on-premise CRM is a system you purchase once for a certain sum of money, and you own it, e.g. it exists only on your servers. Thus, you are responsible for the maintenance, updates, and uptime. Such a CRM can be a good choice if you manage sensitive data and place security above all, or need total control over the system.
Next, come service level costs, which depend on 3 factors:
Plan level – the package of services from the vendor, from a basic to a premium one with the corresponding prices. In cloud-based CRMs, you usually start with a minimum plan, and, when your business grows, change it to a higher one.
Volume – the limited number of records, contacts, or data points you can have at a certain plan level. Once you approach that limit, you might be notified (or you might not). Then it's decision time: upgrade your contact/record limit, clean up your list and create some room, or find out you've been billed for an upgraded plan without being notified, surprise!
Add-ons – additional premium features, third-party integrations, or other capabilities you can add after you subscribe to the plan. In cloud-based CRMs, vendors can offer you to purchase only 1 or 2 needed features without changing your plan, like advanced reporting and analytics, sophisticated dashboard customization, and AI or ML integration. Add-ons can also be free, for example, native integrations with other tools, basic dashboard customization, simple reporting, and analytics.
We proceed to cost per user. Some CRMs can only allow having a certain number of users, while at others you can add individual users for a fixed price per month. The actual number of allowed users is usually denoted within the plan's description.
Finally, we have come to implementation fees. Unless you have existing developer skills, you're going to need professional help with its implementation. The price here changes according to the scope of the implementation, which can include some of the following services: customized dashboards creation, automated workflow, templates creation, data migration, contact import, consulting services, etc. Implementing all of these services at once will cost you a fortune, so make sure to know all the costs in advance.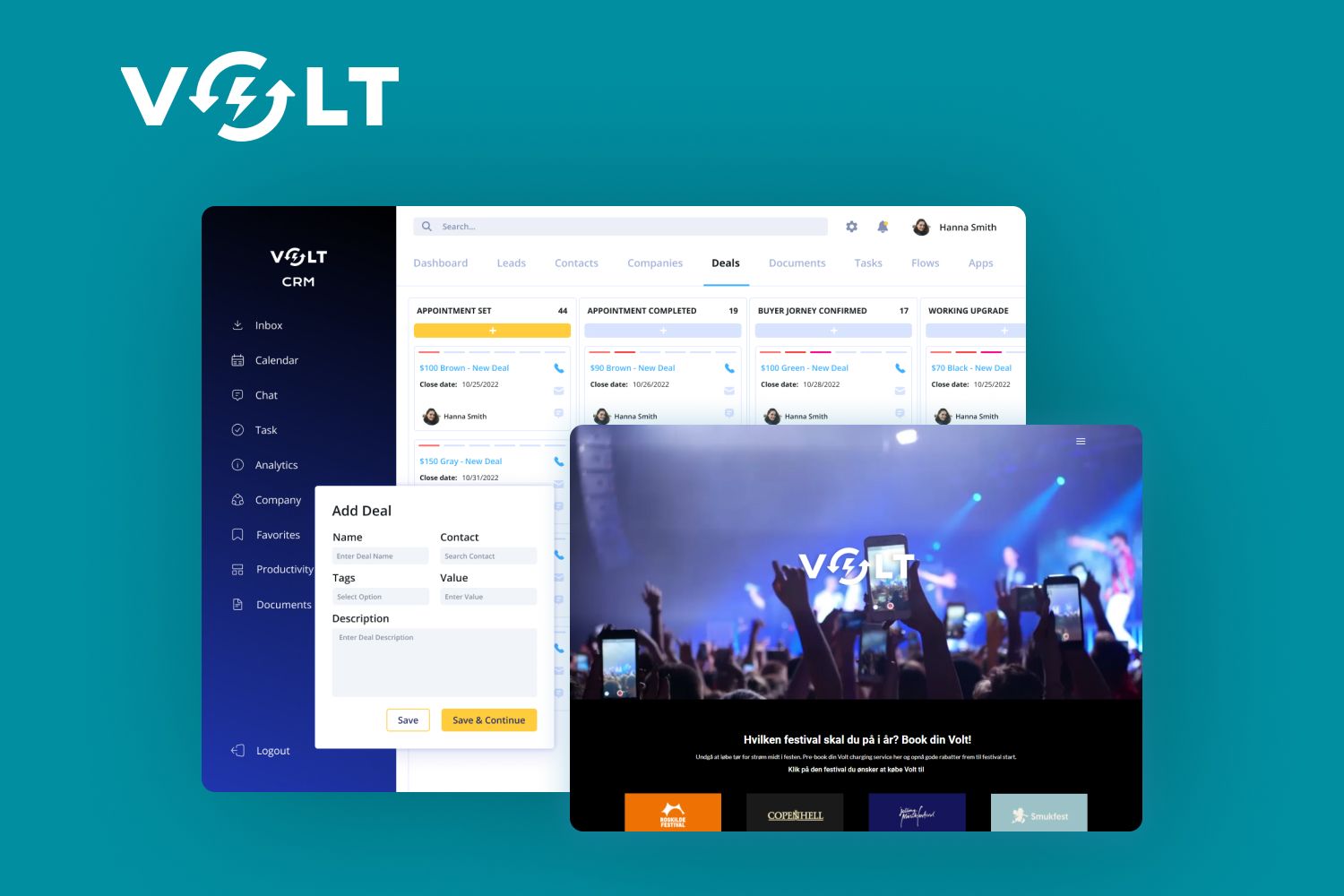 Implementations are a bit of a gray area because many vendors don't tell you how much these services will cost and leave the right to raise this sum as much as they want. At Fively, we realize that you need a well-set CRM system that can be set up and used quickly, without breaking the bank. That's why we follow several important rules in our custom CRM software development:
We arrange a thorough analysis of your business before CRM implementation;
We discuss the approximate cost of the implementation in advance;
We provide migration services for your contacts, workflows, and email templates;
Fively specialists realize that learning a new CRM can be difficult, so we offer special training sessions and onboarding calls to help you.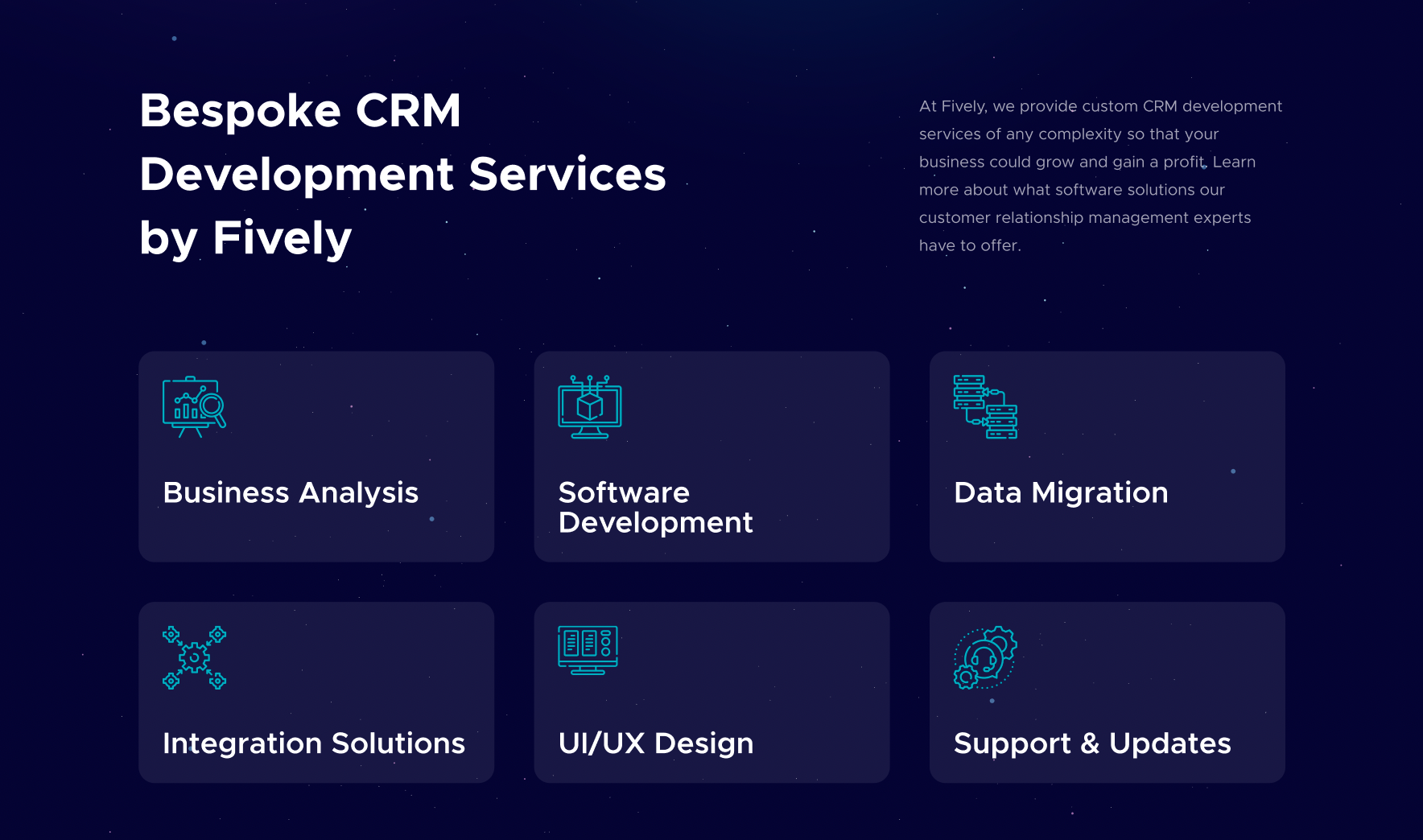 Remember, that the main purpose of your CRM system is to improve your customer relationships while optimizing your workflow. Pay special attention to these points at your potential CRM vendor, when searching for the one that fits you.
Cost of Implementing a CRM System: Time Investments
Every company, answering a question about how much it costs to build a CRM system, should remember about the time spent on it. Time is money, so we shouldn't forget about transparent time investments. Let's take a closer look at the time you will spend from the moment you realize that you need a CRM and your employees get a ready-made product. A thorough CRM discovery has 5 areas:
1. List of feature requirements
Firstly, compile a list of 'need-to-have' and 'nice-to-have' features. What do you need each feature to do for you? For example, in a real estate CRM, you may need such features as workflow and email marketing automation, contact and account management, sales analytics and reporting, etc.
2. Functional requirements
What specific things must the system do for your business processes? What specific use cases do you have? How each of your working processes look like? Drill down deeper than just features. Include in this discovery conversation all the teams who will actually use it: your sales and marketing team, board of directors, finance and support teams, etc.
3. System design
When choosing a design, think of your brand vision and mission, as well as the preferences of your workers. The questions here can be the following: Will different teams need different dashboards? What information will be shown in each dashboard? How will that information be displayed?  
4. Business requirements
You need to answer the following questions: What problems do you have? Which processes in your workflow look chaotic and messy? Where do you start losing leads, and what information are you losing? Write down the answers and you'll get a ready business requirements list for the creation of the fitting custom CRM for business.
5. Non-functional requirements
Think about the actual amount of info you add every day. In other words, how fast are you growing and what would happen if the system went down? Describe the desired volume and scalability of the system, as well as its backup and disaster recovery abilities to prevent possible system crash. For example, when we developed a feature-reach CRM software for the largest pocket charges provider in Europe, we took in account that our CRM will be used simultaneously by a huge amount of people during numerous festivals:
Now it's clear that a good discovery phase is as much as 50% of your success, so don't hesitate to invest the time. The process gets easier when the goal is clear. And, visa versa, if you underestimate how much time you need, you're going to spend way more than you wanted to, improving and editing the ready-made system in the future.
When you have a list of requirements ready, provide it to different CRM vendors. If a chosen CRM doesn't meet at least 60% of your requirements, look for another one.
If you can't find anything that fits you, then can either build a custom CRM, cut down less important features, or customize the chosen CRM. When you have decided upon the fitting CRM, ask your vendor for a demo or a free trial so you can test the system. Keep in mind that a trial version of the software may exclude certain features, so clarify the details with each vendor. We'll give a comparison of different CRM systems later for your convenience.
Also, what's also important is thorough data preparation, so make it ready 100% for the new system. You can follow this 5-step checklist to make sure your data is ready:
1. Localize all your info
2. Structure and prioritize it
3. Remove any duplicates and incorrect files
4. Add data where it is missing
5. Create one system for data entry
As you can see, data preparation can also take some time. And don't forget about training. If your team doesn't know how to use the system, all your efforts will be useless, as now you still have all of your problems, plus one more - a new CRM covered in dust and wasted potential. So don't forget to ask a CRM vendor for some training sessions and lay in some time for this too.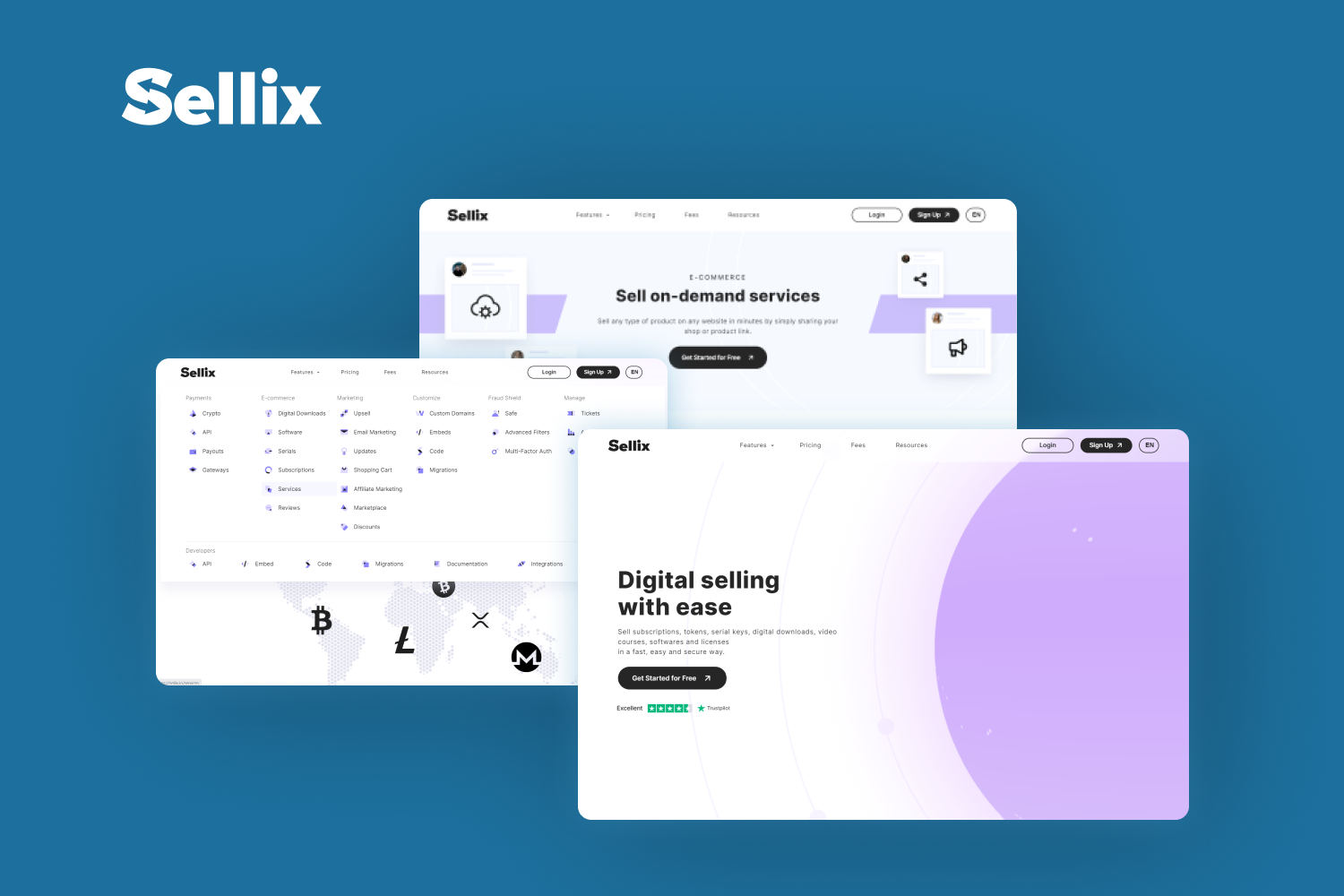 Still, even when you do everything correctly, you should remember that hidden fees exist. "The price you see isn't always the price you pay" - did you hear that saying? The same can happen with the cost of a CRM system. Hidden CRM fees can appear for 2 quite simple reasons: vendors aren't totally honest about the prices and customers don't ask enough questions. Here are the common hidden costs you can run into:
Adding more users
Improving system performance
Additional customization
Premium add-ons
Data migration
Training and customer support
Software developers overtime
Unclear contract terms
These secret fees hide in the details, so if you want to avoid them, ask your vendor lots of clarifying questions. For example, is adding users free or not, and if yes, at what amount. It's also important to know what is considered premium customization and what is not, because what you considered an included feature may easily turn into an added service.
Fively software development specialists recommend you clarify the following things with your CRM vendor:
Does a system include custom dashboards, and how many until charged?
Are there any limits on the info you can store?
Will you get any training or support?
How many custom pipelines can you create and is there a limit on the size of a pipeline?
Is there a limit on the number of custom fields you can add?
How many custom workflows can you create?
Are there any limits on the number or size of steps?
What are the custom user permissions?
Can you manage the access of your team?
Staff overtime during implementation plays its role in a CRM system price too, ending up charging you up to 2 times more than the initial price. Moreover, below you can see some common contract pitfalls not only in CRM but also in custom web portal development:
Is the fee based on the number of users or total employees of the company?
Is your contract set for automatic renewal or not?
Who takes responsibility in the event of a breach?
Are there any security measures you must provide?
Premium add-ons are things like integrations, analytics, reporting, or intelligence-based features that are stated in the buying process but cleverly hidden behind paywalls once you purchase. For example, basic metrics like, 'the number of emails opened' and 'win-rate' are given for free, but seeing the individual email addresses come at an additional price.
Training is also a hidden monetary cost because when your people don't know how to use your CRM, they manage to do less than before. Unless you employ a CRM administrator to train your employees, though in this case, you also need to pay this external specialist an annual salary.
Fively doesn't want you to pay hidden fees, so we do a bunch of things in order to avoid them:
Our customization capabilities are clearly stated on our CRM page;
We provide free migration services;
There's no limit to the number of pipelines, custom fields, or automation you can build;
Fively specialists provide support and onboarding services for CRM users
Still, there can occur some steps that you didn't even realize existed, and they can eat away all your time, creating expensive setbacks. We are talking about the poor discovery phase here and the need to do it again. Here's what a poor discovery phase looks like:
Choosing a CRM seems to be a guessing game;
Your get trials and demos wasted on aimless exploration;
You bump into strange implementation problems you never knew existed;
The development process is taking too long because you don't see the final result clearly;
The ready-made tool doesn't do everything your people need, so they just don't use it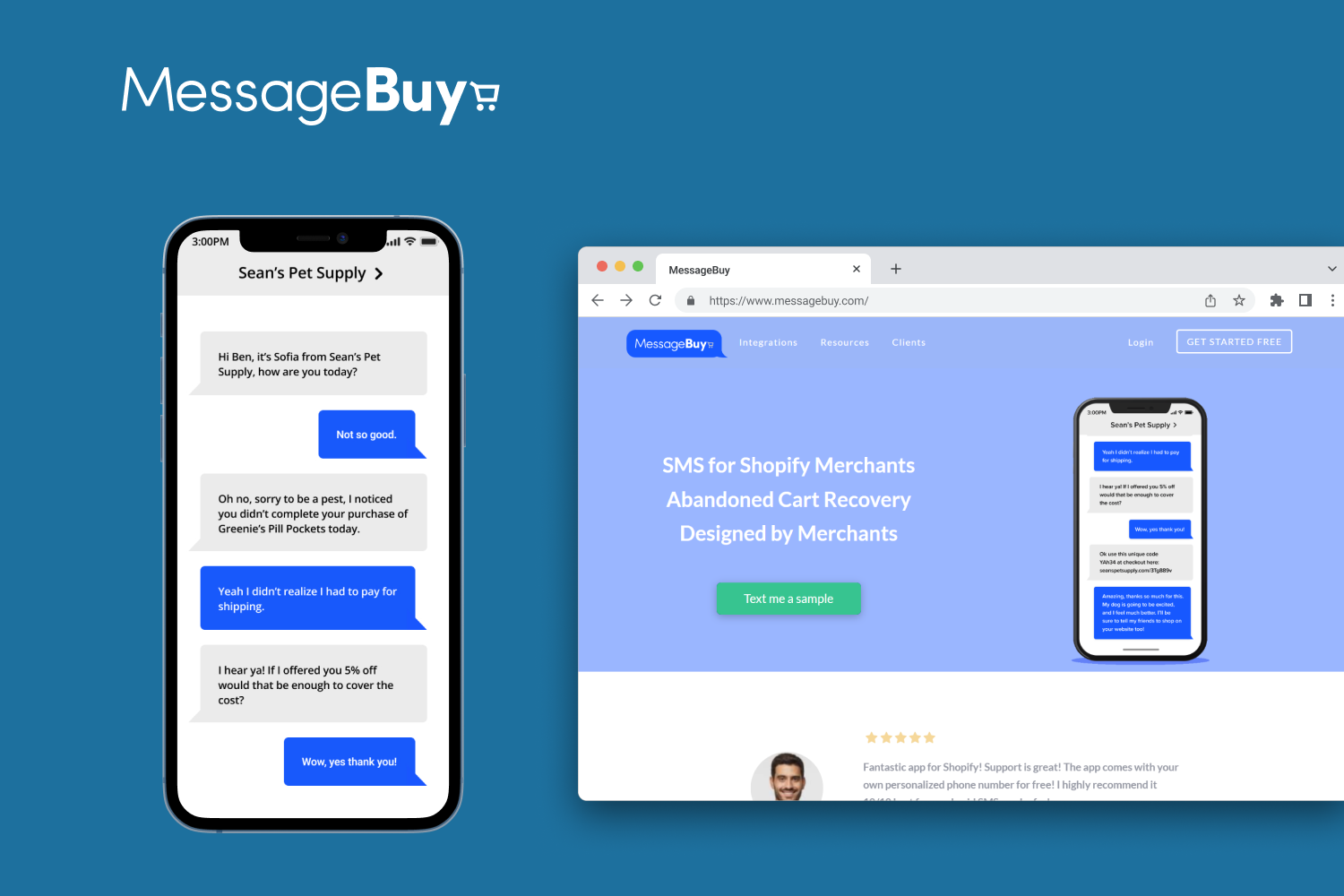 And vice versa, if you make a clear discovery phase, you can eliminate all these problems. Here's what a proper discovery looks like:
Choosing a CRM is an easy task because you know what you're looking for;
You use free trials to study every feature on your requirements list;
You know which problems you can face during the implementation, and do everything to avoid them;
You already have an idea on how you would like your CRM to be customized;
Your team actually uses the ready-made CRM
Data migration is also vulnerable to hidden time investments, as it usually takes longer than employees and managers think it will. Be sure to take into consideration:
The amount of customer information you have;
The time it takes to structure and prioritize the info;
The difficulty of finding some pieces of information
Driving a line, no matter whether you have a team of 5 or 5,000 employees, implementing a CRM for your business is a big deal. It takes time, money, and effort, but with the right preparation and investigation process, you can economize a great amount of money.
CRM System Price Comparison
As you can see in this article, CRM pricing is varied broadly, although pricing schemes tend to fall into four main categories: free, single-payment, fixed-monthly, and quote-based. Let's take a closer look at them.
1. Monthly
Monthly payment is typical for cloud-hosted systems with fixed pricing, where a user pays a fee for the product on a monthly basis. It's quite a convenient scheme for many companies, as they can tune the pricing each month. Zoho CRM with a starter plan that costs $14 per user per month and Nutshell CRM with a starter plan for $20 per user per month are examples of such systems.
2. Annual
These are considered to be low-cost CRM systems where users pay fees at the beginning of the year and are not expected to pay until that year is over. Annual payments allow to reduce pricing up to 25% per year, so this is the reason why many customers prefer this scheme. These licenses usually cost between $200 and $1,000 and are more common among locally hosted systems. The drawback here is that you pay for the whole year in advance, and if decide to stop using a given CRM, you will lose the rest of the money.
3. Single-payment
This is a so-called lifetime license, where users need to update and maintain the system on their own. This is a good choice for large teams and international enterprises operating with sensitive data, it allows them to greatly economize this way. Such licenses cost up to several thousands of dollars, depending on the size of the company or the functionality it is about to acquire. DejaOffice and InfoFlo are one of several popular single-payment CRMs.
4. Quote-based
You can also come across so-called 'by-quote priced CRMs', which are actually among the best cost-effective CRM systems and experts' recommended payment solutions. This is because such schemes are flexible. If you ask a quote-based vendor how much CRM software costs in their case, they are more likely to offer an answer you will like, giving the best price for the functionality they can afford. In other words, this means that you should approach your CRM choice with an exact list of wishes and preferences. To explain how custom builds CRM system cost works, look at the Premium and Enterprise plans of Yotpo, where customers can contact the vendor's sales representatives to get a personalized quote for their business.
To help you out in compiling a list of suitable vendors, you can check out our 7 popular CRM systems for business.
Summing Up
Implementing a custom CRM is not an easy and quick process, but when you understand where the costs are and see the final goal clearly, you can keep your project on track. Your budget and deadlines will be more accurate, and the result you get will definitely meet your expectations.
So, let's sum everything up. In order to get a CRM that benefits your business at an affordable price, you should remember 4 types of its implementation costs:
1. Transparent fees: subscription, service level, add-ons, cost per user, implementation;
2. Transparent time investments: discovery, selection, data preparation, actual implementation, training;
3. Hidden fees: adding users, customization, data migration, staff overtime during implementation, minimum contract terms, ongoing training and customer support, premium add-ons, training;
4. Hidden time investments: discovery, data clean-up, and migration
When you thoroughly prepare for a CRM implementation, you can avoid all the hidden fees and even cut down the transparent ones. Remember that Fively software specialists are always ready to help you if you have any questions regarding CRM implementation and customization processes, as well as its cost. Feel free to contact us to get a personal consultation on your business and the best-fitting CRM solution for you.
Need Help With A Project?
Drop us a line, let's arrange a discussion