Real Estate Web Portal Development: 10 Common Features to Build a Real Estate Website
Get a complete guide on real estate web portal development with its possible types, benefits, development stages, approximate cost, and common features.
In 2022, people want to search for everything they need online and quickly get the proper results. Speaking of this, real estate portal development is definitely on the top of the pop list. The reason is simple: searching for homes online gives customers the freedom, variety, and time they want.
Here they can easily apply filters, compare numerous locations, and sort the properties out, compiling their own top 5 list. Here goes the statistics to prove that: 80% of the people are excited to see their homes virtually before buying, and in the previous year as much as 97% of people were looking for their homes via web portals and platforms.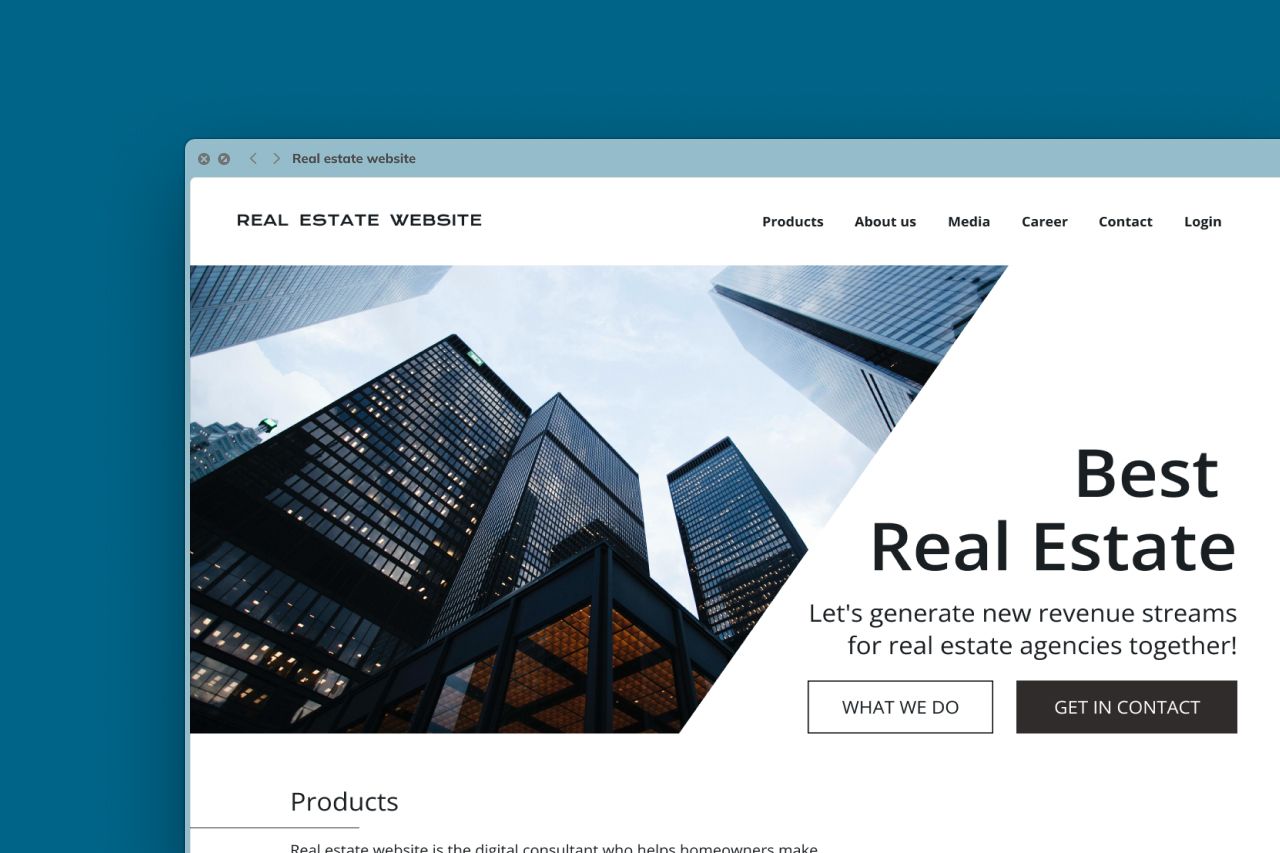 But still, real estate website development itself isn't a silver bullet that can take your business to the stratosphere, as only a few of them such as booking.com, airnbnb.com, zillow.com, realtor.com, and apartments.com stay at the top.
In this article, we will spot the light on the possible web portal types, their benefits, features, and development tips, as well as figure out how to effectively invest money in this great source of the web platform to benefit your business and attract more customers.
Types of Web Portals for Real Estate
There is a great variety of web portal types, and each of them has its own business goal and features. We have already described all of them in our article on types of web portals, so below we have sorted them out into different functional categories regarding the real estate niche:
1. Property listing portals
This is the most popular web page for real estate: here users can list their properties for buying or renting with all the descriptions and photos needed, and then customers estimate them with the help of agents or realtors. Such portals help property owners and real estate agents to represent their services attractively and find customers, while the last ones have enough time to evaluate the listings, directly deal with the owners without mediators, and make the choice.
2. Portals for smart homes
We'd like to distinguish a category of portals with only smart homes represented. These portals help people dreaming of a luxurious home to choose among multiple possible options, get a personal agent, and find something fitting their budget.
3. Portals for buying and renting homes
Freelancers, tourists, and students are always looking for fast and cheap renting options in the appropriate locations and without any mediators. In this niche, you can find only property for rent for various purposes and time periods. Such web portals are also very popular due to their handy filters and user-friendly designs.
4. Portals for realtors
In this category of real estate web development, there are portals for realtors' firms and real estate agents, where they display what properties they have, as well as the various facilities they can deliver to clients. With these portals, realtors can perform all the needed paperwork, streamline communication with customers, and develop more trust with them.
Top 5 Benefits
Speaking about the benefits of website development for real estate, the most obvious one is that you will broaden your customer base greatly. The reason is simple: people need to register and fill in some info about them before they start searching. Then, the more prospects you have, the more you can convert into actual clients sooner or later. But apart from this one main benefit, there is a bunch of others really cool below:
You can advertise the property on your page, choosing the most popular places and spaces for this. Thus, users who want to sell their property as soon as possible will pay for ads, which is quite cost-effective;
Facilitate owner-customer communication: your portal will become a place where everybody can search for properties of a certain size, type, price, location, price, and sell them very quickly while just being at home in total comfort. Thus, you will optimize your customers' experience and make their lives easier;
You get a powerful e-tool for developing and representing your brand on the market, which greatly increases its awareness and loyalty among customers;
Streamlined properties management: with an online web portal you don't have to visit every house to verify them manually. You can simply ask the listers or realtors and upload the documents, photos, and videos, and even sign the deal online with an e-signature.  You can also easily edit, remove, add, or update all the properties and their characteristics within a few minutes;
You also get enhanced search engine visibility and better promotion online. You can represent your portal online on various channels and sources, drive traffic to it like this and get more potential prospects in the future.
How to Build a Real Estate Website: 10 Common Features
Now it's all clear with the benefits, but what actual features should your real estate portal have to attract prospects and stay at the top of customers' choice? Here we go with our top 10 essential real estate web portal features:
Registration: with this feature users not only get a personalized experience, but also provide some important details about them, for example, age, gender, contact details, and so on, which you can use to sell them better;
Social media integration: having this, users can sign in using their social media details, as well as share the chosen property listings with their friends and family through social accounts right away;
Advanced search: users can easily find the property they wish for using numerous filters such as price, location, furniture, garden, and others;
Compare listing: using this real estate web portal real estate development feature, users compare several wanted properties at once in the given categories to make a better decision which will fit their desires better;
Google maps: having maps integrated, users can imagine the location of the property better and get precise directions there if they want to make a site visit;
VR tours: an excellent feature, which allows users to "dive" into the design and interior of the property virtually just sitting at their homes, and decide on how it looks and feels like;
Email alerts feature: it provides users with info on any possible updates on their desired property, for example, price drop or its current availability;
Mortgage calculators: help customers to get an idea about the mortgage estimate and final sum of the chosen property so that they can plan their budget;
Live chat and messaging: communication in the chat is the fastest and the most convenient way for both users and agents to get in touch with the house owner and discuss all the questions about the property;
Payment gateways: with this feature users can easily pay for all the possible services on your web portal, such as booking and consultation fees, onsite visits, and any others.
Apart from the listed features, there is a separate and unique feature named 'dashboard', which is a quite engaging and helpful visual representation of listed properties and deals. Recently it has become especially popular among portal visitors of all kinds. Let's look closely at each dashboard type in the next part of our article.
Real Estate Dashboard Types
Proceeding to the real estate dashboards, there are 3 possible types of them:
User dashboards: they are available to all the portal users and have the following features:
a) Property listings compilation: the chosen property can be enlisted and sorted out by the numerous categories so that buyers can find them and pick the desired ones;
b) Timely users support: every user can get quick personalized online support and answers to all the property-rated questions;
c) Sharing via email and social networks: every user can send their property information, photos, and queries via email or social networks with one click;
d) Uploading and automatic resizing of multiple images: all the media files considering the user's property can be uploaded in one click and automatically resized to the best fitting size;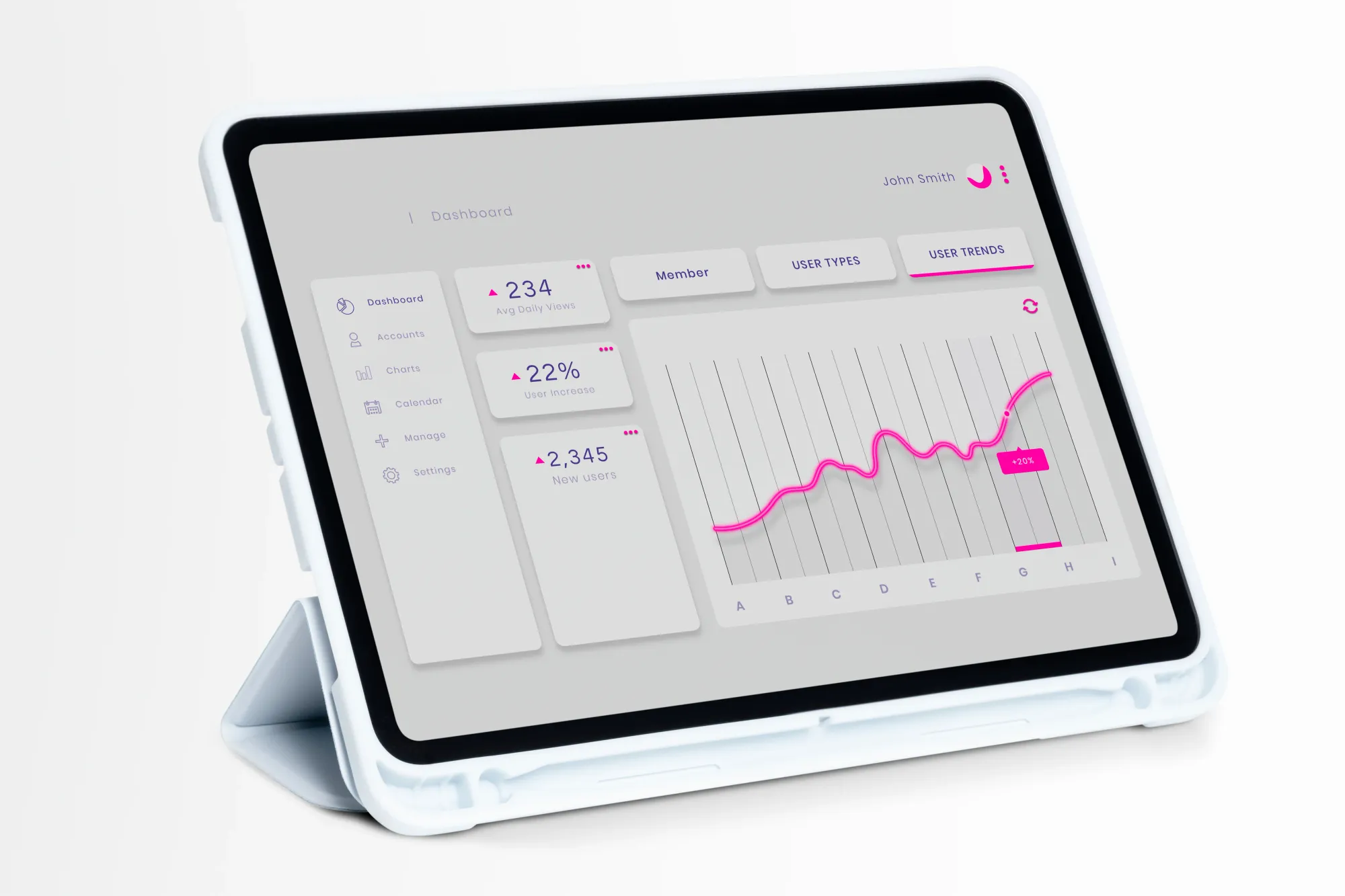 2) Business owner dashboards: available to real estate agents and usually have the following number of features:
a) Agency profile creation: here the real estate business owners can create their profiles so that the users can find anything they want about the desired property;
b) Property management: here business owners can manage all the properties descriptions, add new ones, delete those that are no more actual, and change any detail they need;
c) Automated document management: all the properties descriptions, legal documents, and other important papers are managed and amended automatically;
d) Numerous billing options: business owners have several billing options offered to their portal users, so they can choose the best fitting option in every single case;
e) Members management: business owners can add, modify or delete all the members registered to the web portal quite easily and efficiently.
3) Admin dashboards: available strictly to web portal admins, and a common real estate admin dashboard can have the following features:
a) Featured properties and advertisement management: here admins can manage featured properties and give the best spaces to adds to make extra revenue on the web portal;
b) Reviews and ratings: here admins collect and sort out numerous ratings and reviews given by the web portal users;
c) Manage languages: the users that come to the website may not be well-versed with just one particular language, so the admin can manage languages that can be selected by the users;
d) Manage the portal's sections: the admin can manage a plethora of properties listed over the web portal to make sure that are displayed as they should;
e) Help users to find properties: sometimes admin can even assist users in finding their desired properties and guide them through the portal.
Some More Real Estate Dashboards
Apart from the named categories, there are lots of more specialized tools and dashboards that can give you a competitive advantage in the market:
- Marketing and content management tools: they are used by agents and business owners to attract more potential prospects via emails and SMS with advertisements, special offers, etc. Plus to the promotion itself, these tools help to put in order what is offered to what customers, and streamline the communication with customers;
- Advanced SEO tools: these real estate metrics dashboards help to keep your web portal on the front page of the Google search engine and raise your chances to be found by a customer;
- Loan calculators: they improve the overall customer experience while visiting your web portal, as they help to calculate the loan and interest, saving time and making the decision-making process easier;
- Presentation tools: in the real estate niche, it is essential to cast a great first impression on the users, as here a great does is everything. Thus, the more presentation tools you will have, such as bright full-sized pictures, short room tour videos, 360-degree views, and others, the more customers you will get.
Plus, don't forget about some additional rental services: you'd better have them all right on your web portal than lose customers because they leave your page in search of the options that you don't possess. And visa versa, if you have everything needed at your portal, your page will become a handy place and even a community for people searching for a new place to live, which is a vital factor needed to get to the top of the market.
How to Build a Real Estate Website: Development Stages
If you want to build a real estate website that will distinguish your agency from all the other competitors, you will need to do a lot of researching, planning, and taking lots of vital decisions. Let's consider all the steps one by one to highlight the things to which you should pay special attention:
1. Make a thorough market analysis
A market and competitors' research will allow you to get an idea about the current trends, business strategies, common services, and existing blue oceans. When you'll have all this info, you can use it to build a real estate website that customers actually need and want, and get the chance to be at the top of the real estate market. Of course, it requires certain time and resources investment. But the result is worth it all.
2.  Plan your project
Now, when you have collected the needed information, it's time to make a detailed plan for your real estate web portal development. Decide what features your portal should have, and how will it look, set clear KPIs and goals, and create a roadmap with a clear timeline for the project realization. Consult your development team to choose the right tech stack and platform for your portal. Below we enlist the most desired technologies concerning website development for real estate, but remember that each development case is individual:
For FrontEnd and database operations the most fitting technologies are JavaScript, React, Redux, HTML5, NGINX, Node.js, PostgreSQL, ES6, GraphQL, Elixir, and others;
For DevOps works choose Docker, Kubernetes, GitHub, Git, Sentry, Webpack, Docker Compose, Terraform, BrowserStack, and Pingdom;
For the project management and communication, take Slack, Trello, or any similar app;
Also, remember to choose a fitting marketing strategy. You can also use here utilities such as Google Analytics, Mixpanel, and Twilio SendGrid to automate marketing and sales operations on your real estate web portal. Just remember that all of the tools and features should be well integrated and work smoothly.
Last but not least: you should decide on the budget and timeline you can spend on your real estate web development. These details are extremely important for the success of your project, as they will help you to eliminate unnecessary obstacles in the development process.
3.  Design and development
This is the heart of project implementation, where all the concepts are realized in the code. There are 2 very important aspects here: creating a catching but easy-to-use design and close communication with the development team at every stage. Simple, ergonomic but at the same time attractive and fresh design is vital for the success of your web portal, as the main goal of your customers is to quickly find a proper house, and they don't spend their time trying to get through a complicated design. And close communication with developers is needed to see the intermediate results, timely make the necessary changes if needed, and develop your real estate website according to the set timeline.
4. Testing and post-production support
When your real estate web application development is over, arrange complete testing of the portal to make sure everything works as it should. It will take some additional time and resources, but as a result, you will get a much higher chance that future customers will like your portal. When there are no more bugs left, you're ready to launch the portal. It's also recommended to get some post-production support from your development team at least for the first several months after the launch of your portal.
Cost of Real Estate Web Portal Development
There is no fixed sum of money that you will definitely spend on custom real estate web portal development, as there are so many various aspects that influence the final cost. But still, we can say that the biggest part of your budget will depend on two factors:
the number and complexity of the functions you want to include in the portal;
the professional level, location, and, respectively, the price range of the chosen development team.
For example, if you want to create an app with basic features and common functionality, you will approximately spend from $20.000 to $60.000. For more advanced and complex solutions the cost may start at $70.000 and go to infinity.
The situation is the same with developers: the more you are ready to pay, the more proficient and creative real estate web developer you will get (in most cases). Also, in various regions of the globe, you can meet different prices per hour of development. In the USA and Canada, it is around $110-$150, in Western Europe - $75-$110, while in Eastern Europe, India, and South Asia around $25-$50. But, please, take into consideration not only the amount of money you will pay but also the difference in time zones, language, and culture to choose the real estate website development company that fits your needs.
Another important factor is project technologies. For example, using AI and ML can cause additional expenses, but give you a competitive advantage, while using a popular and basic technology stack will make the total sum lower.
There are also secondary factors such as the number of developers involved, the number of released modifications, the chosen platform of development, etc. that can also influence the final cost, but they rather determine how cost-effective your e-portal for the property would be. If you want to know more details about how much a portal costs, please check our relevant webpage.
What to Focus on
Apart from the development process itself, you'll have lots of things that need your attention during real estate portal development. Here is the list of the most common issues that you'll face:
1. Website performance
The first and the most important thing about any web page for real estate is its speed: if you want customers to spend more time on your platform and visit it again and again, it should be very fast and responsive. All the images should be loaded within 1-3 seconds and have a high resolution. If any of your site's elements need more time to be loaded, then be ready to lose potential clients. Here are some tips to make your web portal work faster:
Optimize your image sizes
Your property web portal has plenty of images, so you can greatly speed up its work by optimizing their sizes. But make sure not to decrease the resolution of images.
Choose the right language and frameworks
Where it's possible, you need to cut down the use of JavaScript, HTML, and CSS files, because they load slowly, taking up as much as 80% of end-user response time. You can do it by reducing the number and complexity of HTTP requests with the right page design and using combined CSS and JavaScript files for rich content.
Find the fitting web server
When your server isn't ready for heavy traffic to your web page, it will drastically slow down your web performance or even lead to a crash. In order to avoid this, it's better to use a Content Delivery Network (CDN). It is geographically dispersed, so each user connects to the nearest server, and this allows static to load much faster.
Reduce the number of plugins
Plugins help to add functionality to your portal and improve the user experience, avoiding messiness in code. But having a lot of plugins affects the speed of your website, you should leave only the essential ones.
2. Customer Relationship Management (CRM) system
The real estate industry is all about communication with clients, so be sure to have a robust and modern real estate CRM dashboard, as it's vital to the success of your business. To choose the fitting one, define your business needs, for example, manage prospects, use marketing tools, track leads, etc.
Plus, it's good to track your employees' performance and growth, so a custom HRM software development would give you a huge advantage. Ideally, your CRM system should handle all of your business needs, so it's usually linked to a custom HRM management system for a better result. The most popular CRMs for realtors are the Premier Agent App, Propertybase, Rethink CRM, and Pipedrive. Please remember that you can always order custom CRM development services to create the one that fits you 100%.
3. Make your portal responsive
This is such a portal where users have an equally great experience using your platform on different devices, such as desktops, smartphones, laptops, and tablets. But that's not all, as it also helps to increase the number of prospects you get from your site as mobile and tablet users also have access to your real estate platform. Plus, all responsive website pages have the same URL on different devices, so it's simpler to index them. That's why Google recommends choosing a responsive design.
4. Third-party services
Nowadays, there are numerous services on the real estate market that can be connected with your portal. For example, mortgage calculators: it's very convenient for users if they can compare rates and services from different lenders and find the best loan this way. Another example is a moving service: you could integrate it into your platform, so customers can use it right after signing the deal.
Drawing the Line
In order to build a successful real estate portal, you need to be well aware of the trends and the latest developments in this field. Start from collecting the needed market data. Then do research on competitors, set your plan for the future project, and develop your portal using the right tools and technologies for maximum profit. Think of a catching and user-friendly design, modern visual dashboards and tools on your portal, but also don't forget to create a community on your platform. Try to provide all the additional services at your portal so that users don't need to leave it in search for them.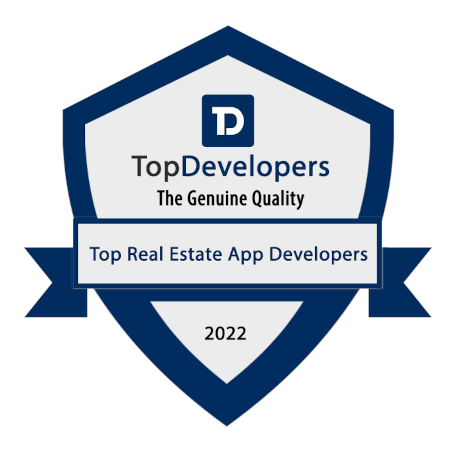 Choose a good portal real estate development company and remember the list of the things to which you should pay special attention during the development stage. In case if you have any other questions left concerning property portals development, feel free to contact us and get a free technical and business consultation from our experts.
Need Help With A Project?
Drop us a line, let's arrange a discussion