11 FinTech Software Development Companies to Consider in 2023
Exploring the Top FinTech Software Development Companies of 2023
The number of web development companies is incessantly growing, and so is our confusion about the right one for business FinTech solution creation. You can spend hours and hours surfing the net in a futile attempt to find the one and a special team of developers ready to make your dream app come true, but isn't it downright grueling? To help you with this endeavor of utmost importance, we've prepared a list of the top FinTech software development companies.
5 Aspects Ponder Over to Choose the Right Team of FinTech Software Developers
FinTech apps aim to optimize financial operations, right? Thus, they should be permeated with innovation and efficiency. The AI market in FinTech is expected to reach $61.30 billion by 2031 as virtual assistants and automation prove their efficiency for the industry.
Today, companies that ubiquitously leverage the capacities of Artificial Intelligence and Machine Learning are obviously a step ahead in the niche. But the level of expertise in advanced technologies is only a part, though enormously significant, of what a business owner needs to pay heed to in the process of their research.
Let's examine all the rest of the aspects necessary to study in order to render a rational decision and end up with a sound business app.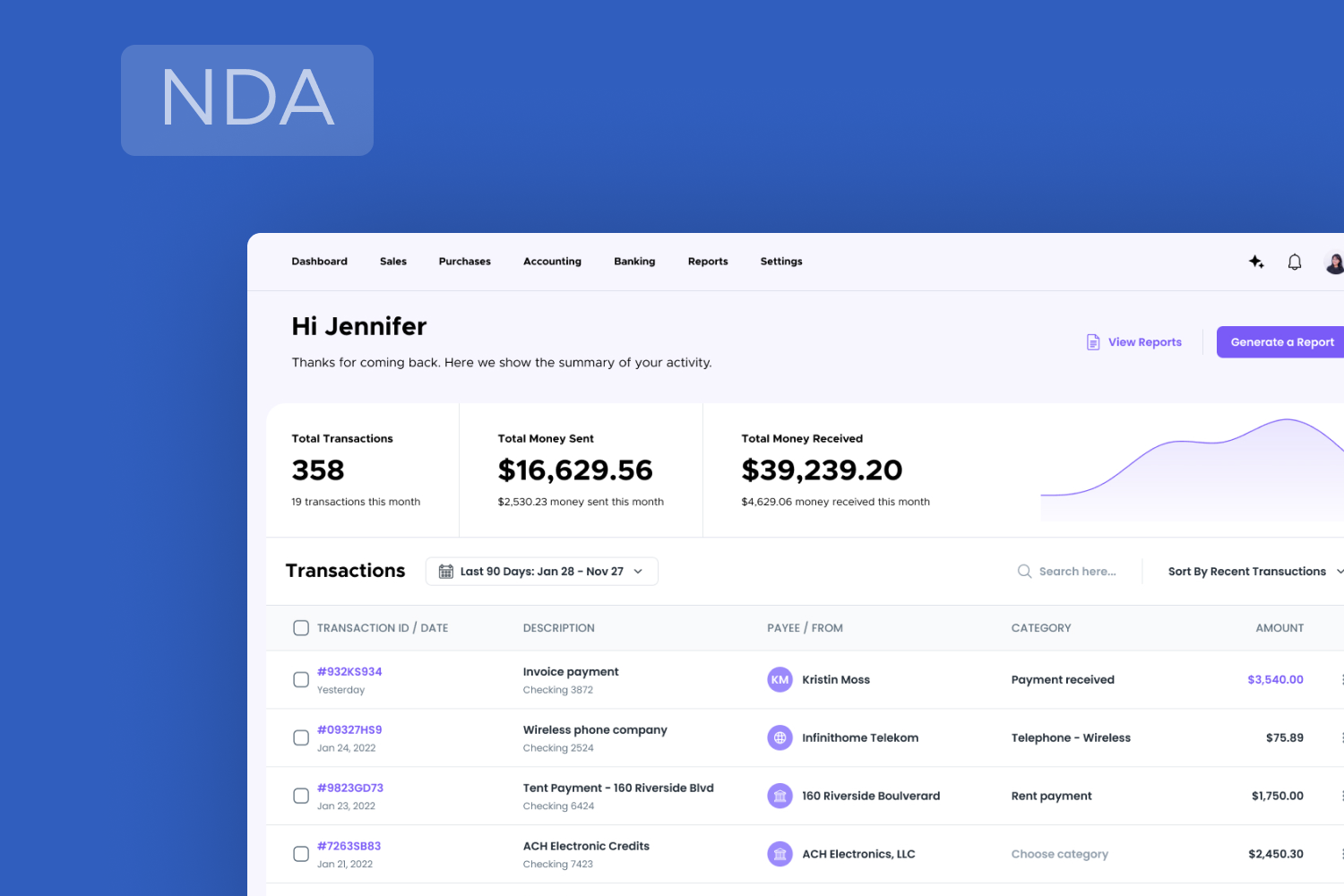 Experience
A company with decades of experience in FinTech software creation must have garnered a lot of insights about the industry and, hence, acted more confidently and deliberately. At the same time, a rather young software development company can be more flexible in terms of the tech stack and innovative approaches it employs. The former, on the other hand, may already have a set of tried-and-tested tools they wouldn't like to compromise.  
Team size
Take into account the complexity of your app and the diversity of the team you need for a project. In a nutshell, you need to make sure that all facets of the software development lifecycle are covered, from project management to quality assurance. Big teams can complete your project in a shorter time if their cooperation is tuned up. Often, small teams tend to take a more personalized approach and collaborate with greater agility.
Time frames
You should precisely calculate the period of time at your disposal for app development. Check how many formalities and bureaucratic issues need to be dealt with before a company proceeds to work on your projects.
By the way, all the aspects mentioned above are influenced by the culture a company adheres to. For example, those who practice DevOps and Agile are remarkable for delivering transparency in every process, faster results of higher quality, and enhanced collaboration between team members.
The range of tech stack
Some FinTech companies work specifically within one framework or specialize in the development of web apps only. If you're already sure of the technology you'd like to implement, the scope of companies on your search list significantly shrinks.
Payment model
Overall, three pricing models can be employed when hiring a software development company:
Fixed. The total cost is determined based on the preliminary planning, tech stack, and business requirements. A team can't involve resources beyond the set amount. In this case, a business owner can be sure about the ultimate price of software, which is not the case for the next model. On the flip side, FinTech software developers often tend to compromise quality to not extend the budget.
Time and material. You're charged only for the tech stack and the hours that were factually spent in the process of development to stay open to modifications in the initial plan.
Dedicated team. It's on you to interview and select team members, assign tasks, distribute the workload, and pay them a monthly salary. It's similar to having your own team of developers but without the problems of training them and dealing with licensing.
Those companies that take a personalized approach to every client can combine these models or use the one that is most beneficial to both parties, depending on the project.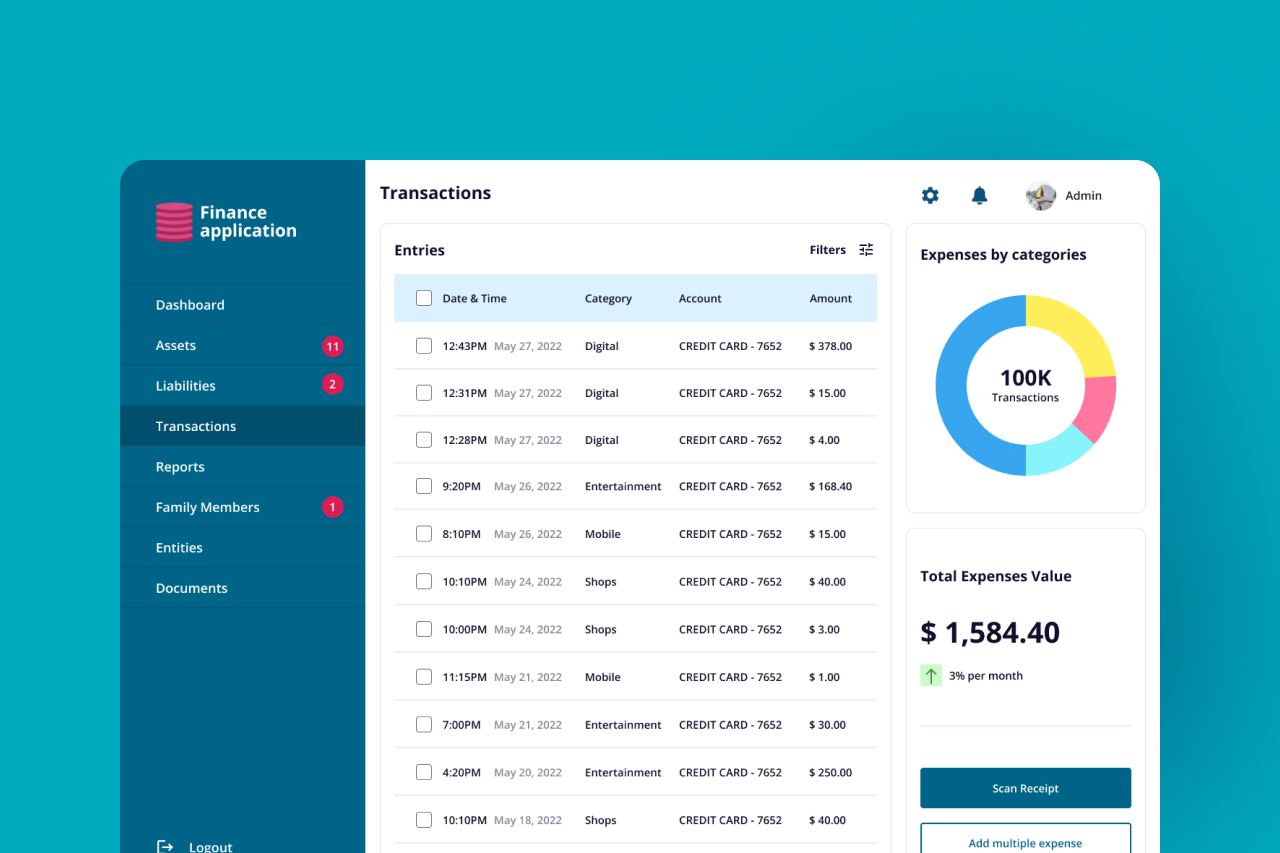 Accommodation of each of the enlisted aspects to your own business requirements will instantly assuage the process of choosing the company to which you can entrust your business software development.
Now, let's take a look at the best web development companies with proven experience in the FinTech industry and the noteworthy cases in their portfolios.
Fively
Fively is a software development company that has been helping businesses with innovative FinTech solutions since 2018. The on-demand team of FinTech app developers provides businesses with an all-round scope of services, according to their demands and aspirations. TopDevelopers.co, an immense directory for software development service seekers, recognized Fively as one of the fastest-growing software companies. According to Clutch, it's one of the best B2B service providers in Poland.
So many accolades are due to the fact that Fively prioritizes security and data protection, applying blockchain technology and all subsets of AI for FinTech development and modernization.
Prominent cases. Fively cooperates with BloXmove, an Irish startup that promotes green energy and the power of blockchain in mobility services. The brainchild of their collaboration is a blockchain platform, via which BloXmove has established partnerships with 9 mobility providers and energy suppliers.
Actually, Fively's expertise is extremely versatile. Their portfolio includes diverse cases such as SaaS social networking app for iOS and a cloud-based solution for marketplace development.
10Clouds
10Clouds is a software development company with more than 200 team members on board. Located in Poland, it delivers FinTech solutions to businesses all around the world. Clutch included 10Clouds in the top 1000 global service providers. The team helps with moving to the cloud and creating banking solutions and works within the DevOps culture, which allows for delivering an app to the market quickly.
Prominent cases. 10Clouds collaborated with TrustStamp to create a modern web app for identity protection via biometrics and computer vision.
Netguru
Netguru is one of the top FinTech software companies established in Poland. It became a trusted partner of Adyen for end-to-end payment gateway integrations and received a 4.8 rating according to 51 reviews on Clutch.
Prominent cases. Netguru developed demo versions of digital banking apps for the Swiss UBS investment bank because security regulations prohibit showcasing real apps to potential clients. The demo apps included tools for wealth and personal finance management.
It also helped Solarisbank with building secure APIs and creating a system that fosters effective remote work.
Diceus
Diceus started in 2011 and operates offices in 4 countries with more than 250 tech experts. It develops banking and financial apps using blockchain, data science, and robotic process automation (RPA). Diceus is an official partner of Oracle and Microsoft.
Prominent cases. Diceus developed a data warehouse for a Jordanian bank that allows for effective data analysis and reporting with 15 source systems integrated.
iTechArt
Founded in 2002, the company boasts a team size of more than 3500 people with deep expertise in custom software development. They help migrate software to cloud-based platforms and automate any operations pertinent to finances and accounting.
Prominent cases. iTechArt developed DealCloud, a FinTech solution that combines a CRM and deal management tool. Today, the platform is used by 25,000 people engaged in the field of investment.
ScienceSoft
Founded in 1989, this is the oldest full-cycle FinTech software development company on the list. The financial software created by ScienceSoft is claimed to increase revenue by up to 15% and reduce operational costs by a minimum of 5%. Basically, the company develops robust software for every niche within the FinTech industry, from banking to insurance and wealth management.
Prominent cases. ScienceSoft revamped the legacy software of an Asian bank with more than 90 branches in the country to morph it into iOS and Android apps for money transfers, account management, and the location of the nearest ATMs.
Qulix Systems
Qulix is an international software development company whose team is multiplied by 15% each year. Quilix provides the services of digital banking implementation, blockchain software development, and payment gateway integration. For the most part, the company works within the FinTech industry: it constitutes 65% of Quilix main competencies.
Prominent cases. Qulix can build an e-invoicing app that allows users to pay and get paid in cryptocurrency and fiat, while the process of invoice creation is fully automated.
Miquido
Miquido is another FinTech development company based in Poland. They're capable of building both web and mobile apps, covering every stage of software development, from ideation to UI/UX design and Quality Assurance (QA). Miquido specializes in building banking and insurance apps by applying AI, automation, and cloud computing technologies.
Prominent cases. Miquido built several FinTech programs for NextBank, including a Flutter-based app that, via ML, can identify high-risk loans and function as a white-label banking program.
Altamira
The international FinTech software development company has been operating since 2011 and has tailored software for more than 140 clients. With 200 team members, Altamira is ready to embark on the development of digital payment systems, FinTech management platforms, and investment management tools.
Prominent cases. Stockino, a financial software for investment portfolio management, was developed by Altamira. It functions either as a cloud-based web app or an on-premises tool, with a reporting module and a plugin for calculating a portfolio's value.
Sloboda Studio
Sloboda Studio has been helping startups and mature companies with full-cycle software development since 2010. Clutch listed them among the best web development companies, and their portfolio encompasses over 200 successful projects in all industries, including FinTech.
Prominent Cases. Sloboda Studio created a financial news aggregator for CityFALCON. It can analyze financial news and tweets from various sources via Natural Language Processing (NLP) and is also enhanced with voice assistants and APIs that make it possible for other websites to share CityFALCON's articles.
Itexus
Itexus was established in 2013 by four friends with extensive personal backgrounds in IT. Today, the company is a big provider of end-to-end software development services in FinTech. More than 90 specialists help startups overcome initial friction in the workflow and bolster the potential of big enterprises with custom web and mobile software.
Prominent cases. Itexus developed iOS and Android apps that function as a white-label SaaS online banking platform that allows for running digital banks in compliance with all international and local regulatory requirements.
How to Create the Best FinTech Software?
Wrapping your head around the software development company whose philosophy and pace of work resonate with yours is only one milestone on a long journey.
Keep in mind that the concept of "best" is fluid. An agency with a thousand flamboyant cases in its portfolio can turn out to be unfit to develop your unique financial product, while a small team might, by chance, appear to be utterly rigid. A perfect match between two companies won't happen magically, but only through thorough research and personal consultation.
We can only advise you to consider Fively as a trusted companion who can help you attain a sound FinTech app amplified by a sturdy layer of security and imbued with the powers of Artificial Intelligence.
We've already created a fully custom accounting system that automated 70% of a company financial workflow and visualized financial analytics to help the management render data-driven decisions, and we are ready to make something special for your business!
This and other cases in our portfolio show that the personalized approach and profound technical expertise ensure that Fively has every chance to translate your idea into reality in impeccable form. Text us to know for sure!
Need Help With A Project?
Drop us a line, let's arrange a discussion