Custom Real Estate CRM Software Development
The adoption of a custom CRM solution can mark an important milestone for your business. We explain why.
The real estate industry has usually been a sort of golden goose, which attracted many people from the business world who are not afraid of overcoming challenges. In 2022, everyone can try their hand at this field – namely, due to a full-blast digital transformation and the widespread implementation of cutting-edge technologies into the routine workflow. It includes the large-scale introduction of custom real estate CRM systems as well.
This time CRM solutions were caught under our magnifying glass. So let's get to know them a little closer because these fabulous tools are really worth it!
CRM Tools and Modern Business in a Nutshell
Building a customer-focused business has always been a not-so-trivial task. Nevertheless, now the market is abundant with software solutions that may give great relief to owners of developing businesses. The rules of the game have changed a long time ago and today we can observe how the paths of companies are divided depending on the perception of this simple truth.
Well, do you want your business to be a success? So, then you need to pick the software that would become both an effective springboard at the initial stage and a trustworthy helping hand in the future.
For example, a real estate business relies on CRM software, which could assist the real estate agents to stay in touch with their customers, facilitate workflow within departments, automate a bunch of various processes, and would come in handy in many other cases. After all, according to some statistical data, the implementation of a CRM solution may boost conversion rates up to 300%.
Simply put, full-fledged agencies deal with a huge flow of potential customers, and in order for them to become real clients, realtors need to provide communication at the proper level, showing an individual approach to each particular person. Without proper tools, the workflow can very easily turn into a messy disaster, which should clearly affect the customer experience in a negative way and therefore diminish all the profits dramatically.
In such a situation, the only right solution is to turn to real estate CRM software development service providers. What, in turn, real estate companies actually do.
Why Agencies Need Real Estate CRM Software
According to current survey data, 91% of agencies with more than 10 employees tend to use a CRM system. Apparently, the need for a CRM system in real estate agencies is not a topic for debate. It allows you to scale your business and streamline a variety of processes. However, when and how exactly can this marvel of engineering be used? The answer is simple – real estate CRM software can be used across almost any department, literally company-wide.
This high-tech solution is a real Swiss Army knife, but for present-day real estate agents who tend to trim the sails to the wind. First of all, such systems are created to make it even more convenient to carry the lead through the sales pipeline, from the very beginning to the end. The app allows you to automate numerous steps in your marketing campaign and synchronize the work of many diverse specialists. CRM software provides them with access to a kind of collective hub with relatable customer data, as well as a set of tools for its management.
Thus, the CRM platform functions as a marketing automation solution on the one hand and as a database on the other. This synergy will provide your employees with a handful of means to work smarter and close deals more than ever before.
Custom Software Development for Real Estate Industry
When you are already 100% sure that you actually require CRM software for real estate, then you have to make the next choice – namely, decide whether you need a custom solution or you will be satisfied with the commonplace commercial real estate CRM software.
It is the moment when you need to think twice so as not to regret it in the future. The whole point is that custom real estate software development can cost a pretty penny, while commercial real estate CRM software can be fairly cheap or completely free of charge. Each business is like no other and probably the ordinary open-source CRM system may become your top choice. Whatever the case, why not give it a chance? However, we strongly recommend that you opt for a custom option. And here's why.
Limitless Personalization. Real estate custom development is called that for a reason. You are free to get the application that fits all your criteria for a comfortable CRM system. It's only up to you to tailor what the final result will be.
High Functionality. You are not limited to standard functionality. Developers can equip bespoke systems with whatever tools your real estate agency needs.
True Security. You do not have to worry about private data leaks, because a real estate CRM software development company can create a truly secure solution, which will be too tough for hackers.
Hassle-Free Scalability. Your agency will not go broke on paid modules and premium subscriptions if the tailored solution is integrated into your business. So that, when the need arises, all you should do is contact the software company to have the new functions implemented.
Reasonable Cost. In the long run, custom engineering is always more profitable, because you only pay once for what you need. Unique CRM systems are created with an eye on the future and require significant investments only at the development stage.
And these are just some of the benefits that you can get if you decide to go ahead with bespoke real estate CRM software development.
Summing up, it can be argued that unique solutions differ from their off-the-shelf counterparts primarily in their flexibility. This is an extremely important aspect for growing companies that sooner or later will feel the need to scale businesses. So for this particular reason, custom software development for the real estate industry is not a gimmicky knick knackery but an utterly reasonable step.
Deciding on Custom Real Estate CRM Functionality
Deciding on the basic set of options that would be available in your real estate CRM software can be tricky. On the other hand, nothing limits you in implementing all the functionality that you deem necessary so that your real estate agency can reach a totally new level of service delivery.
Although different companies require different tooling, the core functionality that is built into commercial real estate CRM software can be distinctively represented by the bunch of modules listed below.
Dashboard. This element has the role of a hub and the main page, where agents can observe the status of transactions, basic statistics, their efficiency ratio, information about upcoming calls, and so on. The info displayed on the dashboard could be customized depending on the employee's status, for example, the position occupied.
Reports and Notifications System. This element can be considered an add-on that will notify employees of major updates and events related to other modules, including meeting reminders, the state of a lead, reports on automated tasks, etc.
Filters. Another add-on is the filter system, which is implemented in CRM solutions by absolutely all real estate companies. No doubt, this feature will come in handy, especially in cases when you need to pull some specific piece of info from the customer database.
Deal Control Module. This is where the magic of digital transformation happens! It's the very page on which you could manage your deals. In more detail, with this particular module, you can create new real estate deals, change their status, add some relevant info, and perform other manipulations necessary to get a deal closed.
Contact Database. The heart of any real estate CRM software system is a database that stores customer information. To ensure that such valuable data is safe and will never be lost, it should be kept in the cloud. Besides, in order not to compromise privacy, complex and reliable cloud infrastructure should be developed as well.
Transactions Tracking Module. It is not easy to imagine a business without money. Keep the essential financial records directly in the CRM application. Make your system a sheerly powerful business combine and invest resources in developing a module that will allow you to manage your bills and track the invoices.
Statistics Module. Get a view of your real estate company from a bird's perspective. Keep a watchful eye on all important metrics in real-time with an ultimate statistical toolset. With the assistance of this module, it will be much easier to do a reality check analyzing the performance and then adjust the strategy correspondingly.
It is up to you to decide what functionality of your CRM application should be implemented. And if necessary, it can always be augmented with a couple of brand-new modules.
Custom Real Estate CRM Software Development: Time and Money
To build custom CRM software for a real estate agency, you should get in touch with a software company. It will be much easier to decide on the developers you can rely on if you take a close look at their portfolio: study their already completed projects, find out a couple of reviews left by their previous clients, check the company's rating on popular review aggregating platforms.
There is no need to be meticulous or overly skeptical, but a little research and a bit of common sense will keep you safe from backing the wrong horse.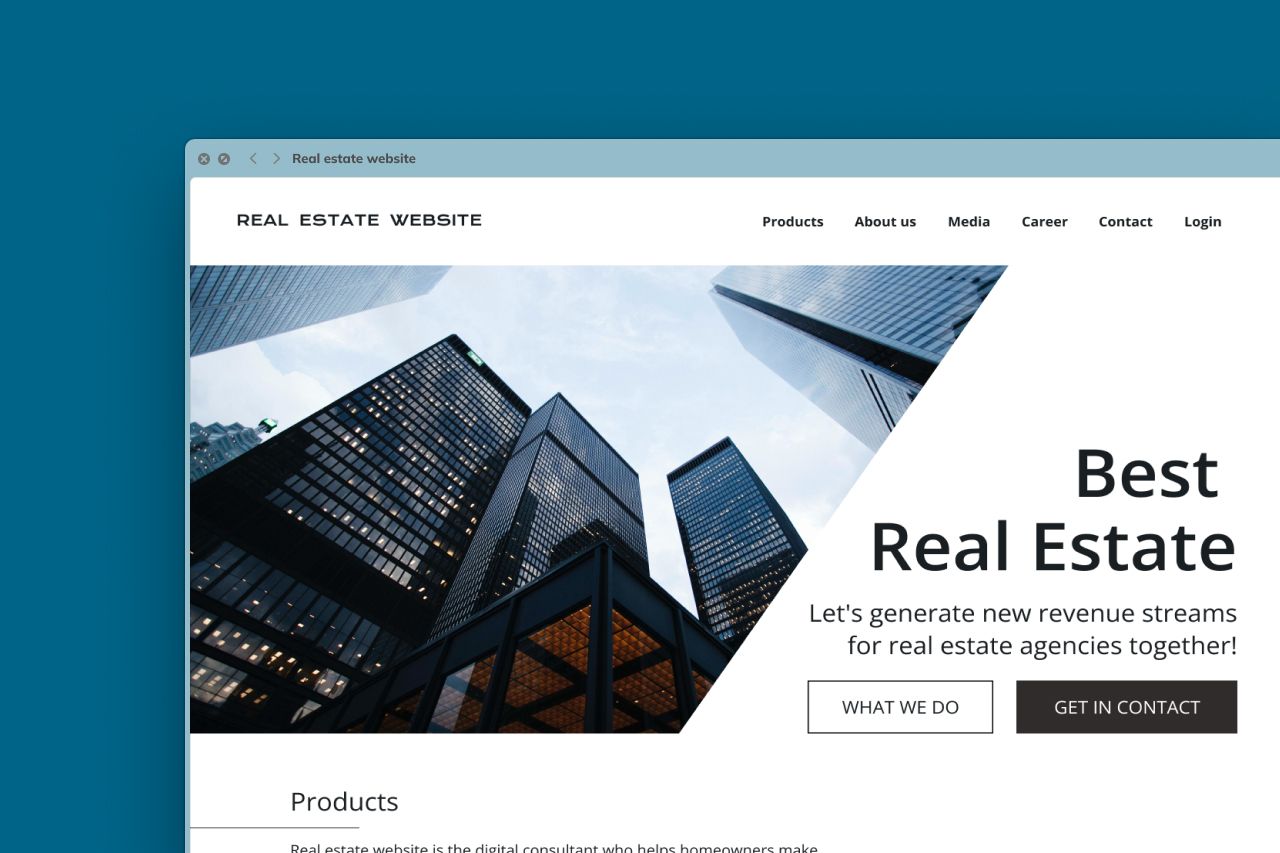 The way of engineering a custom system tailored for a real estate agency will not be very different from any other case of creating CRM for business from ground zero. The project is to get through 6 critical development phases, namely planning, designing, engineering, testing, deployment, and maintenance.
When you contact a partner company that will help you turn your idea into reality, the first thing you have to do is to draft business requirements for the product, for example, describe what functionality you would like to utilize. This is just one of those parameters on which the cost of development will depend: the larger and trickier the implemented features, the more money you will have to spend on them.
It is difficult to talk about specific figures, but as a rule, the cost of an average real estate CRM software starts at $25,000. A good software company will help you adjust the requirements to fit your budget so that you still get the best possible tool after the release.
At the designing stage, you will be able to appreciate quite functional mockups. After they are approved, developers and testers will enter the game – the longest stage of developing a CRM application begins from then onward. Even though modern approaches can significantly reduce the required time, the creation of a CRM solution can take from several months to a year. Apparently, it all depends on the number of specialists in the team and technical requirements.
What Conclusion Are We to Draw?
Developing custom real estate CRM software is an important step. It is a kind of dividing ridge on one side of which are prosperous and booming companies, and on the other are small agencies struggling to keep body and soul together.
If you feel that your business is standing firmly on the ground and it just needs to spread its wings to soar, then it is very likely time to get a custom CRM platform. Having received such a tool in your hands, unattainable goals will become close at arm's length, while the much-awaited rapid growth of your real estate company won't be long in coming.
To develop a bespoke solution, you can contact the developers from Fively. We have extensive experience in creating tailored CRM products for businesses from completely different industries, including real estate companies.
Need Help With A Project?
Drop us a line, let's arrange a discussion
Our experts are ready to listen to your idea and provide you with a FREE consultation and estimation of a future project. If it strikes a chord with you, then we will promptly proceed with development. You can count on involvement at all stages of engineering and full transparency of all the operations. In the shortest possible time, we will build a product of the highest quality.
Feel free to contact Fively right now to learn more about custom CRM development and get your dream CRM platform in no time!