Human Resource Management (HRM) Software Development: Cost & Benefits
Read about common types, features, and benefits of a Human Resource Management (HRM) system, as well as its approximate cost, and common development issues.
People, with all their incredible talents and energy, are the main booster driving every company to success. Effective managers always think of how they can get, retain, and grow the best specialists under them, and that's where HRM (human resource management) systems enter the game. Their use in the working process help employees grow their strengths and allow them to get the maximum result in every company department. In this article, we'll talk about possible HRM system types, their benefits, features, and spotlight the approximate cost of their custom development. Here we go!
What is Human Resource Management System
Human resource management (HRM) software is a complex software solution that offers control over all the management processes in a company, including recruitment management processes, managing the payroll, evaluating the performance of the employees, their professional growth, special achievements, etc. It works for the improvement of the operational activities of the company, boosting sales, optimizing costs, and even improving customer satisfaction rate in a long term. It also helps to structure your company's data, as it stores everything about employees' and departments' performance in an accessible form, eliminating the need for paperwork and monotonous repetitive tasks.
Benefits of HRMS for Human Resource Managers
So, what exact benefits of human resource management will you get if you install a HRMS tool? Let's consider them one by one:
Structures the employees' data
The main benefit is, of course, that it can store all the needed data in one database and you can easily manage it. This not only saves your managers' time and allows you to store thousands of documents and media files in one place, but improves the overall productivity of your organization. It also has the additional benefit that all the data is completely secure, and nobody can access it without a certain password.
An inbuilt payroll system
With human resource development software, you can forget about outsourcing payroll services to some third party, as you can do everything on your own. The payroll tools connect to your employees' information, such as time of arrival, attendance tracking, performance, sick lists, etc., and easily calculate their salary. This helps to eliminate manual errors and saves the time of the financial department workers.
One of the important benefits of human resource management is that you get a portal for the employee's self-help, where they can maintain their personal info and search for the data they need. Thus, even if there are small changes in a company or its departments' structure, services, and projects, your workers will always be on the same page with you. It helps to streamline communication, saving employees time and the company's resources.
Easy performance management
With a good human resource management tool, performance management of employees is becoming a glance-look process. Every failure and success is tracked and stored online, so managers can draw a clear picture of the strengths and skills of employees, and make corresponding assessments. Based on this info, they can create a personal professional roadmap for everyone, offer some special training to employees, and help them become great specialists much faster. This helps to improve retention rate, overall productivity, and success of the company.
The smooth overall management process
With human resource software, just like when using CRM platforms in sales processes, there is no need for department managers to maintain lengthy spreadsheets and assign tasks to employees through emails, as everything can be done automatically. On a human resource platform, you can quickly assign tasks, leave comments, share files, and evaluate the progress of each worker, department, and the company in general. Plus, you can see who's working really hard to reward them for their good work.
Efficient recruiting system
Human resource management (HRM) software can quickly and effectively manage a bunch of apps, tools, and resumes during recruitment, helping to find promising and talented employees. For example, you can automatically link the candidate's data to the system, convert this data to the needed format, and store it in your database as an employee file.
Fively HRM software development specialists go beyond this list and provide even more benefits for your business, using a deep custom approach: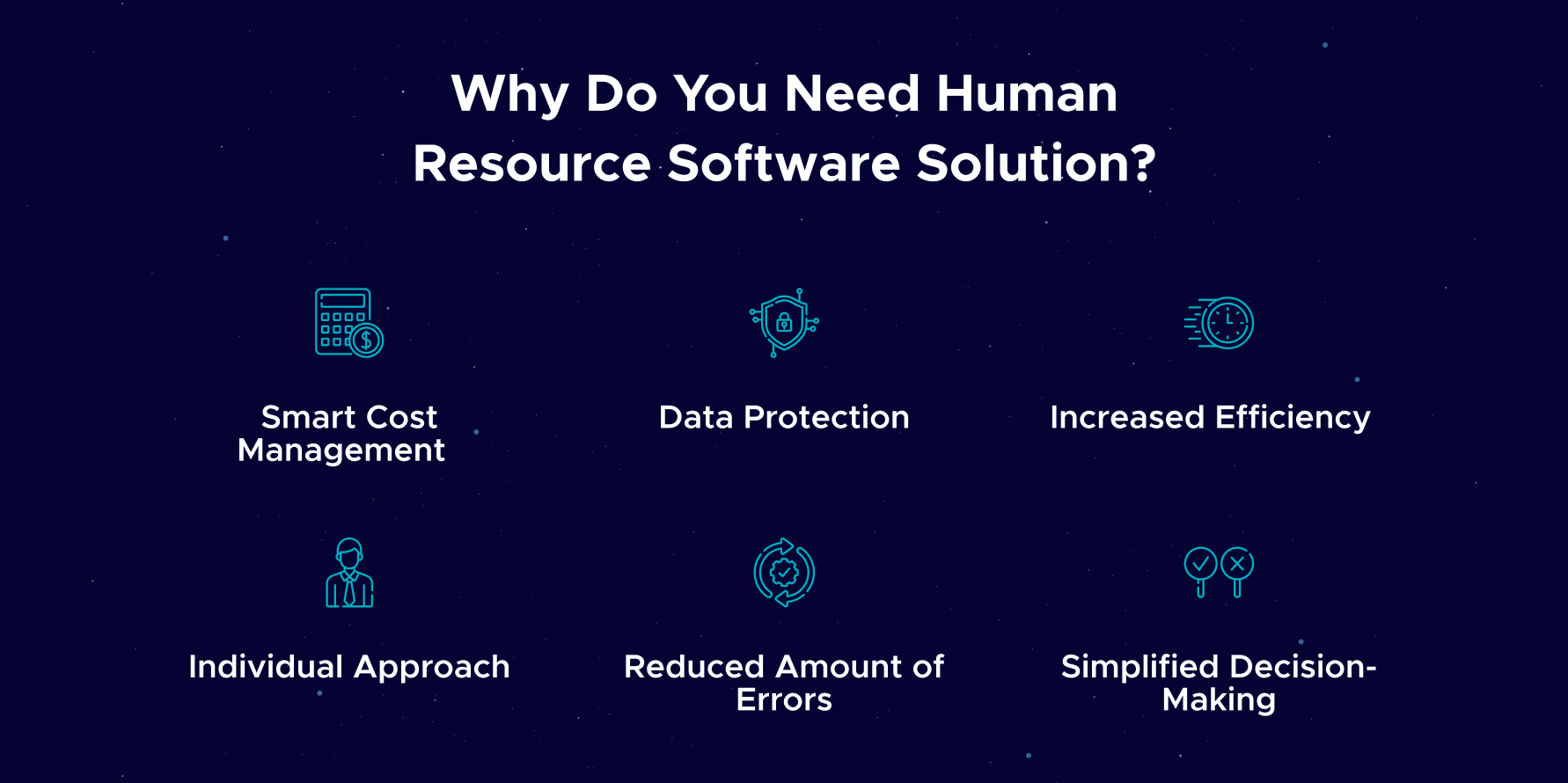 Human Resource Management Software Types
Nowadays, the IT market is overwhelmed with HRMS software products, as nearly any process, from employee onboarding to performance management, can be tracked and reported via various HRMS tools. Still, we can divide them into three major types according to their functionality:
HRIS - Human Resource Information systems. These human resource software solutions track complex data about the recruitment process, performance and benefits management, as well as payroll;
HCM - Human Capital Management systems. They benefit HR departments in acquiring employees and investing in their development through quality onboarding, performance tracking, and salary planning, as well as advanced solutions for managing staff performance and evaluation;
HRMS - Human Resource Management Systems. Primarily, HRMS systems deal with payroll, time, and performance management. But quite often HRMS software offers similar functionality to HCM systems, which means employee onboarding, offboarding, and automated alerts.
Despite we've defined three distinct types of HRMS tools, all of them can offer a common set of functionalities at their core. The main difference is that HRIS is a 'parent' type of human resource development software that includes features of both HRMS and HCM systems. So you don't really need to answer the question about which type of HRMS software is better, the real question that matters is what features you should have in it.
Human Resource Management System Features
The main goal of human resources management software development is to get an application that can cover all the human resources management needs of a company, and what is also important, free it from the need to pay for costly licensed software each month. To achieve this goal, every company defines the set of features for its HRMS tool according to its inner processes. Let's consider the top 5 most popular modules of HRM system features:
1. Payroll management
This is #1 among the most popular human resources software solutions as it manages several financial aspects at once:
Salary payment: computing gross and net pay are essential, as the regularity in paying salaries influences the confidence of employees in the solvency of their employer. A salary payment tool allows each organization to automate this process, reduce paperwork, save time for the financial department, and provide timely reports to employees;
Taxes management: each company has to keep records of its financial status for several years, depending on the country's law. With taxes management, a company can not only free its archives but also set an income-based automatic taxes payment;
Bonuses payment: A good company should track its employees' results and reward them accordingly with the set agreements. This module allows tracking employees' results and calculating their remuneration amount much faster than done manually
2. Learning and development
Keeping all the employees on the same page about the company's vision, and giving them space for ingroup communication and personal development is one of the primer goals of every good manager. The learning and development module does it all, providing the following features:
Company policies and employee handbook: all the important data on a company's vision, mission, brand, as well as long- and short-term goals are visualized and collected in one place;
Document and files repository and sharing: employees can not only study the company and project documents, but change them, make necessary amendments if needed, and share them with each other;
Collaboration tools: people, working on a project together, can arrange a video meeting or talk in chat to solve the arising questions quickly and discuss the progress
Plus to these features, Fively HRM engineers can add to your system any additional ones, which you may need:
Document access control
Document smart search
Document updates and printing
3. Hiring and recruiting management
The hiring process has now become highly automated, with HRMS software allowing the HR department to:
Manage job posting: companies can advertise the job opening on numerous job portals, while the application will be received in one e-mail;
Save applicants' info: recruiters can store the info in one user-friendly database when comparing candidates and looking for the right person;
Tune recruitment processes: with this module a company can set the recruitment process as it needs to in a short time and with high accuracy
4. Talent and career management
This is an essential module of custom HRMS software. Human resources - specialists, professionals, and junior workers - are at the heart of every business, its core value, and soul.  This module helps to manage talents and gives the organization a competitive advantage depending on its short-term and long-term goals. Here you can get:
Skills management - discovers which talents your workers possess, what do they do better, and where they should study more, and helps to rearrange your workforce for a better result;
Performance management - this feature tracks how fast and effective your workers are, and where are the drawbacks;
Career management - helps your employees to grow as specialists in a field they choose with a system of professional metrics and a personal career ladder;
Loyalty system - a good instrument, helping to encourage your employees to work better for a certain reward, and retain the best of them. It also contributes to the gamification of the working process and setting an informal atmosphere
5. Time management module
This module helps the company to have better control over its productivity, and better allocate its resources via management of time spent on each project or assignment, keeping track of the requests for leave and vacation, and controlling employees' availability. The time management module also helps to anticipate the needs in recruiting more workers, shifting project timelines, making changes in budget, etc.
HRM Software Development: Common Issues
Every custom HRMS software development process is unique, but still, we have noticed several common issues that happen during this process. We collected them all below to help you avoid or minimize them:
1. You install tools that you don't actually need
Quite often software providers offer you small apps with limited functionality, saying that they give you numerous benefits of human resource management. But in fact, they just want to make more money. For example, they may offer an app for HRM management automation, another one for onboarding and offboarding processes, and a separate tool to automate and distribute job postings. Plus, a few other apps to see your statistics, manage payroll, provide training, and so on. But it's a cumbersome, time- and money-consuming strategy, which can hardly optimize your processes. Instead of this, search for one solution that can handle all or at least most of these tasks, saving you a good sum of money.
2. An HRM system doesn't involve employees
A good HRM tool should engage managers of all the departments, not only HRs, as well as employees, to build an effective management process in a company. Why? There are two reasons for that. First, is that the greater part of the new workforce is millennials who demonstrate a proactive approach to the work process, interested in acquiring new skills, being important to their company, and creating new work approaches. Second, nowadays people are interested in any kind of statistics, especially what concerns their professional growth, that's why an HRM system that provides some, will become an additional source of motivation for employees.
3. Cumbersome user interfaces
We have also noticed at many HRMS software development providers that UI can be poorly designed, so that users easily get lost in a complicated structure of the system, and never discover its full potential, simply prefer to get back to manual operations instead of using a system they don't understand. Moreover, even in 2022 many HRM tools don't work well on mobile devices and tablets, or simply don't have such an option. As it's almost impossible for a company's personnel to get always stuck to a PC, this leads to the potential risk of losing important information or breaking security rules. Fively specialists provide custom software implementation services with well-thought and tested UI/UX design to make your users' experience bright and pleasant.
Human Resource Management Cost
As you know, the costs for any software development services differ across the world, as every company sets its own rates. These rates mostly depend on two factors: the location of the company and the professional level of engineers. Here we have taken an industry average rate, which is $45 per developer per hour, to give you a basic understanding of the approximate cost of your HRM system development.
So, if you want to develop a professional app that can cover all your HRM needs at once, let's start with a separation of costs on human resource management possible models:
the recruitment module: around $30,000-$35,000;
the onboarding module: around $28,000-$35,000;
the performance management module: around $25,000-$35,000
benefits management module: around $15,000-$20,000;
the payroll module: around $25,000-$35,000
Summing up the costs of all these modules, you can get the total price for HRMS software development from $135,000 to $160,000, and even more, depending on your company's needs.
Wrapping Up
It takes a lot of time and effort to build a robust HRM system able to cover all your management tasks at once. However, if you're familiar with the costs and benefits analysis of human resource management systems, and you're warned against possible development issues, this process can be rather an exciting adventure than a tedious task. Fively software development experts are used to any possible challenges you can meet on this way and have already built several complex HRM systems for different industries. If after reading this guide you have any questions left, feel free to contact us. You can share your thoughts there, explain your HRM system idea, and quickly get a professional consultation, as our engineers are always ready to build an effective solution for you!
Need Help With A Project?
Drop us a line, let's arrange a discussion