How to Build a Multi-Vendor Marketplace: a Complete Guide
We have gathered everything you actually need to know about multi-vendor marketplaces in one long read.
About 15% of medium-sized and large eCommerce businesses are planning to create a multi-vendor eCommerce marketplace website, according to a Gartner report. This is not surprising news if you look at the rapid growth of platforms like eBay, Etsy, or AliExpress.
We wrote this article for the entrepreneurs who are wondering how to create a multi-vendor website and bring it to success. Our goal is to help you understand this market and its challenges, provide you with some working strategies, and share our experience with creating multi-seller marketplaces for our clients.
What Are Multi-Vendor Websites and What Do They Do?
The difference between single-vendor and multi-vendor platforms is, as their names suggest, in the variety of sellers. There are entirely different methods of starting, promoting, and managing these two types of platforms.
So, what is a multi-vendor eCommerce site? You must have heard of various examples: Amazon, Fiverr, Airbnb, and other global companies that seem different at first sight. What do they have in common?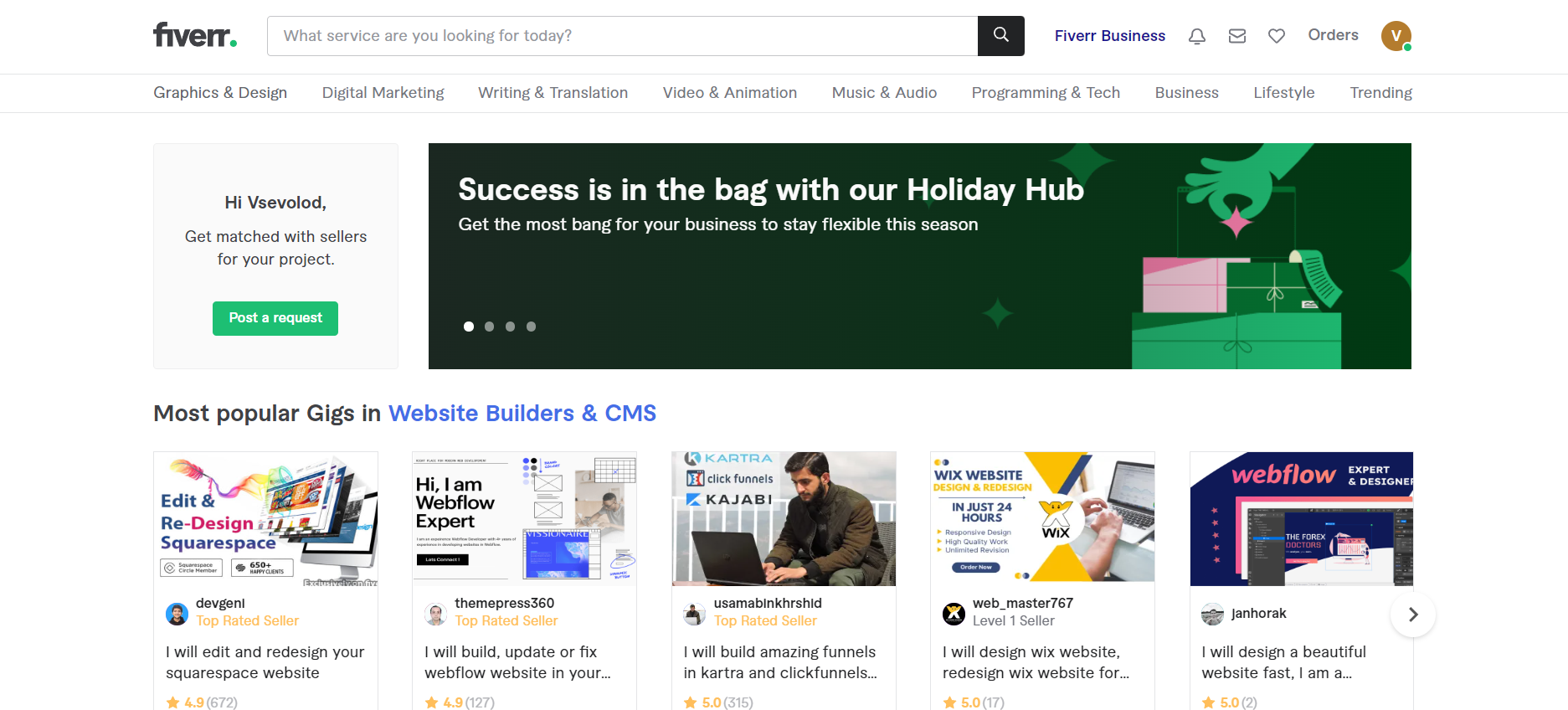 If we put it simply, a multi-vendor marketplace website is a huge place online that offers goods or services from many shops. There are B2B and B2C online marketplaces that provide retailing, outsourcing, and shared economy, according to a description from Wikipedia.
How does a multi-vendor marketplace work? Each vendor has a profile (account, store) to list goods or services and sell them to buyers – people or companies. Products for sale on a multivendor eCommerce platform may be digital or physical.
Vendors normally have advanced capabilities such as inventory management, sales statistics, SEO tools, and so on. As the owner of a multiple-vendor website, you will process and control all transactions on it. Sellers, on the other hand, pay a certain commission for using your service to reach a wider customer audience. Everybody wins.
Of course, it is never an easy task to build a multi vendor marketplace and manage it without critical mistakes. There are plenty of factors influencing the process.
If you as an entrepreneur create a marketplace, it will be in many ways like building AliExpress or Uber of your own. However, it is vital for you to examine the market needs and your possibilities beforehand.
Why Building a Multi-Vendor Website Is a Good Idea: Seller and Owner Benefits
If you want to create a web portal for multiple sellers, it makes sense to discover the benefits to attract your first users, and also what you can achieve as an owner.
Why a multi vendor marketplace website is beneficial for sellers:
Selling any kind of goods or services, including digital products or consultations.
Using a dashboard to manage products – including images, descriptions, and prices.
Having full control over inventory on your multivendor platform so that product availability remains updated and precise.
Adding customer notes to describe necessary details about delivery, some instructions, and more.
Having full control over shipping rates to make them flexible and convenient for each vendor.
Watching sales statistics and receiving reports in any form that is easy-to-read. This data allows sellers to make informed marketing decisions.
What kind of benefits multi-vendor marketplaces can bring their owners:
Getting a stable stream of income, as you charge commissions and engage new vendors to join your platform. We will talk more about monetization strategies later in this article.
Expanding your website's audience when you partner with new vendors, especially if they sell complementary services or goods. Engage vendors to be promoters of your platform and use their social media accounts to post links to products, mention your brand, and so on.
Having full control over the user activity – you decide which vendors to partner with, you approve items for sale, control user actions via an admin panel, and generally accept only the things that fit your multivendor platform's concept.
Appointing other website administrators, because it is unproductive to run such a platform by yourself when you can delegate some operations to other professionals. For example, your team can resolve technical issues, approve new sellers and products, manage promotional campaigns, and more.
What else is a multi-vendor platform, apart from being a place online? It is a social phenomenon, because any multi-vendor website means community.
Connecting many entrepreneurs and building an inner circle is a great plus. When you start working with vendors, they can answer your questions to help you improve the platform, while you provide opportunities for growth and help them leverage sales. In the future, you will be able to accumulate your expertise and pass it to new sellers.
In addition to this, multi-vendor marketplaces can raise funding – just look at these powerful results collected by Statista and achieved by leading B2B platforms in 2022.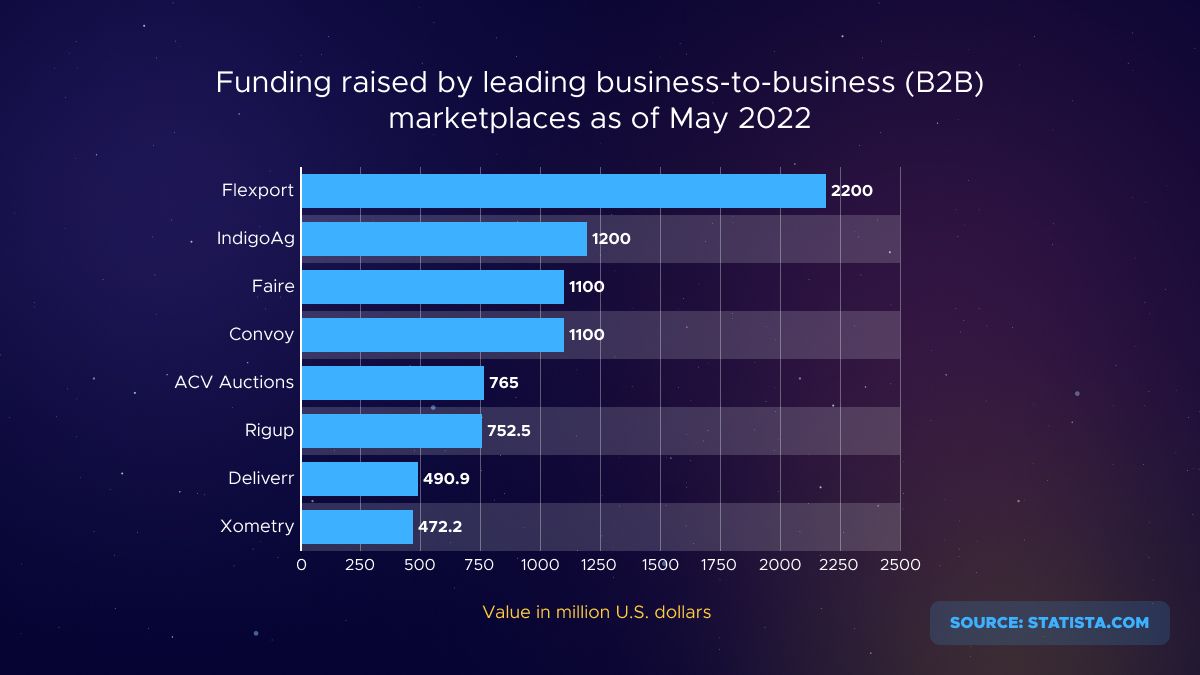 Businesses sharing customers is another reason why you should create a multi-vendor eCommerce marketplace website. You do not just connect sellers and customers, you might also build a community (or several communities) of like-minded people who buy and sell similar products. Having shared values and target audiences can open a lot of perspectives.
Customers creating a community in social media is one more powerful way to succeed with a multivendor website. Your shoppers come together to share their opinions and interests while you can learn a lot about them and from them, which is one of the best ways to improve the user experience and conversions.
There are different ways to run a multi-seller platform. We are going to talk about various examples, niches, and business models.
Multi-Vendor Marketplace Examples and Business Models
Is Amazon a multi vendor marketplace? Yes, it belongs to a common type of everything-to-everyone eCommerce platform. Let's look at a detailed classification of business models you should consider if you are planning to build a multi vendor marketplace.
Target audience:
Everyone;
A certain niche.
The biggest market players, such as AliExpress, Walmart, eBay, Jet, and Amazon, belong to the first type and sell all types of products to multiple target audiences.
There are, however, niche online marketplaces partnering with vendors from a certain industry. For example, Upwork that connects people who sell and buy freelance services, or Airbnb that exists for people who need and provide accommodations.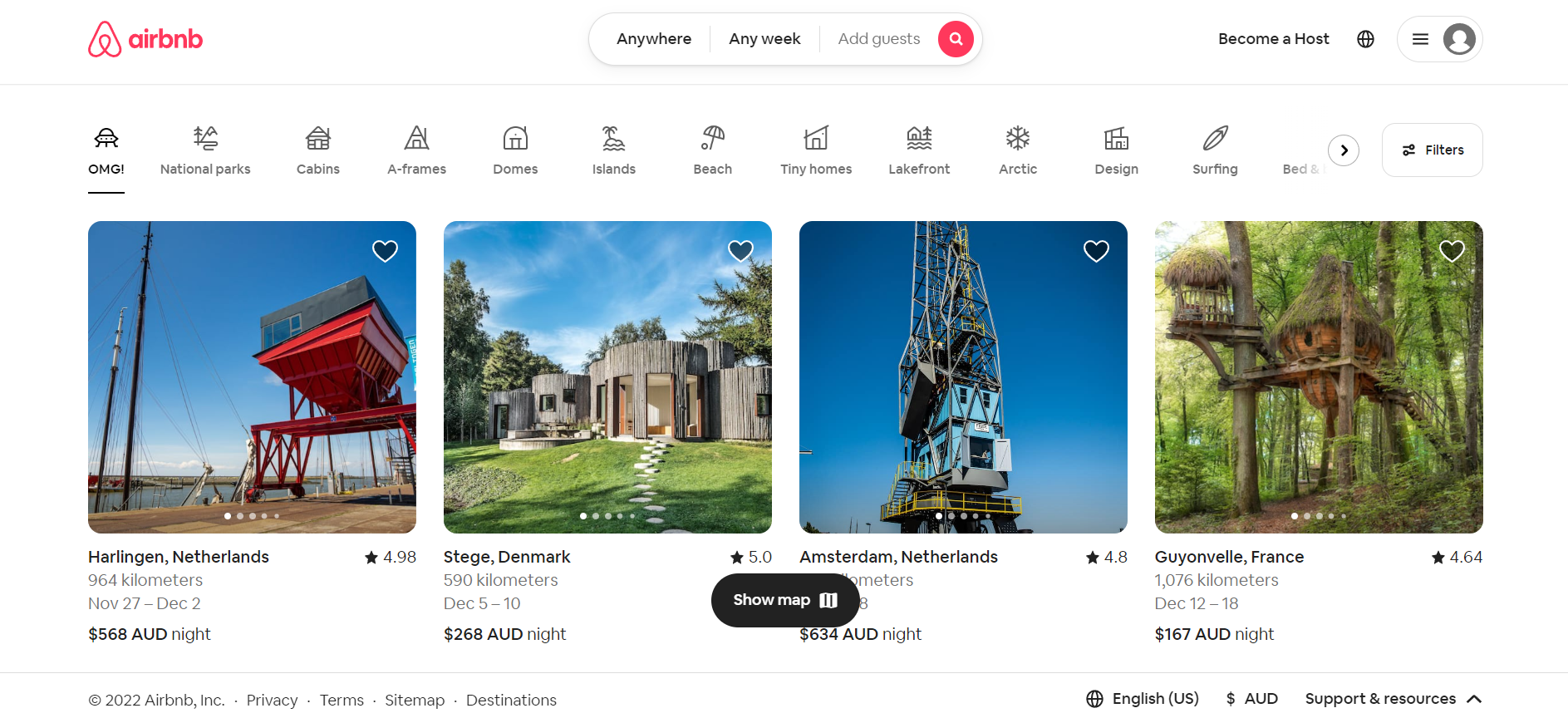 Which brand is used:
Each vendor's brands;
A shared brand.
Selling on AliExpress and similar online marketplaces, vendors keep their brands. In contrast to this, a huge multi-vendor marketplace platform known as Uber provides driving services worldwide under a shared brand. In such a business model, there are unified standards of quality and price that attract customers.
If you are wondering how to make a marketplace website that operates similarly to Uber, we recommend you to study some other successful examples, including FoodPanda, Grofers, Oyo, and Munchery.
Vendor-customer relationship:
Business-to-customer (B2C) is a very common type of multi-vendor marketplace platform, meaning that individual people come there to buy from different businesses that mostly are manufacturers. For example: 3tailer, Newegg, and more.
Peer-to-peer (P2P) online marketplaces exist for customers that exchange goods and services with each other. Examples: DogVacay, Panjo, etc.
Business-to-business (B2B) multi-vendor marketplaces connect businesses that conduct transactions between each other. For example: Thomasnet, Alibaba, Tradeindia, etc.
Types of product\service:
Physical goods (Flipkart, Walmart);
Digital goods (G2A, Udemy, Creative Market);
Handmade goods (Zibbet, LoveCrafts);
Services (SkillShare, Fiverr, Rover);
Appointments (ClassPass, StyleSeat);
Rentals (Booking, ToolMates);
Catalogs (Global Sources, 99designs);
Auctions (Invaluable, eBid, and early days eBay);
Donations (Kickstarter, Patreon).
Before you start building your multivendor eCommerce platform, conduct a thorough research of the market to understand what you are going to sell, how, and to whom. Many of the big eCommerce websites don't stick with one model and combine different ones.
How to Create a Multi-Vendor Website: Main Steps
Now when you understand some popular examples, we will talk about main steps in the process of starting your own marketplace platform.
Step 1: Product niche, target audience, and competitors' weaknesses
No surprise that B2B marketplace development begins with the analysis of what you can offer your partners and their customers. Avoid the temptation to start a multi vendor giant with multiple product categories and focus on a particular niche instead. Maybe later your platform will evolve like eBay or Etsy did, but it is worth creating a marketplace website that serves for the audience you know well.
Things to consider at this step:
What your platform is about;
Target audience (sometimes it makes sense to define segments, location, etc.);
Types\categories of goods or services to work with;
What kind of problem/pain resolves your multi vendor software;
What kind of user experience deliver other online marketplaces on this market and if you can offer better services or killer features.
An in-depth research during a discovery phase helped many of our clients eventually launch successful B2C and B2B platforms.
Step 2: Business model and revenue strategy
Selecting a suitable monetization model for your marketplace is essential. There are many options, but not all will work in every situation and with every vendor.
The existing revenue strategies include:
Transaction fees;
Subscription fees;
Listing fee;
'Featured listing' fees;
Paid ads.
Further in this article, we talk about all these options in detail.
Step 3: Selecting the first features
How do you start an online vendor business? First of all, you take time to create a Minimum Viable Product (MVP) and invite your first users to try it.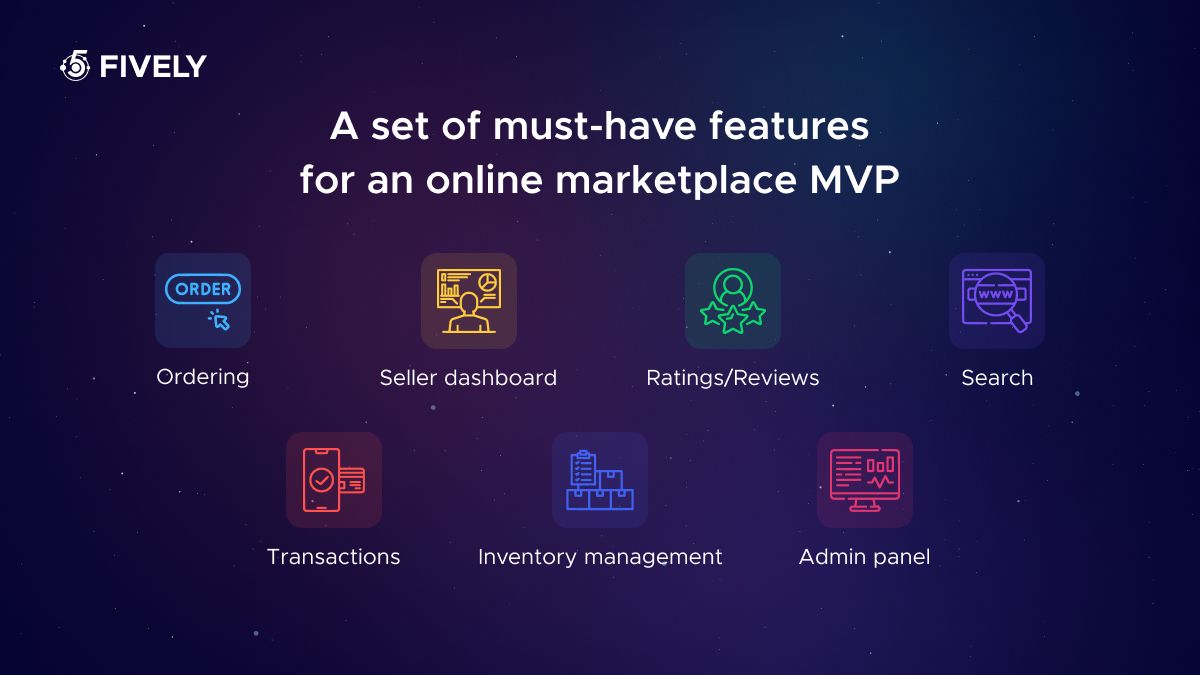 There is a set of must-have features for MVP marketplace software:
Seller dashboard;
Inventory management;
Search;
Ratings/Reviews;
Ordering;
Transactions;
Admin panel.
We describe all features in the next sections of this article.
Step 4: Multi-vendor website design and development
At this step, you choose between different technical solutions:
User interface design – template or custom;
Type of software – ready-made or from scratch;
Development team – in-house, freelancers, or outsourced specialists in building marketplaces.
We will describe the development options for you.
An in-house based team are developers employed by your company and usually working from the office as a part of your IT department. It is an effective approach, but rather expensive for those who start building an online platform for the first time.
Freelance developers are specialists you can hire on platforms like Fiverr or Upwork that happen to be service-based multi-vendor marketplaces themselves.
Specialized development company that you can task to build your multi-vendor marketplace platform. There is plenty of reasons to consider this option:
The development team has probably launched many projects similar to yours and that is why they know exactly how to make a marketplace website that will succeed in a competitive market.
They can provide related experts: business analysts to help you validate your idea and UX/UI designers to create the engaging, user-centered, adaptive design for your marketplace.
You can hire coders proficient in a specific technology: for example, when you develop React.js projects and require senior developers or tech leads.
Creating an eCommerce website is not easy, there are specific challenges and pitfalls. Let's talk about them a little.
Multi-Vendor Website Challenges and Solutions
Market analysis, finding first users and connecting with investors, MVP development and product launch – every phase is associated with certain challenges. Based on our clients' experience, we can give you some bits of advice on how to streamline your online business and build a better platform.
Challenge #1 – Building a user base. You can create a multi-vendor eCommerce marketplace website that works great, but without the sufficient audience of sellers and buyers your platform will fail. As a startup owner, you need to partner with as many vendors as you can and match them with buyers. Be prepared to solve a difficult problem of convincing people that a new platform has something that other multi vendor websites cannot offer.
Challenge #2 – Creating search and listing tools. If you want to match sellers with the right buyers, make sure to build advanced tools, user-centered navigation, and marketing tools based on Machine learning technology.
Challenge #3 – Establishing a smooth selling process. We advise you to invest time and budget into building the vendor-buyer community, providing assistance to sellers (e.g., rewards for the best performance) and support to buyers (e.g., special offers for the most active ones), and listening to early adopters' feedback to improve the user experience.
You will not need a big team to create a marketplace and provide technical support for your first users. Instead, devote most effort to finding effective ways of selling while the technology company does the work.
Multi-Vendor Website Essential Features
We continue sharing our experience with multi-seller marketplace development for different markets. In this section, we will list and describe some essential features for sellers and customers.
Seller dashboard:
Adding and editing products;
Setting shipping methods and costs;
Requesting payouts;
Creating special offers;
Receiving sales reports;
Getting notifications (new orders, messages, low stock, etc.).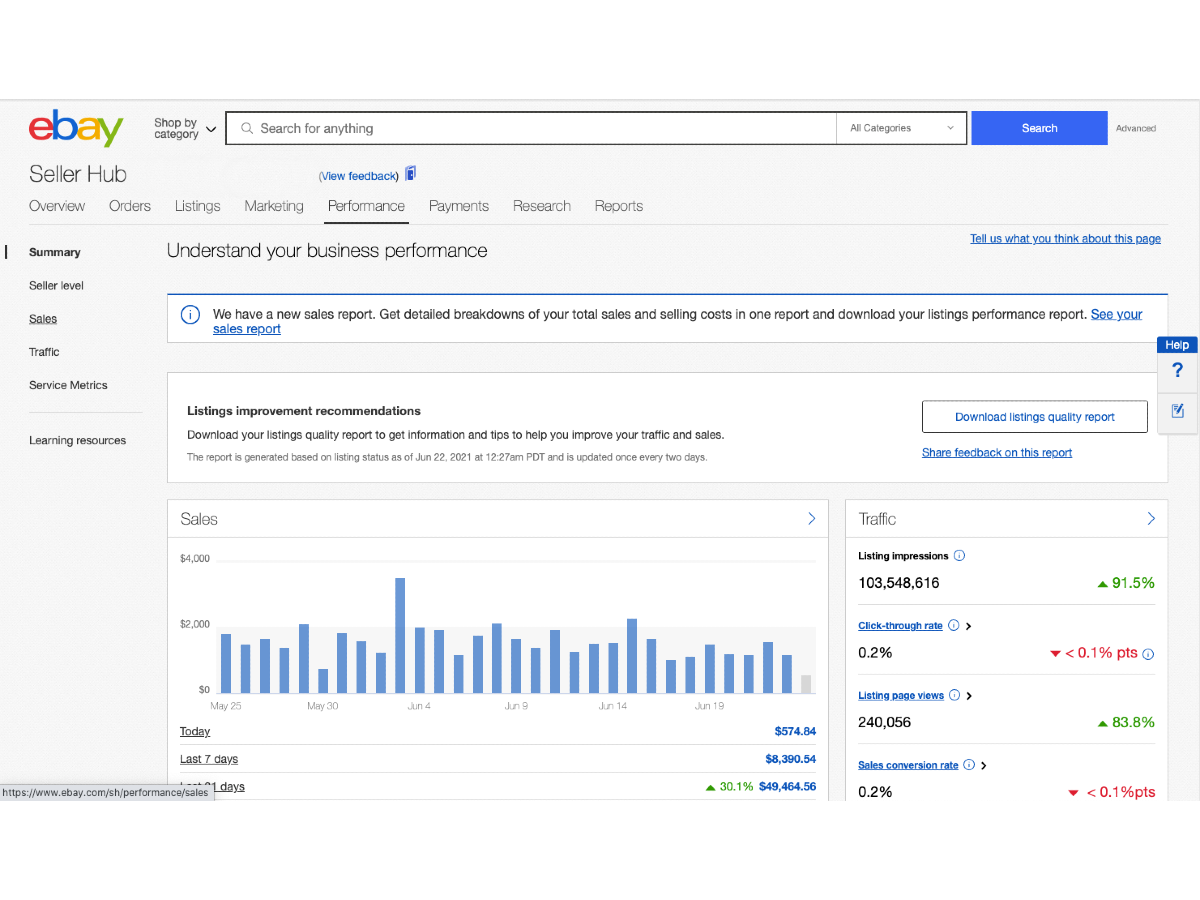 Inventory management:
Approving or disapproving vendors' products on your multi-seller marketplace;
Bulk adding of products to save time;
Sending low stock notifications to a marketplace vendor.
When you make a multi-seller online marketplace it is important to take your business model into consideration. Do you sell appointments or rentals on your multi-vendor store? Add an interactive calendar. Are there physical goods like clothing? Add different attributes, such as size, color, type, brand, season, age, gender, etc.
Some multi-vendor marketplaces display different prices depending on a buyer's membership. You can also create an online catalog that shows the variety of products and ask customers to contact the owner if they want to request a quote.
Search:
Filters to find products by price, brand, size, and other categories;
Keywords to type;
Offering the closest match;
Offering related or recommended products;
Saving the latest search results;
Separate stores on your eCommerce platform – multiple vendors may want customers to be able to search among their products only.
Ordering:
Editing orders;
Making refunds (full or partial);
Managing shipping methods;
Filtering orders by status to check fulfillment;
Notifications for sellers and customers.
Administrators of multi-vendor marketplaces should order fulfillment under control, because it is vital for customer satisfaction. You can also integrate your own delivery services in the future.
Transactions:
Several payment methods;
Fraud protection;
Compliance with PCI-DSS;
Optimized and automated transaction management process;
Automated payouts from sellers.
Admin panel:
Access to vendors' profile information
Viewing the history of ordering and inventory
Getting reports on general sales statistics, each store's and product's performance
Adding and blocking users of multi vendor websites.
Other important features include product ratings and reviews (the latter can also be used for SEO purposes), a 'Contact us' form, an online chat, etc. If you create a multi vendor shop with an offline office, it is worth adding a map with GPS.
Multi-Vendor Website Monetization
We have already touched upon the subject of eCommerce site monetization in this article. Now we provide some details about each monetization model.
Transaction fees – charging sellers for each successful transaction made on your multivendor platform. Normally, it is a certain percentage. Sometimes commission rates vary for different vendors, based on the number of items they sell, how wide their customer audience is, and so on.
Examples: eBay, Etsy, Shopify.
Subscription fees – charging sellers and customers (sometimes both, in other cases only one party) for using your marketplace. There are usually yearly and monthly subscriptions.
Examples: Amazon, eBay, WIX.
Listing fee – charging a vendor for a more prominent placement of a product so that potential buyers are more likely to see it. Listing fees may differ depending on categories, seasons, and other factors.
Examples: Etsy, Delivery Hero, OLX
'Featured listing' fees – charging sellers for placing their goods or services at the top of the page or at the special section called 'Featured' or 'Recommended'.
Examples: Google, Kickstarter, OLX
Paid ads – charging multiple vendors for advertising their products on your multivendor platform.
Examples: Amazon, Walmart, Facebook
Growth takes time, but all the effort you put into creating a marketplace website eventually pays off when commissions cover the development and maintenance costs and you make your first profit.
How to Create a Multi-vendor Website and Promote it
Before it becomes possible for you to monetize your platform, you should find the most effective channels to attract sellers and customers to become loyal users.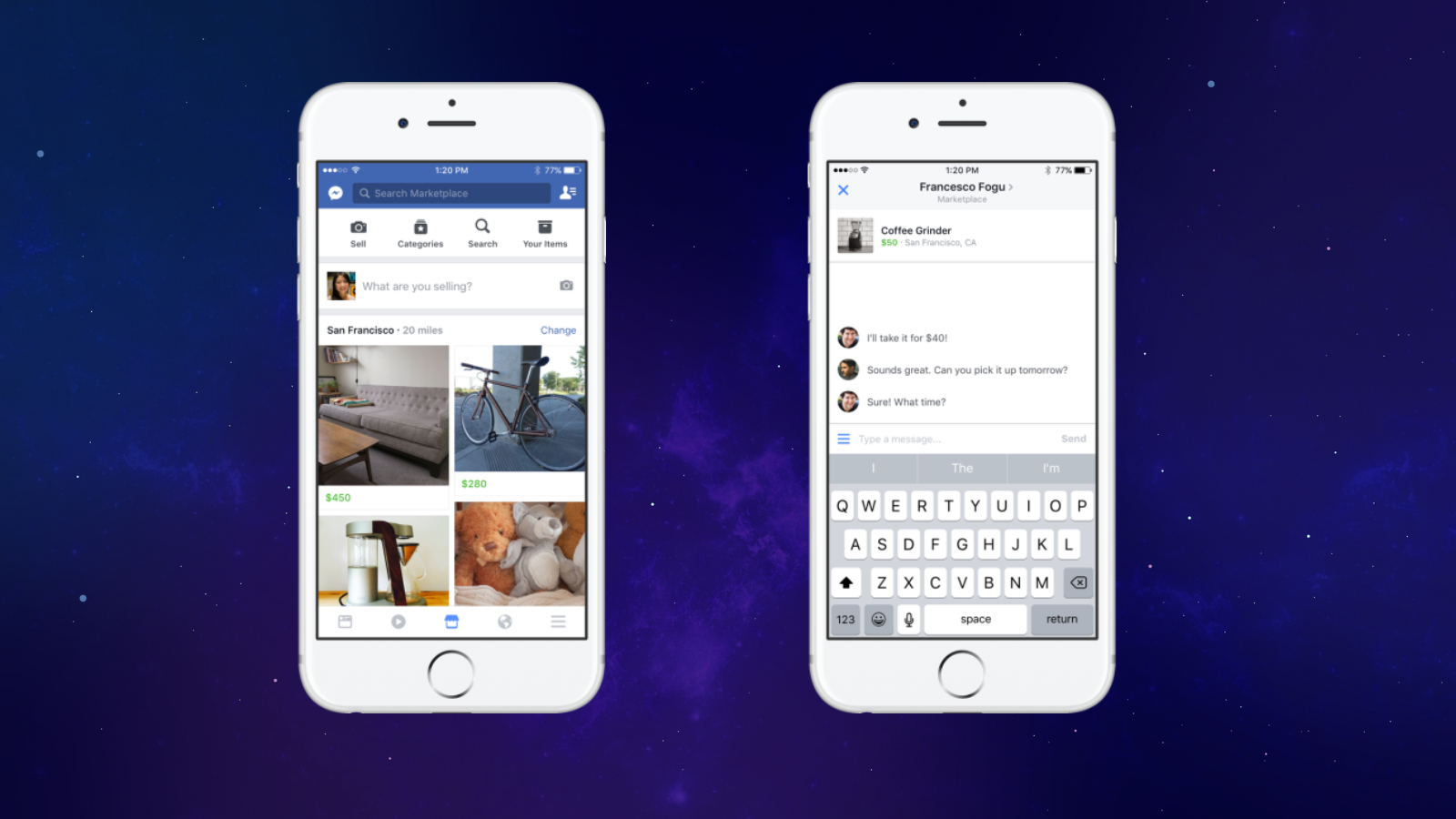 We will list some working promotion tools for a multi-vendor marketplace platform.
Social media and influencers will help you accumulate the "network effect", so that the more users register and start buying/selling on your platform, the more valuable it becomes for other potential users.
Building a community of a multi-vendor site's users via your blog, forum, social pages, video content, and other media.
Viral marketing – to become viral with your website, consider adding social sharing buttons, bonuses and coupons, free trials, membership levels, referral programs, etc. In addition, make sure all products on your multivendor website look appealing and are worth sharing on social media.
SEO – being in top search results is essential when you build a multi-vendor marketplace solution to sell goods or services. If you work in a specific niche, consider using long-tail keywords to target the right people. The challenges include: targeting both buyers and sellers, adding meta information to multiple product pages, and taking care of pagination.
Motivating sellers of your multi-seller marketplace – offering bonus programs, encouraging them to invite buyers to your platform, teaching them about SEO, helping them make product descriptions and photos more converting, etc.
Email marketing – customer retention is vital for a multivendor eCommerce platform. Keep and update your base of customers' email addresses to build meaningful relationships by sending relevant news, offers, blog articles, success stories, etc. The best part of email marketing is the segmentation of customers that allows sending more targeted messages.
Paid ads – the method that would give more effect when you already succeeded with SEO and other promotion boosters.
Using these best practices to promote a multi-vendor marketplace platform, always remember to measure and analyze the results so that you could improve your marketing campaigns.
How to Create a Multi-vendor Website: Choosing a Type of Software
There are two ways to make a multi-seller platform: using ready-made, open source software and building a custom eCommerce website from scratch. Let us compare them.
Ready-made software
It's the easiest way to create a market place and attract first customers, both sellers and buyers. It is hard to say which platform is best for a multi-vendor marketplace. There are many open source solutions that allow a multi-vendor option: Squarespace, Magento, WooCommerce, WCFM, Yo!Kart, Dokan, and more. If you want to create a multi-seller platform with Shopify, you will need the developers' help.
When businesses choose ready-made software:
Testing a hypothesis;
Having a limited budget.
From-scratch development
Multivendor eCommerce platform development from scratch gives you complete freedom in choosing any features and using cutting edge technologies. It is definitely the best option if you have already studied your audience, proved the idea, developed the platform's business logic, selected the feature set, etc.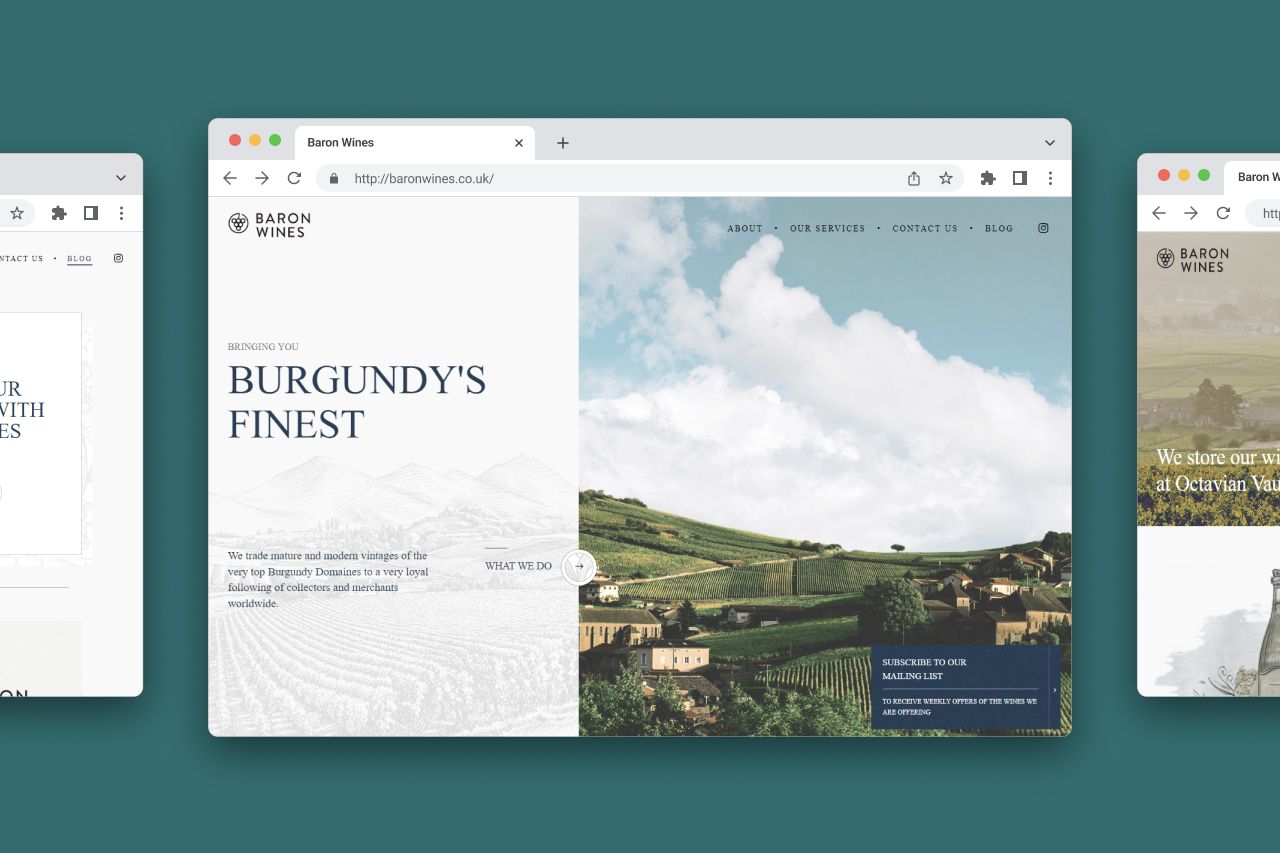 When businesses choose from-scratch development:
Knowing exactly what you want;
Needing custom features;
Being independent from third parties;
Ensuring high performance with lots of data and users;
Providing a unique user interface.
Hiring developers on demand gives you the flexibility to try and test ideas.
How Can Fively Help with Multi-vendor Website Development?
Our development team has extensive experience with online stores and eCommerce websites. We will gladly help you to create a multi-seller marketplace platform tailored to your business needs.
With us, you can create a marketplace that will be compelling to users and successful on the market.
Online marketplaces and web portals development steps include:
Analysis;
Design;
Coding;
Testing;
Support.
How much does it cost to create a multi-vendor marketplace platform from scratch? As usual, everything is defined by complexity, functionality, features, developers' location, etc.

For a more accurate estimation, ask the specialists in multi-vendor website development. We are always happy to help!