Free React Material UI Components to Speed Up Web Development Processes
Our FREE Figma Kit will help you achieve any result you want! By using our pixel-perfect materials you save both time and money.
One of the primary goals of web development is to make the workflow faster without sacrificing quality. In order to achieve that, you probably fall back on the Figma templates. Some of them are fine while others turn out to be non-adaptive for different projects.
At Fively, we've had the same experience and decided to share our best practices with you. That's why we've created a platform with free Material-UI templates.
You can look through the full set of the components in our Figma file. If you can't find any needed component, ask. We'll find it together or design a new one.
For Whom It Will be Useful
Any interested development team or a single player can take these React Material-UI components. You'll find multiple possibilities and combinations for a React web project.
For business owners and product managers. If you want to start building a design system of full value, the kit will serve you well. With its help, you'll save days on making MVPs and other design products. Spend as little time as possible for corrections and approval. The components let you make products, test them, and draw conclusions.
For designers. We know how much you like working in Figma. Nevertheless, you'd like to shorten the time of creating certain elements from scratch, right? In the kit, you'll find the Figma icons, styles, and many more. Do not be afraid of getting the same results as other kit users. You can adjust and customize the components as much as you like to meet your design needs.
For developers. React is one of the most popular JS frameworks and you probably use it quite often. What if you could get autonomy in the design process without engaging side specialists? Our components will make this part of the work easy for you. Besides, you'll get a preview option in order to understand before coding how the final variant will look like. Our kit has 100% official guidelines compliance.
Why You'll Love These React Material UI Components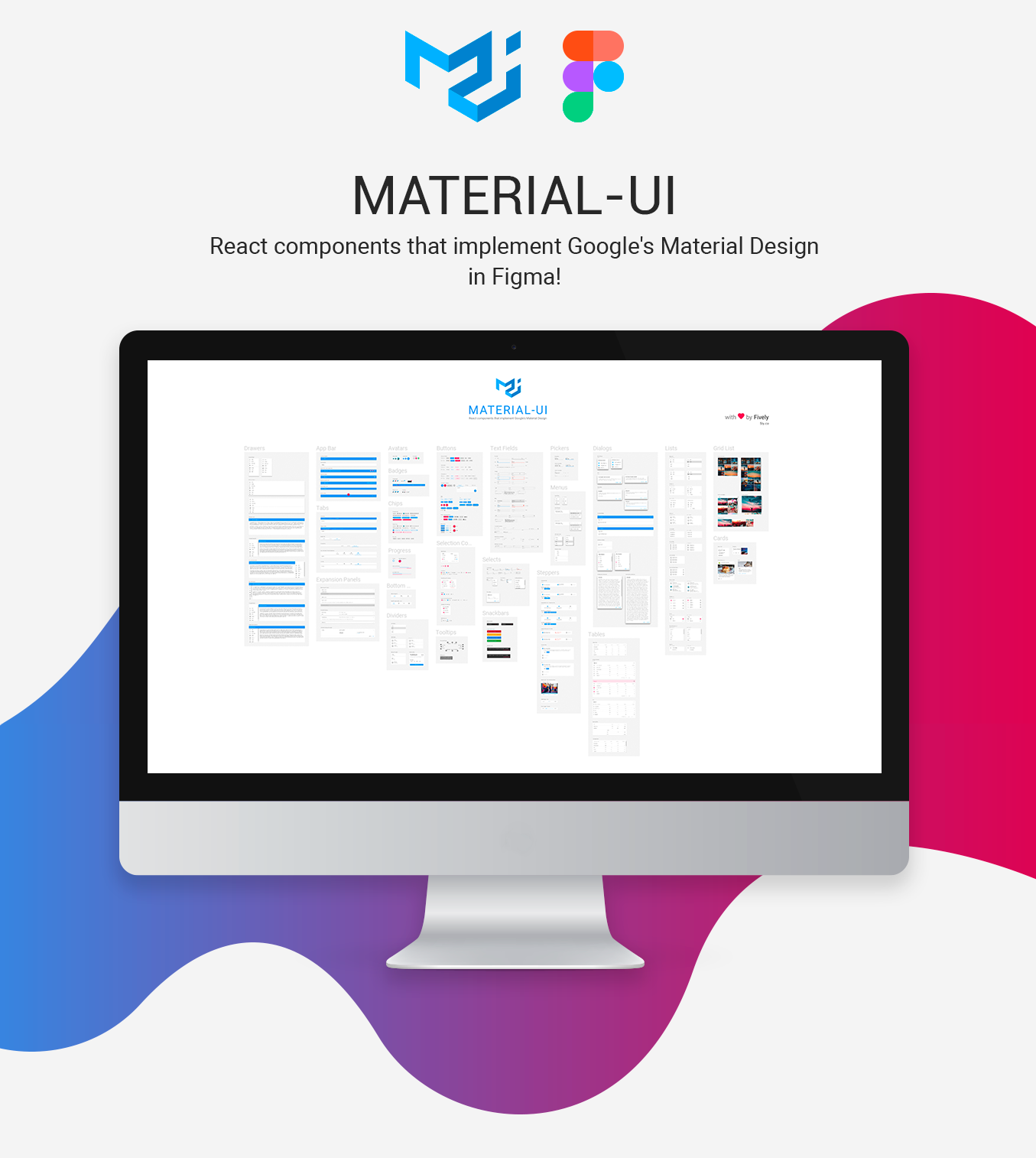 Save your time. You'll get a set of ready-made UI elements and styles that are prepared according to the specifications. So, there's no need in the monotonous and time-consuming drawing of buttons, checkboxes, and other components. Focus your creativity on more ambitious tasks.
Save your money. All the components are free as well as the updates, and always will be. We've invested so much effort into the kit so that you don't have to.
Find it easily operated. As a matter of fact, you won't need a designer to apply the kit. The logic is perfectly clear so that you could realize any custom vision. If you have any trouble, simply contact us and we'll find the way out.
Get extra components. We offer you a free alternative to the official version of the Material kit. You'll get all the standard parameters and even more to make something fancy.
Take a Closer Look at the Options
All the React Material UI components are customizable for any style. Pick up any font or color from the whole Material palette. Work with the shared variables to follow your brand guidelines.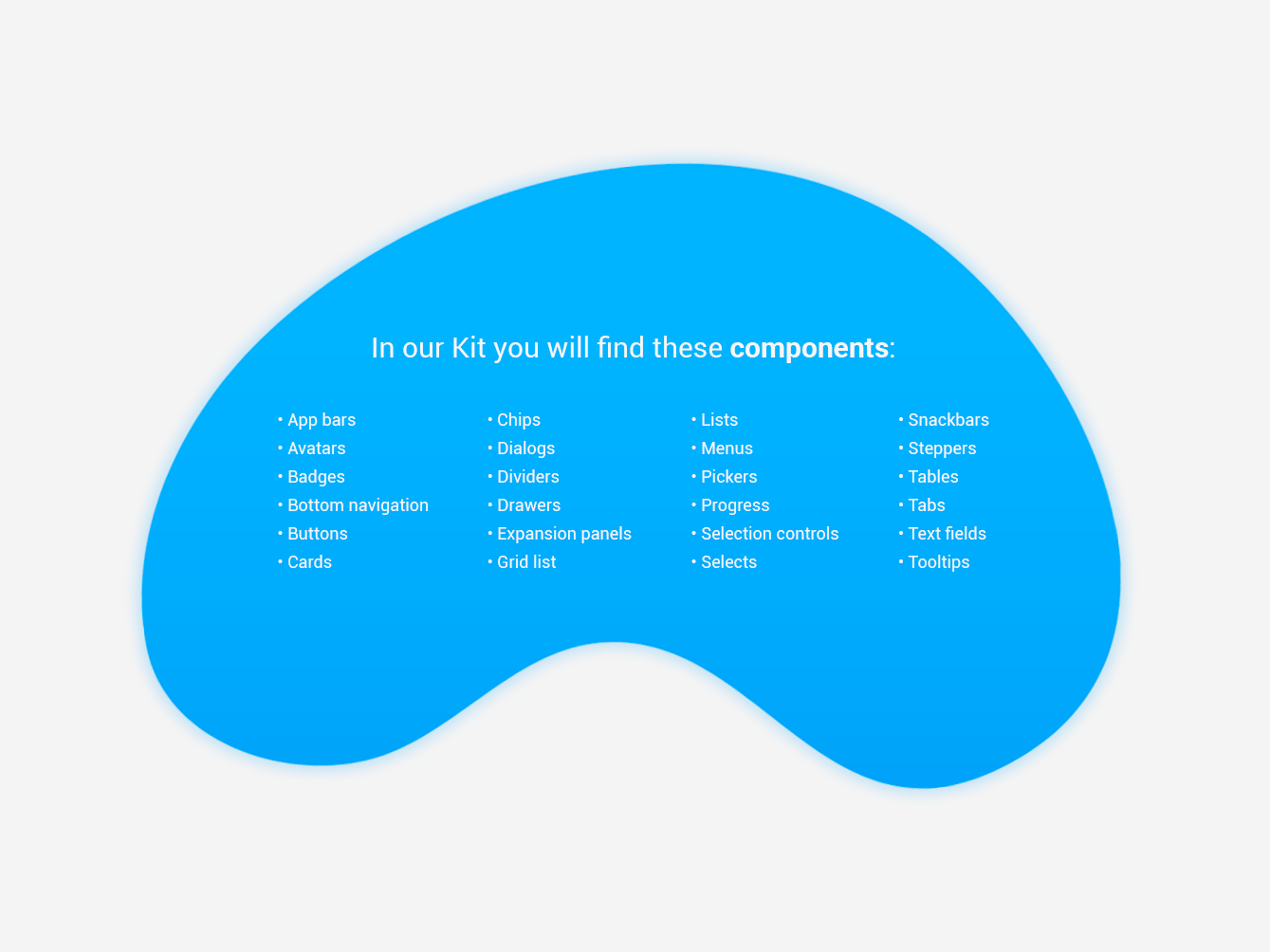 You'll get all the Figma benefits. The components kit comprises hundreds of elements that are adjustable and organized. Choose a Material UI dropdown for a catalog. Play with styles and colors. Implement a Material UI datepicker in a registration form. You have a free hand now.
To make you perfectly equipped, we've provided a library of more than 1000 Material UI icons, classified and named according to the styles. Reuse them as you wish across all the projects. Everything is interconnected.
We've put all our talents and sense of beauty into this kit so that you could enjoy creative work with Figma. We share the components for free to make our professional community more effective for the end customers.
Supplement the workflow. Stay inventive. Have joy.